Table of contents of the article:
Certifications are a fundamental part of the world of computing and technology. They give added value to the career of every professional in the sector, ensuring solid competence in specific technical areas. Among the various certifications available in the IT landscape, those of Red Hat are particularly relevant for those who deal with Linux systems. Specifically, the Red Hat Certified Engineer (RHCE) and Red Hat Certified System Administrator (RHCSA) certifications are considered among the most prestigious in the Linux industry.
In this post we'll look at Red Hat certifications in detail, with a particular focus on those related to Red Hat Enterprise Linux (RHEL), and delve into why it's worth investing time and resources into obtaining them.
What is Red Hat?
Before exploring the value and importance of Red Hat certifications, it is crucial to have a clear understanding of what Red Hat is and its impact on the global IT ecosystem. Founded in 1993, Red Hat has become a pillar in the open-source software industry, occupying an important position especially in the field of enterprise solutions. The company catalyzed a true revolution in the industry, democratizing access to sophisticated and reliable technologies, while providing a sustainable business model that helped legitimize open-source in the corporate world.
At the heart of Red Hat's offering is Red Hat Enterprise Linux (RHEL), one of the most popular and respected Linux distributions when it comes to enterprise production environments. RHEL is known for its robustness, scalability, and security, making it a favorite choice for enterprises that require an operating system that can handle the demands of critical workloads. But the scope of Red Hat's influence isn't limited to RHEL. In fact, Red Hat is such a fundamental pillar in the IT landscape that numerous other Linux distributions are directly or indirectly derived from RHEL.
Some of the best-known Linux distributions such as CentOS, AlmaLinux, Oracle Linux, Rocky Linux and Scientific Linux are derived from RHEL, which implies that they share many of its basic features and, in many cases, its architecture. This is a crucial point because it means that the skills gained through a Red Hat certification are transferable and highly relevant to these distributions as well. And it doesn't end there: SUSE Linux, another commercial player, has also been influenced in various ways by the Red Hat ecosystem, further expanding the scope of applicability of Red Hat certifications.
In this context, a Red Hat certification takes on even greater value. This is not just a demonstration of proficiency on a single Linux distribution, but represents a proficiency that is broadly applicable to a wide range of systems that occupy a significant share of the IT market. This makes Red Hat certifications not just an investment in a specific skill, but an extremely versatile and adaptable capital of knowledge, highly sought after in a rapidly evolving sector such as IT. In short, Red Hat and its certifications offer a gateway to a much broader technology ecosystem, providing IT professionals a competitive advantage in an increasingly demanding and diverse job market.
Types of Red Hat Certifications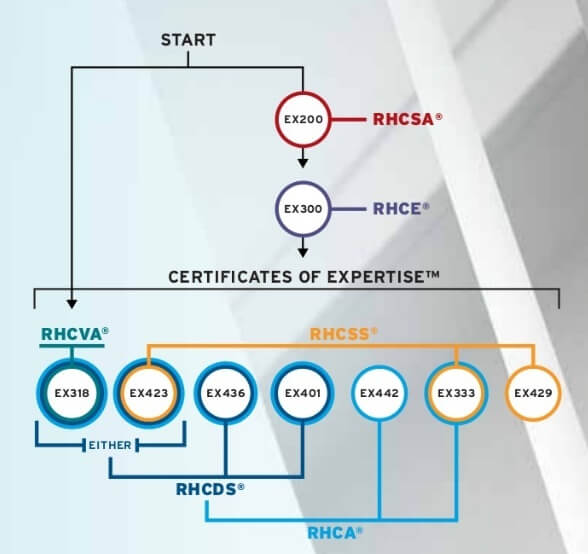 Red Hat certifications are divided into different categories based on the level of expertise and specific professional needs:
RHCSA (Red Hat Certified System Administrator): This is the foundational certification in Red Hat's portfolio and serves as a starting point for anyone interested in Linux system administration. But don't be fooled by its "basic" label; the RHCSA covers a wide range of essential skills. These include installing and configuring RHEL, managing users and security policies, among other things. It serves as a foundation upon which more advanced skills can be built and is often the first step in a career dedicated to systems engineering on Red Hat and derivative platforms.
RHCE (Red Hat Certified Engineer): If the RHCSA is the entry point, the RHCE is the next step. This certification goes beyond mere system administration and dives into more advanced aspects such as process automation and orchestration. An RHCE certified engineer is qualified to implement automation tools like Ansible and manage complex IT infrastructures, making the work environment more efficient, scalable and resilient.
RHCJA (Red Hat Certified JBoss Administrator): This certification is designed for application administrators operating in JBoss EAP environments. The RHCJA is a must for anyone managing large-scale applications, especially those based on Java EE. The certification focuses on specialized skills such as configuring, managing resources, and securing a JBoss environment, making it essential for professionals in this space.
RHCA (Red Hat Certified Architect): This is the most advanced certification offered by Red Hat and represents the culmination of years of experience and training. The RHCA is intended for professionals with a deep understanding of Red Hat systems and their integrations into broader IT architectures. A person with this certification is seen as a "master" of Red Hat technology, competent in a variety of specializations, from DevOps to advanced security, from virtualization to containers. It represents a sort of total recognition of expertise in the Red Hat environment and opens the doors to high-level professional opportunities.
Why Get a Red Hat Certification?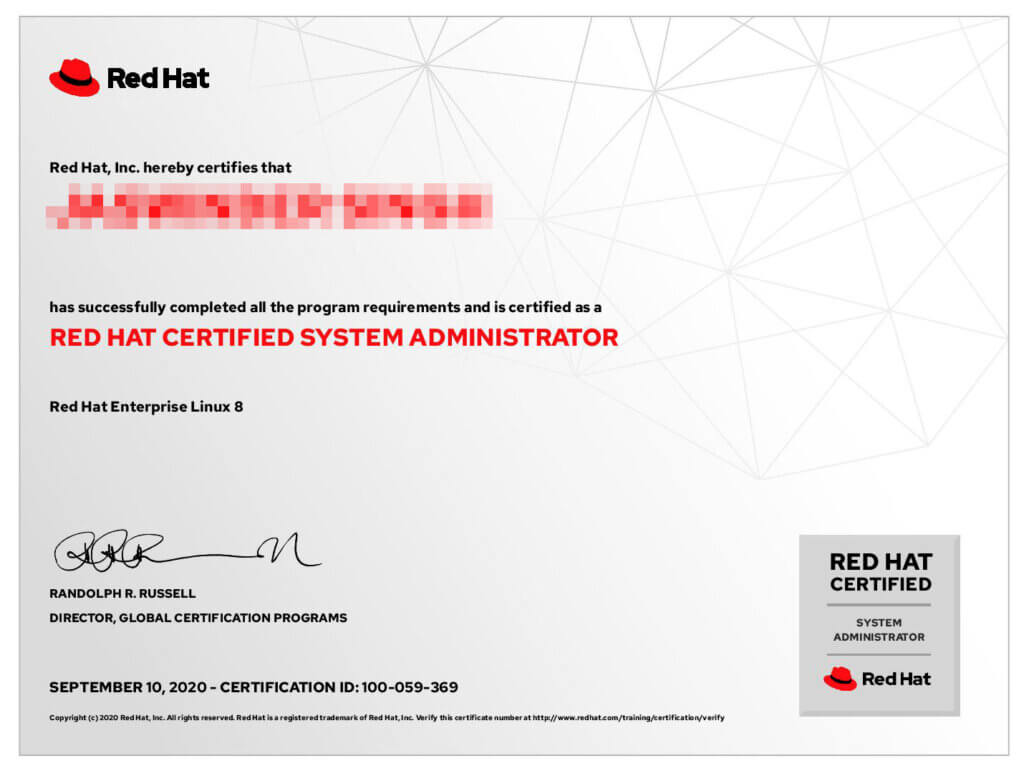 1. Industrial Recognition
Red Hat certifications are more than just proof of skills; they are a seal of excellence recognized throughout the IT industry. This recognition is not just theoretical, but has a direct impact on your career prospects. Companies of all sizes—from tech giants to financial services, healthcare to engineering—explicitly seek Red Hat-certified professionals to address complex, mission-critical challenges. Having a Red Hat certification on your resume is often a discriminatory criterion during selection, and can pave the way to more advanced and rewarding job opportunities.
2. In-Depth Knowledge
Preparing for a Red Hat certification is not just a question of 'how to do' something, but also 'why' and 'how' various technological components interact with each other. This is a learning journey that goes far beyond simply executing commands. You learn to solve problems, optimize performance, and understand security implications, so you become not only an executor but also a strategic thinker. In other words, you become experts not only in 'doing', but also in 'thinking' the Linux way, which is an invaluable asset in any IT environment.
3. Professional Credibility
Having a Red Hat certification is not just a way to improve your CV, but it is a strong statement of your competence and professional commitment. It's like having a stamp of quality that tells your current or future employers, and even colleagues, that you are on another level in terms of competence and commitment to continuous learning. This type of credibility is especially important in high-stakes projects, where quality and expertise are crucial.
4 Networking
With a Red Hat certification, you automatically become part of a global community of highly trained professionals. This network is not only a social benefit, but also offers immense practical value. Through forums, events and social platforms, you have the opportunity to connect with industry experts, exchange ideas, share best practices and even discover career opportunities that might otherwise elude you.
5. Competitive Advantage
In an increasingly talent-saturated workplace, a Red Hat certification can be the difference that sets you apart from the crowd. It's not just about technical skills, but also about demonstrating a commitment to excellence, continuous learning and adaptability. In practice, it is like having a badge that says "I am qualified, competent and ready for the most demanding challenges".
6. Greater Efficiency at Work
The skills and knowledge you gain while preparing for a Red Hat certification are directly transferable to your work environment. Whether it's automation, orchestration, or problem solving, the skills you develop make you more efficient, more productive, and ultimately more valuable to your organization.
7. Salary Growth
Last but not least is the earning potential. Multiple studies and surveys have consistently shown that certified Red Hat technology professionals tend to earn significantly higher salaries than their non-certified peers. This is not only a reflection of the technical skills you acquire, but also of the added value you bring in terms of efficiency, productivity and leadership within a team or organization.
How to Prepare for a Red Hat Certification?

Preparing to obtain a Red Hat certification is a rigorous process that requires serious and constant commitment. Here are some recommended methods for effective preparation:
Official Courses: Red Hat offers a series of official training courses, designed to comprehensively cover the topics that will be the subject of the certification exam. These courses are led by expert instructors and offer not only theoretical lessons but also practical exercises, creating a complete and well-structured learning environment. In general, official courses are considered one of the most effective ways to prepare for certification.
Online material: The abundance of online resources is another channel through which you can improve your skills. From detailed tutorials to specialized blogs and discussion forums, the web is a gold mine of useful information and advice. However, it is essential to choose reliable sources to ensure that the information is accurate and up to date.
Practical Laboratory: Red Hat certification exams are known for their practical component. Therefore, having access to a laboratory environment where you can practice is almost essential. A laboratory environment allows you to simulate real-world scenarios, test your skills and consolidate your knowledge through practical application.
Exam simulations: Many platforms offer exam simulations that replicate the format and type of questions you'll find on the real exam. These mock tests are valuable tools to familiarize you with the exam structure, the type of questions and to evaluate your level of preparation.
If you are looking for a Red Hat training and certification path specifically in Italian, Extraordy is the company to contact.
EXTRAORDY it's not just another training company; this is the official Red Hat lineup. Their specialization is total and unconditional: always focused solely on Red Hat certification courses and exams, activities that their expert instructors have been providing since 2001. This level of specialization allows them to provide targeted and personalized guidance and consultancy. They can help you and your team identify the training path that best suits your needs and goals. With EXTRAORDY, you will not only get training, but a superior classroom experience, made possible by our highly specialized and certified skills.
Conclusion
Investing in a Red Hat certification is undoubtedly a commitment that requires time, energy and financial resources. However, the long-term returns of this investment are unequivocally high and multifaceted. If you work as a systems administrator, network engineer, or solutions architect, having a Red Hat certification on your resume isn't just a badge of honor; it's a powerful catalyst that can unlock new career opportunities, raise your professional profile and potentially lead to salary growth.
One of the most important resources in Italy for your training is Extraordy, the body specialized in official Red Hat training. Extraordy is not a simple teaching organization, but a real authority in the field of Red Hat certifications. With expert instructors who provide courses and preparing for certification exams since 2001, Extraordy is the ideal partner for those seeking high-quality training. Their exclusive focus on Red Hat ensures that every aspect of the course is aligned with the specific needs of the exams, thus increasing your chances of success.