Table of contents of the article:
In today's world, the customer experience it is the most reliable and efficient strategy that can be developed to increase engagement, hence the business. In this post we will focus on giving customers something to experience as fast as possible, which is a fast page load.
According to a Google study, 40% of people abandon a website that takes more than 3 seconds to load and a 1 second delay in page response can result in a 7% reduction in conversions. Yes, every second matters! And we saved about 2,5 seconds (90th percentile) and 1,2 seconds (50th percentile) by using Brotli compression over gzip compression for our Javascript and CSS files.
What is Brotli?
Just like gzip, Brotli is also a compression algorithm. It is developed by Google and works best for text compression. The reason is that it uses a dictionary of common keywords and phrases on both the client and server sides and therefore offers a better compression ratio.
It is supported by all major browsers:

Does your browser support Brotli?
Browsers that support Brotli send "br" along with "gzip" in the header of the accepted encryption request. If Brotli is enabled on your web server, you will receive response in Brotli compressed format.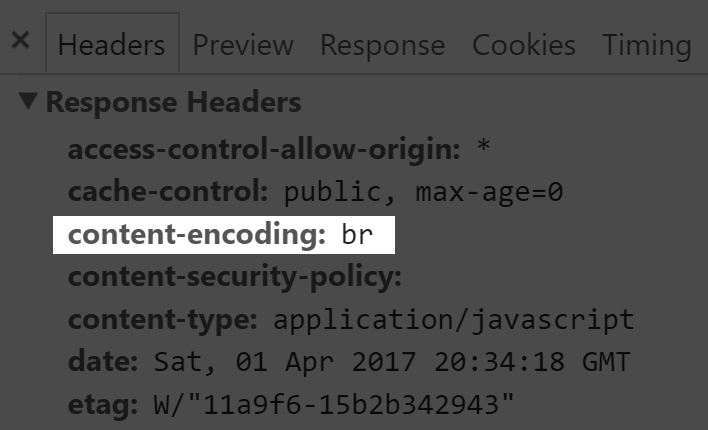 Gzip vs. Brotli:
The advantage of Brotli over gzip is that it uses a dictionary and therefore only needs to send keywords rather than complete keywords. Indicatively speaking therefore:
Javascript files compressed with Brotli are 14% smaller than gzip.
HTML files are 21% smaller than gzip.
CSS files are 17% smaller than gzip.
Note: Images should not be compressed by gzip or Brotli as they are already compressed and compressing them again will increase the size.
Fewer bytes transferred not only leads to faster page loading, but also helps reduce Content Delivery Network (CDN) costs.
Support from Hosting Providers?
Although Brotli is now a well-proven standard since 2017 with specifications already defined in the RFC 7932. it does not appear to have become a standard used on a large scale by most hosting providers.
If we want to give an order of magnitude and some numbers, let's say that indicatively at least 80% of websites do not use Brotli compression.
Do you want because the main control panels (CPanel and Plesk) do not install Brotli by default, or because the Hosting vendors objectively do not care to provide something that the customer has not asked for and that instead would require a further additional system configuration by systems engineers without art or part.
The fact is that to date, once again, in addition to denying you important features such as Caching REDIS, Caching Varnish, Memcache, HTTP2, ALPN, and as more and more advanced functions, you have discovered that EVEN Brotli is something with HIGH ADDED VALUE in the true sense of the word. It is not there and must therefore be added.
The peracottari out there who have hosting agencies they don't care about your performances, after all, you don't even know what hosting is and how it should work.
With us, things are different.