Table of contents of the article:
NGINX is a powerful open-source web server that stood out for its outstanding performance, its stability, rich features, ease of configuration and low resource consumption. NGINX is the brainchild of Igor Sysoev, a well-known Russian software engineer, who started developing it in 2002 to solve the connection stickiness problem, also known as the C10K problem, that plagued traditional web servers like Apache.
Born and raised in Russia, Igor Sysoev he has had a long career in the technology industry, working as a system programmer and developer for many years. He has contributed significantly to the development of open source software, with NGINX as his best-known creation. His work on NGINX revolutionized the way web applications handle traffic, making it a critical piece of web infrastructure today.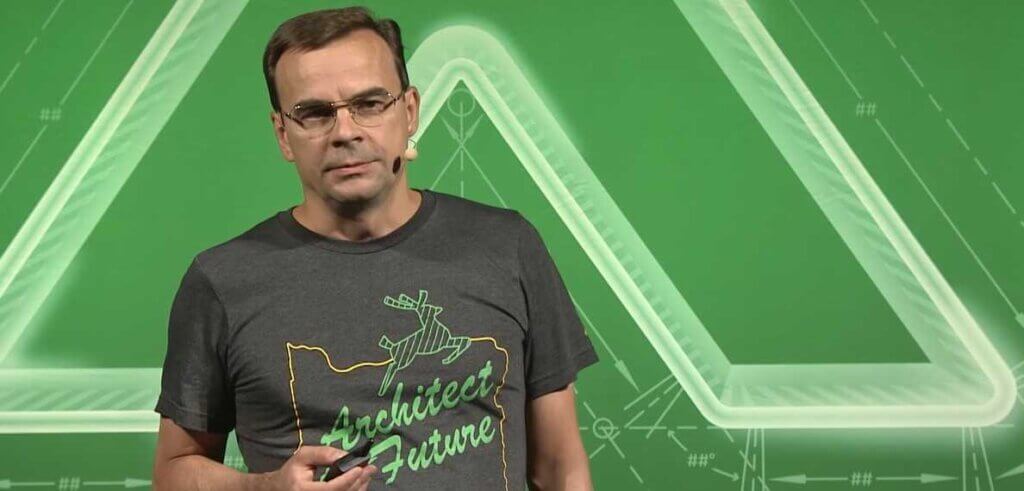 Unlike many traditional web servers that rely on a threading or process model to handle requests, NGINX distinguishes itself by adopting an asynchronous event-driven approach. This innovative design allows NGINX to handle thousands of simultaneous connections with optimal efficiency, making it particularly suitable for web applications with high levels of traffic.
NGINX is not limited to being a web server. With its versatility, it can also function as an e-mail server (IMAP, POP3, and SMTP), reverse proxy server, load balancer, and network application server. Its configurability and versatility make it suitable for a wide range of applications and usage scenarios, reflecting Sysoev's vision of a web server that can address the needs of a rapidly changing digital environment.
Thus, NGINX, with its Russian roots and talented creator, has become a dominant force in the web server landscape, revolutionizing web traffic management and providing a solid foundation for hosting modern web applications.
The purchase of NGINX by F5 Networks
In March 2019, a significant event took place in the global technology landscape: F5 Networks, a renowned US technology company, announced that it has acquired NGINX for a hefty sum of $670 million. This investment represented an important step for F5, a company that has made continuous innovation its banner.
The acquisition of NGINX was not a simple act of consolidation, but a calculated strategic move. NGINX, with its high-performance web server and strong reputation in the open-source community, has given F5 a complementary capability set to its existing offerings, making it a highly valuable asset.
Notably, the NGINX acquisition aligned with F5's goal of improving its offerings for modern applications. In a world where digital innovation is constant, F5 understands the importance of keeping up with the latest trends, especially when it comes to web applications. NGINX, with its efficiency and its ability to handle a high volume of traffic, has proven to be the ideal ally for F5 in its quest to provide even more robust and reliable solutions to its customers.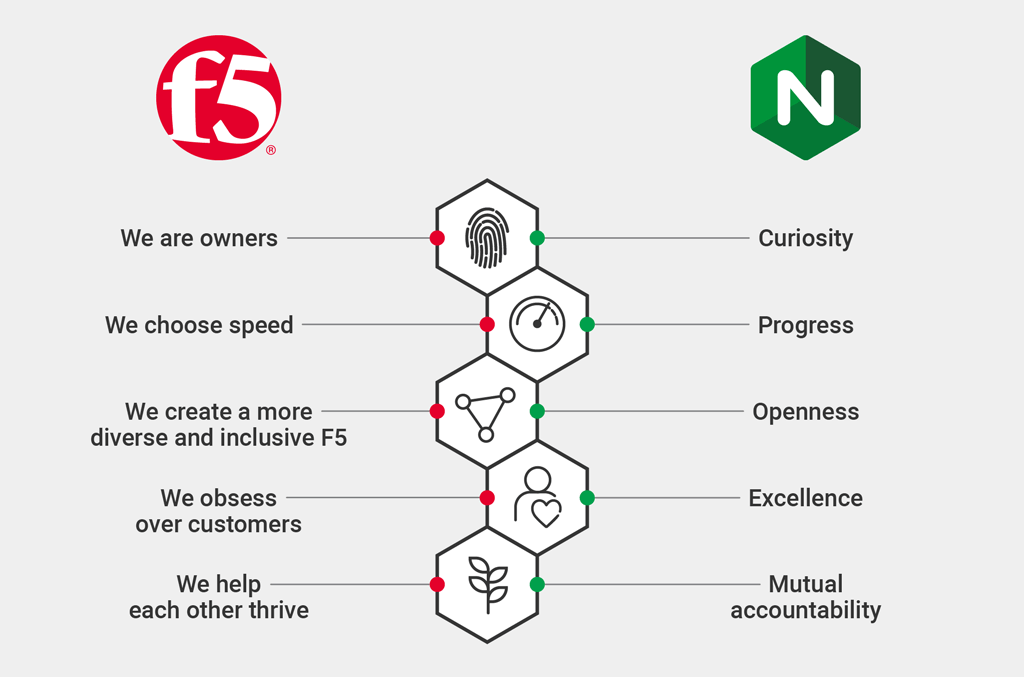 The acquisition of NGINX also marked an important step in F5's strategy to strengthen its capabilities in a world that is increasingly moving towards the development and delivery of cloud-native applications. These applications, designed to be scalable, distributed and platform independent, are becoming increasingly popular in the digital world. F5, understanding the importance of this trend, saw NGINX as an important tool to strengthen its presence in this rapidly growing space.
F5 Networks
F5 Networks is a US company but with global reach focusing on providing solutions for Application Delivery Networking (ADN). The main goal of F5 is to ensure secure and reliable delivery of applications. It does this through a variety of products and services that help deliver, secure, load balance, and optimize the performance of your applications, servers, and data networks.
Headquartered in Seattle, Washington, F5 has a strong global presence and offers its products and services to thousands of businesses around the world. The company is known for its network workload balancing, web application firewall, traffic management, application security, access, and application performance optimization solutions, generating significant revenue of $2,7 billion worldwide. 2022.
How NGINX Strengthens F5 Networks
F5's acquisition of NGINX has strengthened its position in the market for application delivery solutions. NGINX, with its strong user base in the open-source community and its reputation as a high-performance web server, has brought a set of capabilities to F5 that complement its existing offerings.
NGINX has given F5 much broader access to the cloud-native application market. These applications, which are designed to be scalable and distributed, require a level of network traffic management that NGINX can provide. This is an area where F5 is committed to expanding, and the purchase of NGINX is a significant step in that direction.
The combination of F5 and NGINX enables organizations to enforce consistent access and security policies across all applications, whether they reside in on-premises data centers or in public or private cloud environments. This provides customers with greater flexibility and strengthens F5's position in a rapidly evolving cloud infrastructure and applications market.
Additionally, with the purchase of NGINX, F5 also gained access to NGINX Plus, the commercial version of NGINX. NGINX Plus offers all the features of open-source NGINX, along with a number of additional enterprise-oriented features, such as dedicated support and maintenance, advanced analytics, and API management. This gives F5 an additional solution to offer its customers, as well as the ability to provide dedicated support and services for NGINX Plus.
Overall, F5 Networks' purchase of NGINX has strengthened the company's value and capabilities as a leading provider of Application Delivery Networking solutions. It has expanded the range of products and services offered by F5, enabling the company to better serve its customers in an increasingly complex and ever-changing applications market. The acquisition also strengthened F5's position as a solutions provider for modern applications, giving the company a stronger presence in the growing market for cloud-native applications.
F5 suspends all development operations in Russia due to the war.
F5 Networks, in the context of an escalation of international tensions, issued a statement the 21 February 2023, expressing its full and unwavering support for the Ukrainian people and for safeguarding their rights as a democratic and sovereign nation. This position clearly emerges from the strict compliance with the applicable sanctions and export restrictions, which F5 has strictly complied with.
However, the company didn't just comply with these regulations. Consistent with its people-first values, F5 has taken a number of decisive steps that aim to protect not only its employees, but also customers and partners located in conflict-affected areas.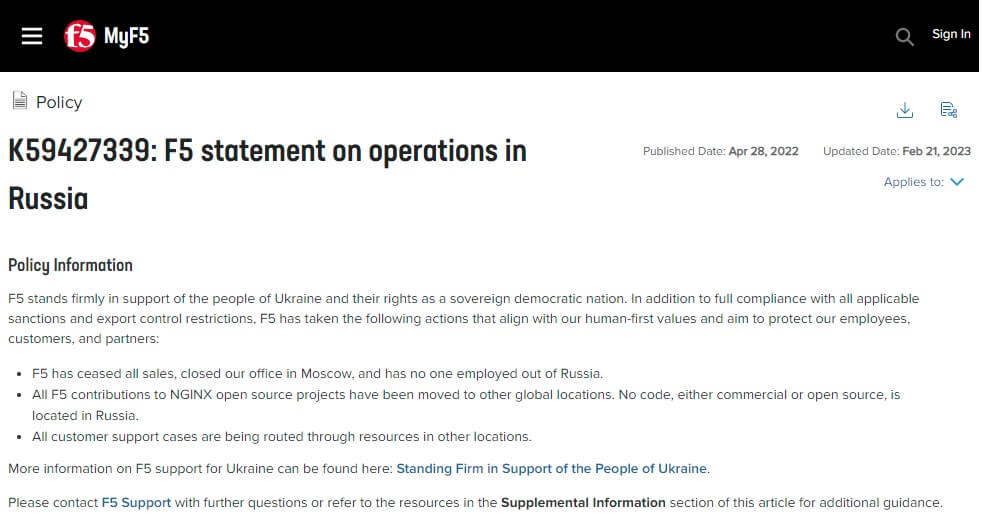 In a significant gesture of disengaging from operations in Russia, F5 has halted all of its sales activities in the country. This drastic move was accompanied by the closure of the company's Moscow office, marking a sharp disruption to its local business operations. Additionally, F5 said it no longer has any of its employees operating from Russian locations.
Significant steps have been taken regarding open source projects, which are an important element of the F5 ecosystem thanks to the previous acquisition of NGINX. All F5 contributions to these open source projects have been moved and centralized in other locations around the world, underlining the radical change in the management of the company's technological resources. The declaration explicitly emphasizes that no code, whether commercial or open source, is located on Russian territory anymore.
In regards to customer support, F5 has taken steps to ensure that all customer support cases are now handled through resources located in other locations, outside of Russia. This ensures that customers continue to receive the level of support they need, despite the company's change in direction.
Finally, F5 wanted to provide more information on its support for Ukraine through a dedicated article on its website, entitled "Standing Firm in Support of the People of Ukraine", which confirms the company's position and its concrete actions in this delicate international context.
Whistleblowers and unfaithful or rather unemployed employees.
F5 Networks' decision to block all commercial activity in its Russian subsidiaries has led to significant and unintended consequences. With the disruption of NGINX support and development in Russia, employees who were working on site for F5 Networks suddenly found themselves without work. This dramatic transition from an active role within a leading technology organization to unemployment has come as a huge shock to many.
The first significant signs of a change in the sector emerged precisely from this changed working scenario. A new job search has in fact brought to light just 2 days ago of an interesting post that appeared on GitHub.
The post in question was about the Tongsuo project, an evolution of BabaSSL, a proprietary open source version of SSL developed by the founders of AliBaba, from which it takes its name "Baba SSL".
"Tongsuo", originally known as BabaSSL, represents much more than just a cryptographic library. It is a comprehensive and versatile infrastructure for modern encryption and communications security protocols. This project, developed with an eye to scalability and efficiency, has established itself as a fundamental component in the information security ecosystem.
Born from the innovative minds of BabaSSL, an open source cryptography project, Tongsuo has extended and enhanced its legacy, pushing the limits of encryption and communications security far beyond traditional standards. This not only means implementing the latest and most robust security protocols, but also making these protocols accessible and usable in a variety of contexts, from large-scale network infrastructures to consumer devices.

Specifically, here is the Italian translation for those who are not yet too familiar with English:
I worked in Moscow, Russia at NGINX, Inc. (the company behind the development of nginx) for more than 10 years, almost since its founding in 2011. In 2019, the American company F5 Networks acquired NGINX. In April 2022, due to political reasons, F5 closed all operations in Russia (see: https://my.f5.com/manage/s/article/K59427339).

Not being able to continue our work, I, along with a group of other former employees, decided to start a new company and fork nginx. Our intention is to continue the development under a new name and to make it much better than the original version by adding new features, which for some reasons weren't added before. We are committed to maintaining backwards compatibility with nginx for as long as possible, but cannot guarantee it in the long term, as some changes simply cannot be made without significant improvements to the nginx core API.
With these premises, in a climate of obvious need and hostility, one wonders what brilliant evolutions NGINX can make under the guidance of the original Russian development team, which probably will no longer have a reason to respect any signed NDA clauses and any company secrets.
One might expect the integration of NGINX Plus features into a parallel version derived from this fork, allowing for interesting evolutionary leaps and improvements that NGINX Plus currently offers at costs of $5000 per year per server.
Russia and China commercially together also for NGINX?
Russia and China, two nations with a shared communist past and strong political alignment, now appear to be moving in tandem on a technological level as well. This parallelism is particularly evident in the context of the technologies in use in the two powers. Take, for example, NGINX, a high-profile web server originating in Russia. This product has experienced a major fork, or branch, called OpenResty, developed by Tao Bao Engine, the company that powers the huge Chinese marketplace AliBaba Group.
With the statement of the former NGINX developer that we have seen above and taking into consideration the existing political and commercial balances, one might ask: could China see in these unemployed Russian talents a valuable resource to expand and improve its technological solutions, such as OpenResty? And could this transfer of tech skills help solidify the place of Chinese tech companies on the global stage?
If this were to happen, it would represent another chapter in the history of cooperation between Russia and China, but with an important new nuance: technological convergence. China's acceptance of Russian talent could also lead to further strengthening of China's position as a global technological powerhouse, once again demonstrating its extraordinary ability to attract, welcome and nurture talent and expertise from all corners of the world.