Table of contents of the article:
Equalize Digital, a WordPress accessibility products and services company, added a new frontend highlight feature to its free accessibility checker plugin, used to audit self-hosted sites. The feature was commissioned and funded by the National Aeronautics and Space Administration (NASA), through Equalize Digital's consulting work on the new NASA websites.
Equalize Digital is a Certified B Corporation, WordPress VIP Agency Partner, and corporate member of the International Association of Accessibility Professionals (IAAP), which is committed to creating a world where all people have equal access to products and tools on the web, regardless of their abilities. Their team has been building custom WordPress websites, themes, and plugins since 2010, and has been working on government, university, and corporate websites since 2016. They created Accessibility Checker after hearing from their customers about the challenges they face maintaining accessibility on their websites. They say they are constantly working and working to improve Accessibility Checker and are contributing to the WordPress community through education and support.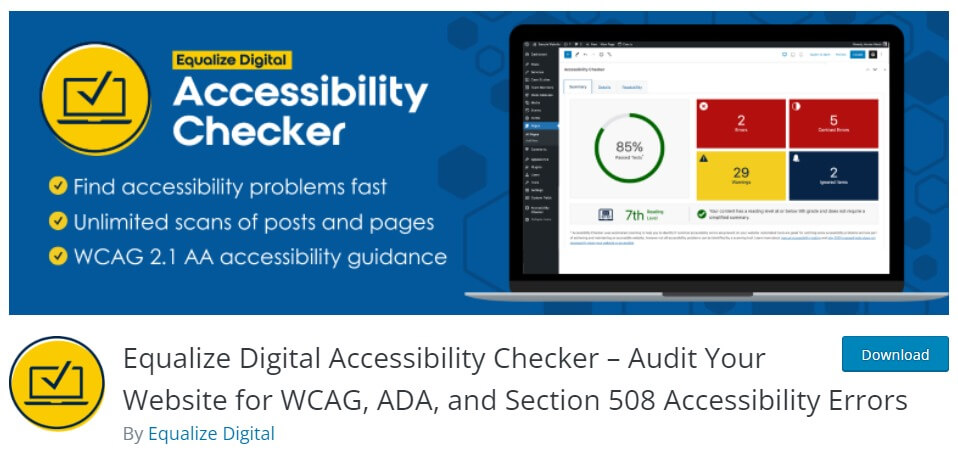 NASA recently launched the beta version of its WordPress-powered main site, which WordCamp US attendees could hear about next week at team sessions, including Friday's main address: For All Users: web modernization NASA and WordPress" and another presentation titled "Practice with NASA's new digital platform".
Equalize Digital has been engaged to perform accessibility testing, user testing with screen reader users and provide accessibility governance recommendations.
As part of the contract for these services, they also commissioned us to develop this feature for the plugin, they have an enterprise license but we decided in collaboration with them to make it a feature in the plugin for free so that everyone could benefit from it, not a feature just for payment. They were actually very interested in this because it is part of their mission to give something back to humanity.
said Amber Hinds, CEO of Equalize Digital.
Before developing the frontend highlighting feature, the accessibility checker plugin only had reports within the post edit screen, resulting in near-indecipherable output for less technical users not used to reading HTML.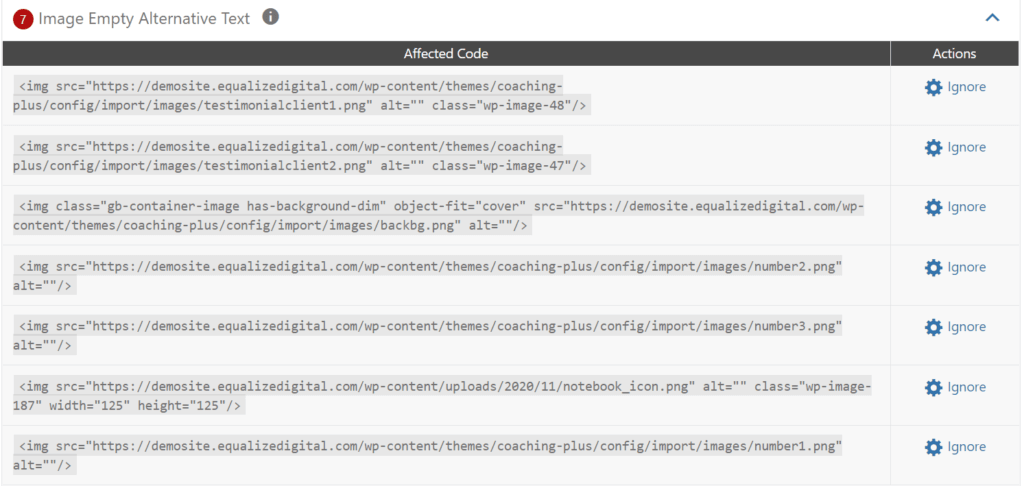 The new frontend highlighting feature makes the accessibility report output much more accessible for users who may not be developers. Adds a "view on page" link next to each issue found in the report, which takes users to the frontend where the item in question is highlighted with a pink dotted box. It also shows a panel that explains the problem in an easier to understand way and how to fix it.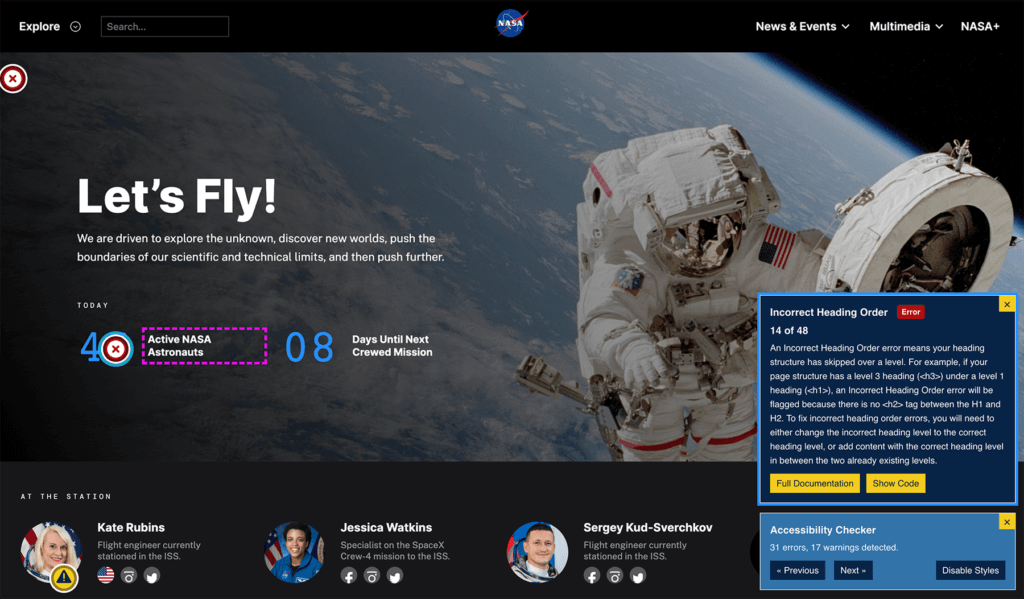 The admin report has been updated to be easier to read. A new image column displays all images related to issues, and the Actions column includes a "View on Page" link that takes you to the highlighted issue in the frontend.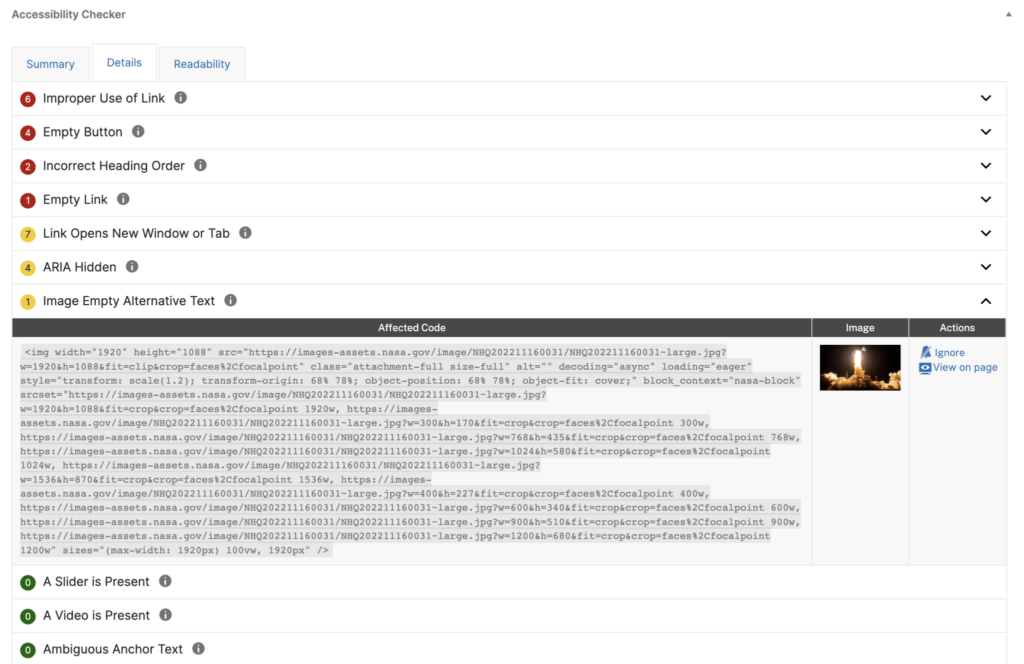 Hind said his team is working on making the tool more friendly to content creators and not just a developer tool. The plugin will remain on the NASA website to help their team as they add and edit content over time.
In the future, we are planning to add the ability to jump to item in the block editor. It's a bit tricky because we scan the whole page, not just the content area; therefore, we need to exclude elements created by other parts of the editor or theme.
Hinds said.
Thanks to funding from NASA, the new frontend highlighting feature is available to users in the free version of the plugin on WordPress.org https://wordpress.org/plugins/accessibility-checker/
Our goal is to make accessibility testing easier for every WordPress user, not just developers, Accessibility Checker was developed to include a robust free version with that in mind. We want to standardize the creation of websites that work for people with disabilities, and we've been excited to work with NASA to make accessibility test reports easier for non-developers to understand and act on. Adding this feature to the free plugin went without saying for us. We look forward to seeing more WordPress website owners find and fix accessibility issues on their websites.
said Amber Hinds, CEO of Equalize Digital.
Plugin functionality
Equalize Digital's Accessibility Checker provides notifications of accessibility errors and warnings right on your post and/or page edit screen. Some features are only available in the Pro version, however at a cost objectively within everyone's reach considering the current cost of 144 dollars a year.
Accessibility Checker automatically scans your content every time you save a draft or publish, giving you real-time feedback on the accessibility of your post or page. Get a visual overview of how your content compares to over 40 different accessibility checkers built to meet the Web Content Accessibility Guidelines (WCAG) 2.1 success criteria.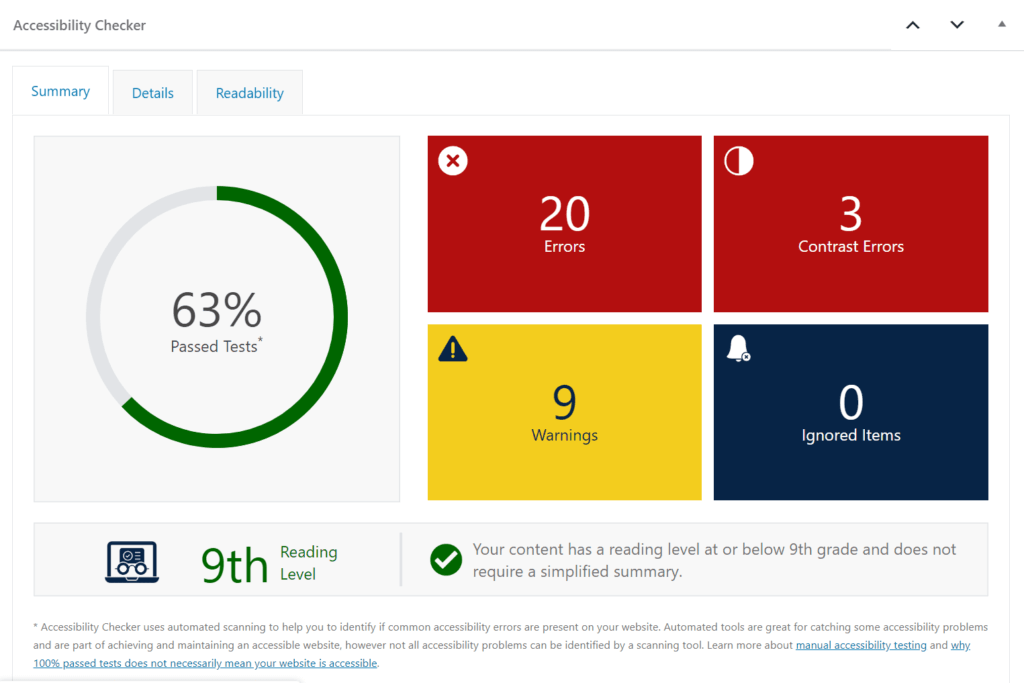 For each error or warning reported, Accessibility Checker lists the code that triggered the error or warning. Each item is identified as an error or warning depending on its severity, so you can prioritize your fixes. Detailed documentation is available to guide you on how to fix accessibility issues on your website, and personalized accessibility troubleshooting assistance and accessibility advice is available if desired.
Ensures continued ADA, Section 508, AODA & WCAG compliance
For websites that are already accessible, Accessibility Checker is an excellent tool to ensure ongoing compliance and accessibility.
In-page testing helps content managers and contributors confirm that they've placed their content in an accessible way. No need to be an accessibility expert or memorize lengthy lists of WCAG success criteria – Accessibility Checker provides an easy-to-understand accessibility checklist and reading level checks so you can ensure you don't add accessibility issues man as new content is added.
Content area scans are visible on every post or page edit screen as you type – no need to go elsewhere on your site to view results or visit a third-party website. These scans allow your team to create accessible websites from the start, reducing the need for costly retroactive fixes.
Accessibility Checker seems to be the best automated tool to use alongside your manual accessibility tests for now. It's perfect for small business websites, large corporate organizations, and everything in between. Whether you're running a small informational website, an eCommerce store with thousands of products, or a multi-site network for a university, Accessibility Checker is the right tool for your website.
Here are the main features of the Accessibility Checker:
Automatically scans content every time you save a draft or publish, providing real-time feedback on accessibility.
Visual overview of how your content compares to over 40 different accessibility checkers built to meet WCAG 2.1 success criteria.
Listing of the code that triggered each error or warning, identifying each item as an error or warning according to its severity.
Detailed documentation available to guide you in troubleshooting accessibility issues on your site.
Personalized accessibility troubleshooting assistance and accessibility advice available upon request.
Excellent tool to ensure ongoing compliance and accessibility for already accessible websites.
In-page tests to help content managers confirm correct content insertion.
Scans of the visible content area as you type, no need to go anywhere else on your site.
Ideal automated tool to complement your manual accessibility tests.
No limit on scanned pages.
Coded and tested by accessibility experts.
WCAG 2.1 A, AA & AAA Guide.
Readability analysis and automatic insertion of a simplified summary.
"Ignore" function to close manually evaluated errors or warnings.
Editable accessibility statement for your organization.
One-click insertion of an accessibility statement in the footer.
Detailed documentation and troubleshooting instructions.
[Pro] Batch scan all posts and pages.
[Pro] Scan for additional post types.
[Pro] Admin columns to quickly see the accessibility status of posts and pages.
[Pro] Centralized list of open issues.
[Pro] Log of ignored items.
[Pro] User restrictions on the "Ignore" function.
[Pro] Rename simplified summary.
Cross-platform accessibility
Accessibility Checker supports a variety of WordPress editors and can scan and identify issues no matter how you're building your site. Accessibility Checker has been tested and confirmed compatible with:
Gutenberg Block Editor
The Classic Editor
Advanced Custom Fields
Beaver Builder
Divi
Elementor
Oxygen
[Pro] WooCommerce
Conclusion
Equalize Digital deserves sincere applause for its commitment to web accessibility. The creation of an open source plugin, commissioned in partnership with a world-class organization like NASA, underscores the company's dedication and vision to make the web a more inclusive place for all. Accessibility is not just a matter of compliance, but represents an ethical commitment to a fair and equal online experience for every individual, regardless of their abilities. The fact that WordPress, a platform already renowned for its flexibility and robustness, has been chosen by NASA for its official website further testifies to the maturity and reliability of this CMS. The partnership between Equalize Digital and NASA not only raises the standard of accessibility for WordPress sites, but also reaffirms WordPress' position as a leader in the content management systems landscape.