Table of contents of the article:
Navigating the world of hosting can be a tortuous and intricate journey, a mission that looks more like an adventure in a thick and treacherous fog rather than a linear and transparent path. Companies operating in this sector find themselves in fierce competition, an incessant battle to win a place in the sun in the vast digital market. This fight takes place in a theater where the truth is a precious commodity, yet often hidden, veiled or even manipulated so as not to reflect reality.
The post you are about to read presents itself as a lantern, a light that enters the fog with the intention of revealing what remains hidden. The goal is to expose and analyze the malicious and deceptive practices that some companies, unfortunately, have chosen to adopt. Fake reviews, published with the sole purpose of manipulating public perceptions, unethical alliances, born not from the desire to cooperate but from personal interests, and sabotage tactics, dishonest tools used to hinder competitors.
This post is a manifesto dedicated to the truth, an attempt to educate and protect users, to warn them against these practices that walk the fine line of legality. These malicious actions not only harm hosting providers who conduct their business honestly and professionally, but pose a real threat to customers. In fact, the latter could find themselves seriously compromising their online business by investing resources in inadequate or misleading services.
Fake Reviews and Referral Marketing: A Perfect Storm in the Digital World
Referral marketing is a widespread strategy in the vast panorama of digital marketing: in short, it is a person or entity who, praising the virtues of a product or service, invites their audience to try it, sharing a affiliate links. This system provides that the affiliate gets a commission for each sale generated through his link. But when these praises and reviews turn out to be false and deceptive, the digital ecosystem can quickly turn into a toxic and flawed environment.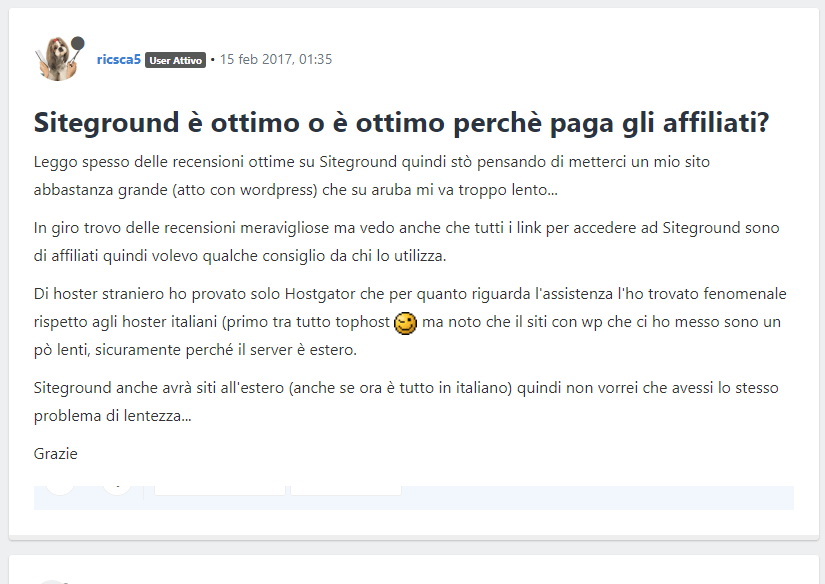 To better understand the importance and seriousness of the problem, I will tell you about an episode that we experienced firsthand. A customer, after purchasing one of our hosting plans with the intention of increasing the performance of his website, decided to insert links on his site. These links praised the supposed virtues of another hosting provider, prompting visitors to switch to it. The crux of the problem was that readers, unaware of the real situation, were unaware that the high speed of the site was due to our hosting service, and not the one proposed. This is a prime example of misleading advertising.
One of the main obstacles that hinders the fight against these unfair practices is the lack of specific legislation that regulates transparency in reviews and affiliate posts. In particular, this legislative loophole affects blogs that are not registered as news organizations, making it extremely difficult for consumers to distinguish between genuine reviews and sponsored posts. The consequence is serious misinformation, which leaves consumers vulnerable to deceptive and misleading messages.
Alliances with Facebook groups talking about WordPress: a trap in the maze of social media
In the age of digitization, social media have turned into real hubs for sharing knowledge, meeting places for professionals and enthusiasts from every field. In particular, Facebook has established itself as a privileged platform for the creation of groups dedicated to specific topics, becoming a hotbed of ideas and exchange of information. Among many, the groups dedicated to programming, development and assistance of WordPress represent a thriving point of reference for anyone who works or has an interest in this area.
However, in this apparent oasis of sharing and collaboration, less transparent and ethically questionable dynamics are hidden. In fact, some Italian hosting providers have identified a business opportunity in these groups and have entered into strategic alliances with them. Through more or less formal agreements, these providers have become sponsors of these groups, with the intention of promoting their hosting service to group members.
But what is the flip side of these seemingly innocuous alliances? The answer lies in an environment where bias prevails over truth and objectivity, where free and unbiased information is stifled by the protection of personal interests. This is because the founders and administrators of these groups, to protect their affiliate commission income, often employ censorship tactics towards anyone who dares to suggest better alternatives or criticize the sponsored hosting service.
The situation becomes even more delicate when these censorship tactics result in actual bans. In this way, any dissonant voice, any suggestion that could question the hegemony of sponsored hosting, is silenced, expelled from the group. This leads to the creation of an ecosystem where free competition does not exist, where the consumer does not have access to all the information needed to make an informed decision.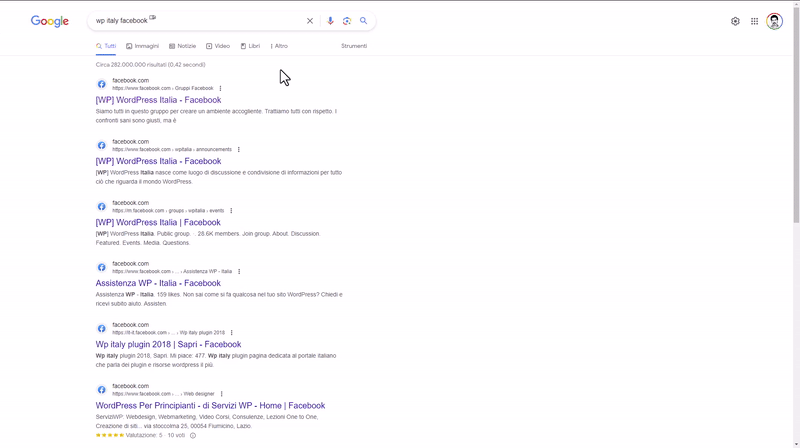 In a certain sense, it is a sort of information monopoly, a practice which, even if it does not fall within the field of illegality, represents an ethically questionable and harmful behavior for the market. A healthy market is based on free competition, on the possibility for the consumer to choose between various options on the basis of truthful and transparent information. When these conditions are not respected, a situation of imbalance is created which favors the few to the detriment of the many.
I think it's important to point out that not all Facebook groups dealing with WordPress fall into these practices. There are many ethically run groups where sharing information and promoting different services is done transparently and impartially. However, the presence of these "problem groups" represents a reality which cannot be ignored and which requires greater awareness on the part of all the actors involved.
The Shadow of Fake Reviews on TrustPilot: An Obstacle for Honest Businesses
TrustPilot is one of the best known and most used online review portals in the world. Millions of consumers rely on it every day to get information about companies, the quality of their services and their reputation. However, in recent years, this platform has turned into a real battleground for hosting providers.
Unfortunately, many companies have adopted deceptive and unethical tactics to manipulate their online reputation. On the one hand, there are those who self-review positively, hiding behind false identities, thus creating a distorted and deceptive image of their actual competence and trustworthiness. On the other hand, there are those who use this platform to harm their competitors through negative and defamatory reviews.
These practices are not only ethically wrong, but in many cases they also constitute criminal offences, such as defamation. A concrete example of these harmful actions we have experienced ourselves, as a company. We have been the subject of a number of false, disparaging and defamatory reviews, which have sought to undermine our reputation and the trust of our customers. We reported these reviews to TrustPilot and while many of them were removed after a long time, many more fake reviews still remain online.
For those wishing to learn more the Trustpilot affair and the fake reviews, we explicitly wrote an articulated and detailed post.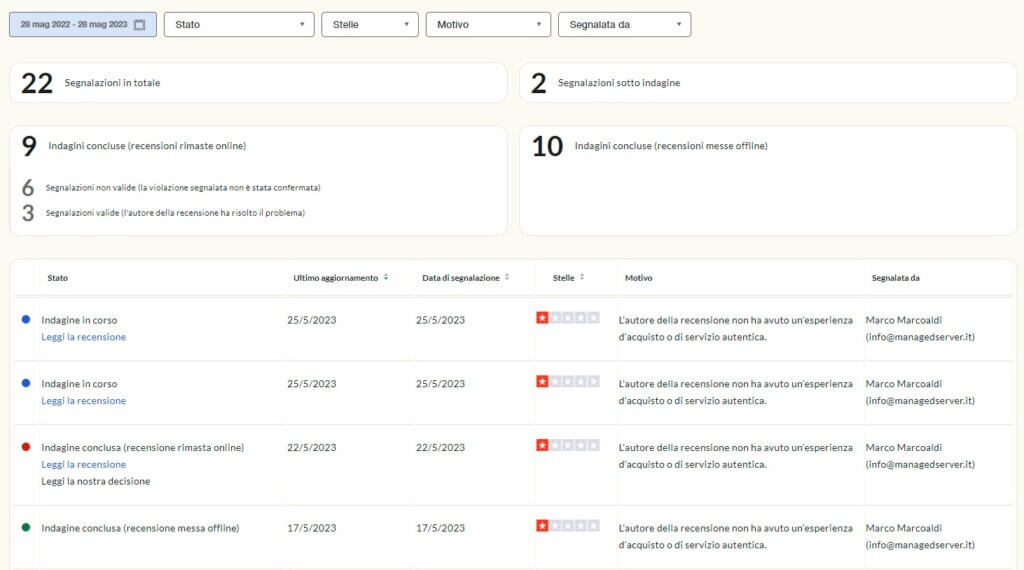 The core problem is that TrustPilot, despite being one of the leading online review sites, often fails to effectively moderate these fake reviews. It fails to adequately verify the identity of the reviewers and the veracity of the claims made in the reviews. Unfortunately, this contributes to a climate of disinformation and deception, which harms both honest companies and consumers.
Honest companies, like ours, which are committed to providing quality service and maintaining a transparent and reliable image, find themselves struggling against these false narratives. On the other hand, consumers who rely on TrustPilot for truthful and unbiased information risk being misled by these fake reviews.
There is therefore an urgent need for more scrutiny and more effective verification mechanisms by platforms like TrustPilot. In the meantime, it's imperative that businesses continue to report these unfair practices and that consumers are aware that not all reviews they find online are necessarily true or unbiased. Truth and transparency must always prevail, to ensure a fair market and a healthy and reliable digital environment.
Email sabotage and filtering: an unfair and illegal practice
In the competitive world of hosting, there are a variety of aggressive and unfair tactics used by some companies to try to outrun the competition. One such tactic involves sabotaging email communications. In fact, some Italian hosting providers block or filter emails from other hosting providers, thus limiting free communication and informed consumer choice.
This type of sabotage is often disguised as an attempt at spam prevention, with companies claiming to filter emails to protect their customers from potential security threats. However, this justification often turns out to be a pretext used to limit access to competing offers and to influence the market to one's advantage.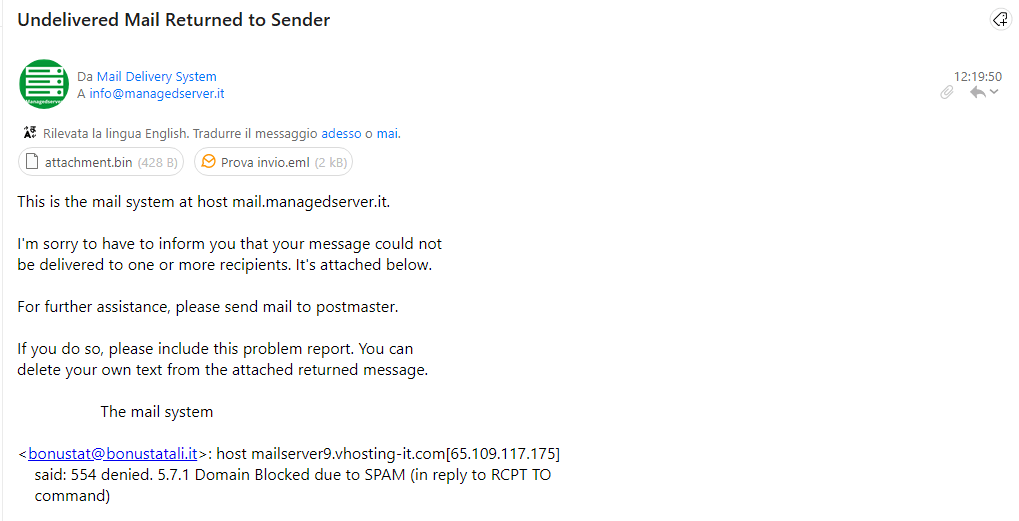 This practice is not only ethically incorrect, but also represents a violation of Italian and European legislation. The laws on competition and the free flow of information are clear: companies cannot take actions to unfairly limit competition or to manipulate the market in their favor.
Additionally, electronic communications regulations state that email service providers may not block or filter emails without a valid legal reason, such as to protect against the threat of malware or phishing. They certainly cannot use these security measures as a tool to limit competition.
Email sabotage not only harms other hosting companies, but also seriously harms customers. The latter have the right to receive all information that may influence their choice of a hosting provider, including responses to requests for assistance, as well as offers for improvements and evolutions. By blocking this information, companies limit customers' ability to make informed choices and limit their freedom to choose.
DDOS attacks: a step beyond the limits of ethics and legality
Unfortunately, some players in the hosting world decide to go far beyond the boundaries of professional ethics, even going so far as to commit cyber attacks to damage the reputation and functioning of their competitors. Among these attacks, one of the most common and harmful is the DDoS attack, or Distributed Denial of Service.
A DDoS attack involves flooding a website or online service with a huge amount of data requests, with the aim of overloading the servers and making the site or service inaccessible. This type of attack can be extremely damaging to hosting companies, as it can lead to service disruption, data loss, and reputational damage. Furthermore, if the affected site is that of a customer of the hosting company, the attack can cause indirect damage to the company's reputation, jeopardizing the customer's trust and loyalty.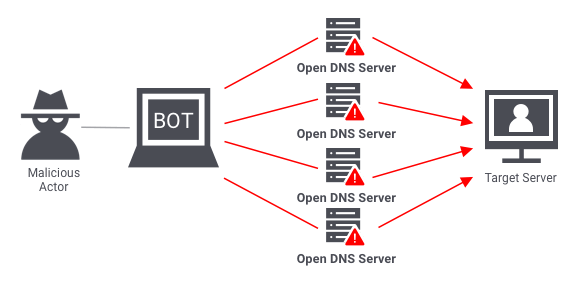 It is true that mitigating a DDoS attack can be relatively quick and easy for an experienced hosting provider. However, an attack of this type can cause serious damage to an inexperienced provider, who may not be able to respond in a timely and adequate manner. The costs associated with responding and remediating a DDoS attack can be significant, including not only the technical costs of hardening security and restoring service, but also the potential loss of customers and revenue.
These practices represent not only a serious violation of professional ethics, but also a clear violation of the law. Cyber ​​attacks such as DDoS attacks are considered criminal offenses in many jurisdictions, including Italy. Companies that commit these attacks can face legal prosecution and face heavy fines or prison terms.
Learn to recognize a good hosting provider by not letting yourself be fooled
In the current sea of ​​hosting industry, choosing the right provider for your needs can seem like a daunting task. Bad practices like fake reviews, biased alliances, disparaging reviews on platforms like TrustPilot, and sabotage like email filtering or even DDoS attacks, can tarnish the reputation of honest vendors and mislead potential customers. However, there are signs to look for and strategies to adopt to defend against these tactics and recognize a quality hosting provider.
Fake reviews and referral marketing: Be wary of overly positive reviews. A balanced review should highlight both the positive and negative aspects of the service. Also, check for any affiliate terms or referral links in the review or blog post. If any, consider the fact that the author may have a financial interest in recommending that particular service. Remember, not all reviews with affiliate links are fake, but it's important to be aware of possible conflicts of interest.
Alliances with Facebook groups and other social media: If you notice that a hosting provider is continually promoted in a group and alternatives are censored or banned, there may be a conflict of interest. It is always best to do your own research and not rely solely on a single group or source of information.
Fake reviews on TrustPilot: TrustPilot is a valuable resource, but it shouldn't be your only source of information. Check out other review platforms and online forums. Also, read the reviews carefully. If you notice particularly promotional or derogatory language, or if the review seems out of context or irrelevant, it could be a fake review. If you notice that the user has only one review, he has recently signed up almost exclusively to leave a disparaging review, it is very likely that the review is fake. If the defamed hosting provider tries to know his personal details and the customer is explicitly reluctant to be identified, the possibility that the review is false is very high.
Sabotage like email filtering: If you notice that your emails are not being delivered or are being marked as spam, your provider may be blocking or filtering your competitors' emails. This is a warning sign and could indicate that your supplier is using bad practices to keep your business.
Also, here are some proactive strategies for choosing a good hosting provider:
A. Check customer portfolio: A good hosting provider should have a list of satisfied customers who are willing to share their experience. You can contact these customers to get direct feedback on the service.
B. Evaluate the speed of the provider's website: The speed of the provider's website can be a good indicator of the quality of their hosting service. You can use free online tools to measure site speed like Google PageSpeed ​​Insight for example.
C. Ask for an analysis of your site: Before choosing a provider, ask for an evaluation of your website. A good provider will be able to provide you with a detailed analysis of your hosting needs and recommend the most suitable plan.
Remember, choosing a hosting provider is a big decision that can have a significant impact on the success of your website or online business. Take the time to do your research, ask questions, and weigh your options carefully before making a decision.
Conclusions
Choosing the right hosting provider is crucial to the success of any online business. In the tumultuous web hosting landscape, however, bad practices such as fake reviews, biased alliances, sabotage, and DDoS attacks can cloud the truth and mislead consumers. Despite these challenges, there are tools and strategies that can help you navigate this difficult terrain.
It's crucial to research, critically evaluate reviews, investigate a vendor's possible alliances and relationships, and keep an eye out for signs of sabotage. A proactive approach, which includes checking a vendor's customer portfolio, evaluating their website speed, requesting a hands-on demo, and detailed analysis of your website, can make a big difference in choosing a vendor. best hosting for your needs.
Above all, remember that a good hosting provider will be transparent, ethical, and focused on providing the best possible service to their customers. In a market often distorted by deceptive practices, choosing a vendor who respects these values ​​will allow you to build a robust and successful online presence.
It must be specified in order to provide impartial, truthful, ethically and professionally correct information that not all those who use Referral Marketing, affiliations and sponsorships make bad information or boycott and sabotage any competitors. There are many competitors (let's say most) and suppliers who are transparent and sell quality products compatible with the needs of most of the market.