Table of contents of the article:
One of the rather frequent requests made to us is to improve the performance and speed of a website on the client's current hosting provider.
In fact, it often happens for us, almost always to tell the truth, that we are not the first choice, but rather one of the last, when dealing with technical problems that are difficult to solve that other suppliers are unable to solve or in any case to satisfy. customer expectations.
So at first glance you often choose the most famous solutions that make pounding advertising and claim to be the best, then when something doesn't go the right way, after several attempts you reach our site and decide to try our solutions and our tailored and customer-tailored performance hosting services.
Therefore, at least in 80% of cases our interlocutor and potential customer already has a Hosting service, in some cases even a Cloud instance or Dedicated Servers paid annually, which he enjoyed only a couple of months of services, before realizing that in that way, with that speed you could not continue like this and go on at the expense of your business.
It is therefore natural and logical that the customer would like to protect the investment made and not incur a new expense with our services, having to lose the sum already paid to the old supplier.
In some cases, for example, on annual fees, we have seen significant figures and amounts for over 4000 euros per year, paid in advance to the supplier against a 10% discount, only to realize that an optimized shared hosting of 500 € / annually to solve all the problems that the old supplier could not manage and solve.
Unfortunately, this request, absolutely understandable by the customer, that is to "recycle" a purchase already made, is never a viable solution due to technical and commercial reasons that we will list below.
Your current hosting provider has its own hardware and software configuration.
Your current Hosting provider will certainly have chosen a hardware and software configuration that it deems appropriate to your hosting plan at its sole right. Hosting plan that does not necessarily have to give you an added value such as speed, performance, a high PageSpeed ​​score or exceed Core Web Vitals.
Your Hosting Provider may simply see you as a chicken to pluck money, give you HDDs rather than nVMEs, or high-latency, low IOPS configurations. It could be one of those general purpose vendors that trims its configuration to you with Plesk and cPanel and then runs out of a sea of ​​features.
We don't even know if your hosting provider applies barbaric overselling policies and lets you run 10 or 200 hosting spaces on your server.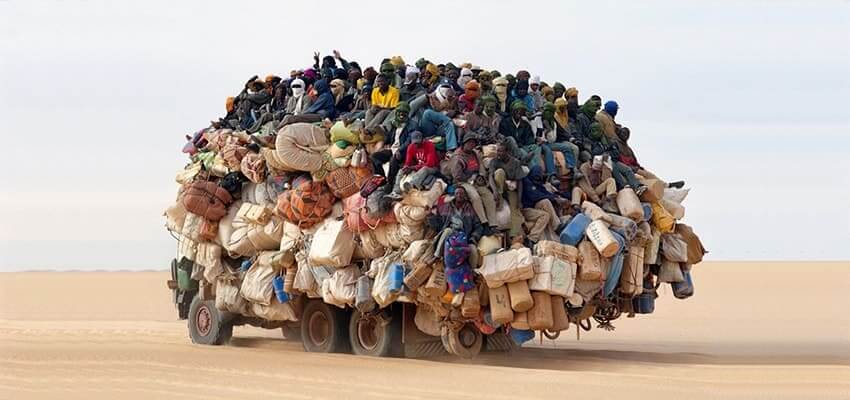 Most likely you will not have root access credentials nor will you be able to completely review the system setup, tuning the various services, adding new ones as static cache systems, or installing a highly performing webserver such as NGINX.
Without this possibility, we can practically do nothing tangible for your website. At most, we could limit ourselves to installing some application-side plugins with the aim of selling you and billing you for some services.
For what purpose? For a fistful of euros more? No thank you.
We need to have carte blanche and do in full and total freedom what we know how to do very well, make your site efficient and fast.
Your current Hosting provider is our competitor and not our friend.
Assuming and granted that your hosting provider has a dedicated server or a VPS or a Cloud instance and grants you root privileges to be able to install any software configuration you want, and you decide to delegate us to perform this task, who guarantees us that the your hosting provider does not decide to shut down the machine with any excuse (imagine the classic broken hard disk) to copy our configuration?
It is good to know that configuring a specific software stack for a CMS is like assembling a haute horlogerie project. There are many software components that must be installed and configured to work synergistically with each other without generating errors, and compatibly with real-world requirements.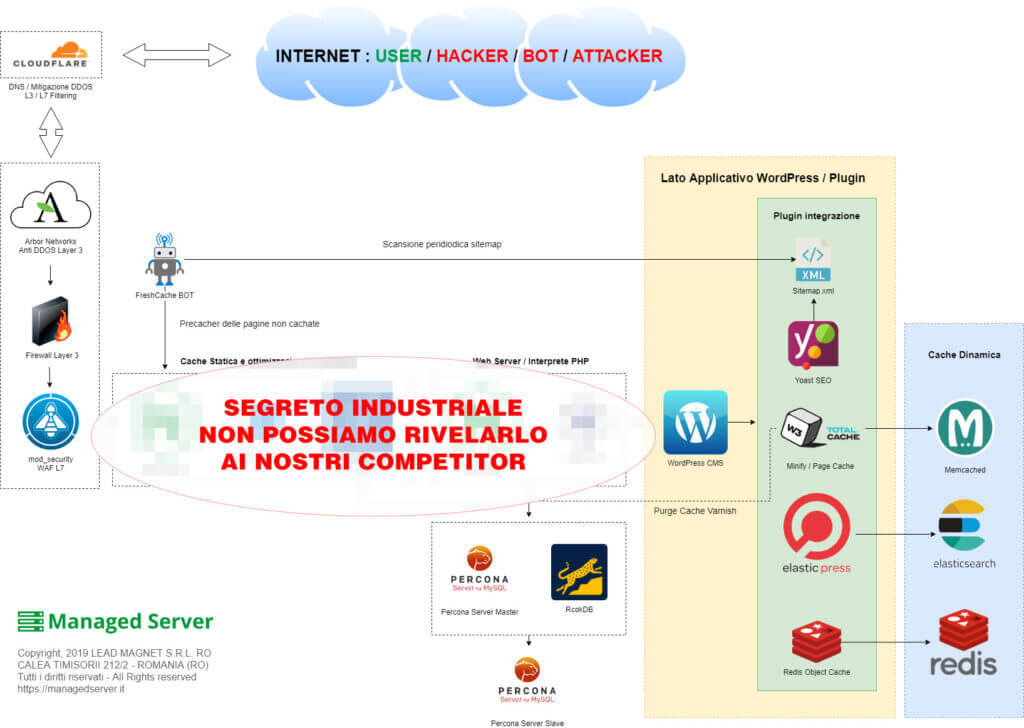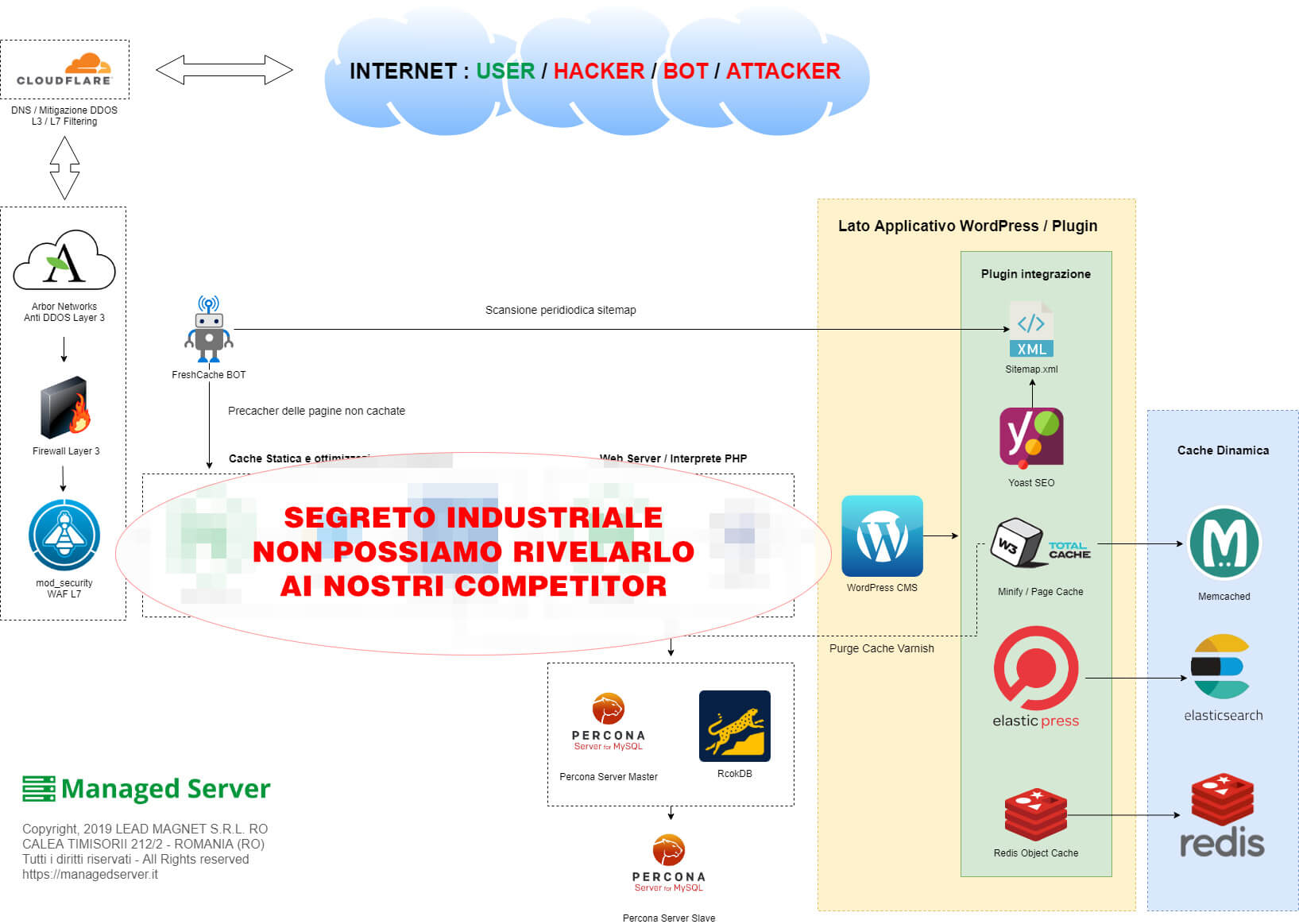 In short, installing NGINX, REDIS and Varnish is not enough for you to have a software stack oriented to web performance that can really make a difference.
In the same way, it is not enough to buy a 10 thousand euro digital reflex camera, if you do not have the accompanying equipment such as tripods and lights, and above all you do not have the technical expertise to know how to set up a photographic studio for a specific need.
It is therefore obvious and obvious that we are very jealous of our "recipe" and we will not make it public even for tens of thousands of euros, let alone run the risk of making it ready and accessible to one of our competitors.
If you want to use our software stack, you can use it on our machines where there is no way to read the configuration outside of our technical staff.
Our effort and your benefits must be paid over time in SaaS mode.
When we go to migrate a hosting to our infrastructure, we do it with the awareness that our initial effort to set up the environment, migrate the site, the DNS, do specific tuning of your CMS, involves an effort in terms of time and resources that it cannot be seen only as a "one-off".
When our company takes your company into consideration, it does so taking into consideration the amount of work and the amount of requests that we receive every day that we are unable to respond to.
Why should we pay attention to a customer who would like a "one-off" optimization, when there is an almost infinite line of customers who are willing to remain stable on our systems and pay the added value of our services in Software As A Service mode, monthly with a monthly fee?
What could be the benefit for us to do a one time tuning, be paid one time (once only) and then have a monthly service and rental fee to your current hosting provider who would not be able to offer a service excellent as ours?
Ethically it is a concept of meritocracy.
Do you see a BMW owner go to the Mercedes dealer to ask for a service and change the timing belt? Or vice versa? Would you enter a starred restaurant with the Mc Donalds bag to eat your sandwich at the table?
Probably not.
So why hope, or in some cases even expect to receive assistance on the services you have mistakenly purchased from your current hosting provider? Why should we reward a supplier that you yourself consider not up to par, asking us for our help, when we have the commercial possibility of taking away a paying customer?
In conclusion
If you have a slow website, you want to get better performance, higher speed, lower latency, an optimal TTFB and you consider your Hosting provider to be inadequate to your expectations, you must have the psychological and economic strength to recognize yourself that you have made a evaluation mistake.
If you have made an advance payment, and you have paid a large sum of which you cannot obtain a refund, you must evaluate whether it is worthwhile to stay with a supplier who is not bringing you any added value, in fact it is most likely damaging your site. your seo, your user experience and your business.
Contact us now to get your site back in hand and screw your old supplier to hell. The whammy of letting him know that hosting him sucks after trying better is priceless.