Google recently started sending email notifications about the new INP report, Interaction to Next, core web vitals. I believe Google started sending them shortly after the report was published in Search Console.
As a reminder, INP, Interaction to Next, will replace FID, First Input Delay, in March 2024 .
Will shared a screenshot on Twitter of the email he received from Google Search Console about problems one of his properties has with INP. The email says:
Google Search Console
INP problems related to Core Web Vitals detected on your website pennepersonalizzate.org
To the owner of pennepersonalizzate.org:
Google is transitioning to a new metric for measuring site responsiveness, known as Interaction to Next Paint (INP), which will replace FID as Core Web Vital in March 2024.
Search Console has detected that your site has the following INP issues:
INP problem: time greater than 500ms (mobile devices)
INP problem: time greater than 200ms (mobile devices)
We highly recommend site owners to get good metrics of Core Web Vitals to get great results with Search and ensure an optimal user experience in general. This, along with other aspects of page experience, aligns with what our leading ranking systems seek to reward.
This is where you can access that report .
The report Core Web Vitals of Google Search Console will include INP in the report Core Web Vitals later this year, he said. "When INP replaces FID in March 2024, the Search Console report will stop showing FID metrics and use INP as the new responsiveness metric", he added.
INP is a metric that aims to represent the overall interaction latency of a page by selecting one of the single longest interactions that occur when a user visits a page. For pages with fewer than 50 total interactions, INP is the interaction with the worst latency. For pages with many interactions, INP is most often the 98th percentile of interaction latency.
Read more about INP are available here and how to optimize it are available here.
Please note that page experience is not a product, but rather good page experience is part of the overall top ranking system. "The good stats inside the report Core Web Vitals in Search Console or reports Core Web Vitals third-party websites do not guarantee good rankingsGoogle's Martin Splitt wrote.
Here as the INP warnings in GSC, @rustybrick pic.twitter.com/77KP1solpc

— Will (@willdropphoto) July 10, 2023
Update: I just received one of these emails, the day after writing this story, and it doesn't list the URLs but rather the sites you've checked in Search Console that have this problem: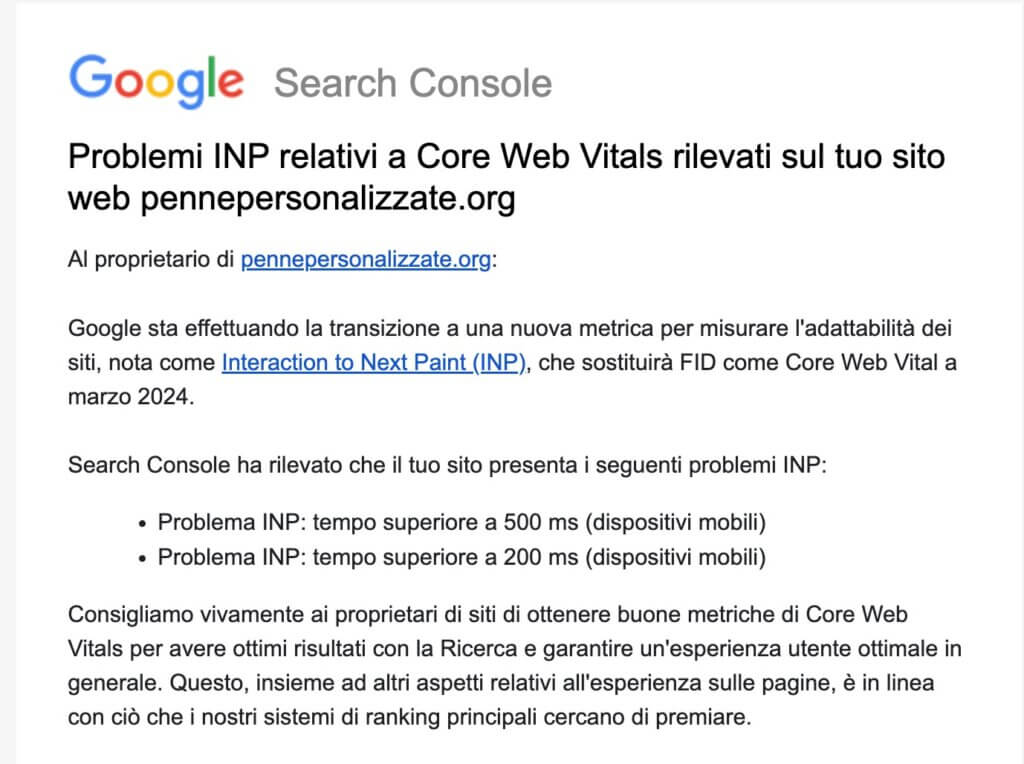 For example, here is our site that has no problems and is ready to pass validation Core Web Vitals.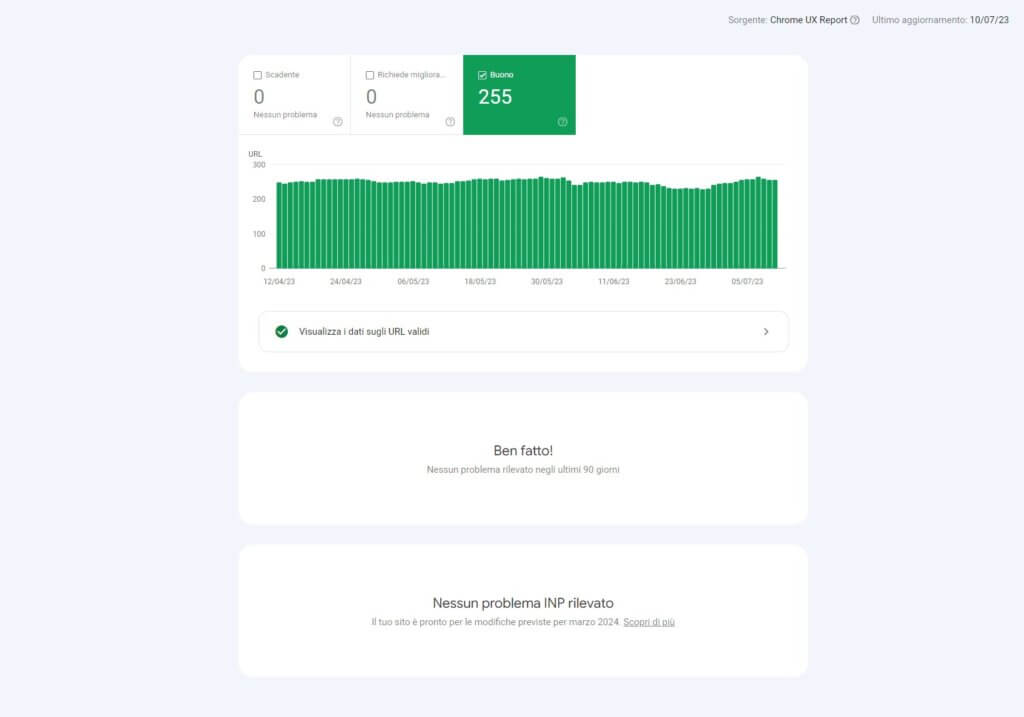 You're having trouble scoring Core Web Vitals of your website? Are you tired of looking for solutions that don't lead to tangible results? The answer you are looking for is closer than you think.
We know how crucial it is to pass the test Core Web Vitals to guarantee a quality user experience, improve SEO ranking and, ultimately, increase the online visibility of your business.
It's time to act! Your online presence is too important to leave to chance. Our team of Optimization service experts Core Web Vitals is ready to help you pass the test successfully.
Don't let your website problems get in the way of your online success.
Contact us today at the service of Optimization Core Web Vitals.