Table of contents of the article:
Linux is known to be a robust, stable, and customizable operating system that is ideal for a wide range of users, from people who use it for their day-to-day tasks to enterprises that use it for large-scale data processing. With so many distros to choose from, a new user might feel overwhelmed. This post is here to help: We'll explore two of the best options for beginners: Ubuntu and Linux Mint.
Introduction to Linux
Before exploring individual Linux distributions such as Ubuntu and Linux Mint, it is essential to understand what Linux is and where it fits into the universe of operating systems. Linux, in essence, is an open-source operating system, a feature that has helped create a vibrant and varied ecosystem, full of numerous "distributions" or "distros", each with its own peculiarities and specializations.
What is Linux?
Linux is an operating system, just like Windows or macOS, but with one key difference: it's open-source. This means that its source code is freely accessible to anyone. Developers, hobbyists, and businesses can take this code, modify, improve, and redistribute it, resulting in an astonishing number of Linux distributions, each designed with a specific goal or user group in mind.
The Linux Kernel: The Heart of the Operating System
At the heart of every Linux distribution is the Linux kernel, the heart of the operating system. The kernel is the software that manages the computer's hardware resources, such as the CPU, memory, and input/output devices. The Linux kernel is known for its efficiency, robustness, and compatibility with a wide range of hardware.
Linux Distributions: A World of Diversity
However, an operating system is much more than a kernel. To be useful, an operating system needs a user interface and a set of software applications. That's where Linux distributions come into play.
A Linux distribution is a collection of software built around the Linux kernel. This software may include a desktop environment, which provides the graphical interface users interact with; a number of pre-installed applications, such as web browsers, text editors and multimedia tools; a package management system, which allows you to easily install and update the software; and many other components.
Linux distributions can differ greatly from one another. Some may be designed to be light and fast, ideal for older or less powerful hardware. Others may focus on ease of use and accessibility, making them great for beginners. Still others may focus on stability and security, making them preferred for use in business or critical environments.
What is a 'Beginner-Friendly' Distribution?
In the vast universe of Linux distributions, some are labeled as "beginner-friendly" or "friends of beginners". These distributions are designed with the specific goal of making the Linux experience accessible and intuitive, even for those who have never used an open-source operating system before. But what makes a beginner-friendly Linux distribution?
Intuitive User Interfaces
A key feature of beginner-friendly distributions is the presence of an intuitive user interface. These interfaces are designed to be easily navigable and understandable, even for those unfamiliar with Linux. Often, these distributions aim to provide a user experience similar to that of more common commercial operating systems, such as Windows or macOS, to ease the transition.
Hardware and Software Support
Beginner-friendly distributions also offer solid support for consumer hardware. This means they are able to recognize and correctly use a wide variety of hardware devices, from graphics cards to input and output devices, without the need for complex configurations.
Also, these distributions include a set of useful software already pre-installed. This can include an office suite, web browser, media player and other useful tools, allowing new users to start working immediately after installation.
Simple installation and update
Another element that distinguishes beginner-friendly distributions is a simplified installation and system update process. These distributions offer tools that guide you through installing the operating system, selecting configuration options, and installing the necessary hardware drivers. In addition, I provide package management systems that make installing, updating and removing software easy.
Active Support Communities
Finally, beginner-friendly distributions often boast very active support communities. These communities are made up of users and developers who can help beginners troubleshoot, understand how the system works, and discover new tricks and features. This type of support can make a big difference to a beginner's experience with Linux, turning a potentially intimidating journey into a rewarding and educational adventure.
In summary, a beginner-friendly Linux distribution is designed to ease entry into the world of Linux by providing an intuitive user interface, robust hardware support, a set of pre-installed software, a streamlined installation process, and a community of active support. These features can be the difference between a frustrating transition and an exciting discovery in the open-source world.
Ubuntu: A proven option
Ubuntu, a name that means "humanity towards others" in the Zulu language, is undoubtedly one of the most popular and beginner-friendly Linux distributions. Created and maintained by Canonical Ltd., a British company founded by visionary entrepreneur Mark Shuttleworth, Ubuntu has revolutionized the world of Linux operating systems since its inception in 2004.
The history of Ubuntu is closely tied to that of its parent company, Canonical. Shuttleworth, after selling his Thawte company to VeriSign in 1999, decided to pursue the promotion of open source software and his vision of an accessible and easy-to-use operating system for everyone. In 2004, Canonical launched Ubuntu, a new Linux distribution based on Debian, another popular Linux distribution.
From the very beginning, the goal of Ubuntu was to offer a modern, stable and complete operating system that could be used easily by both home users and businesses, and this without giving up the open-source philosophy. Over the years, Ubuntu has grown in popularity and evolved, becoming the go-to distribution for many people entering the world of Linux.
Ease of use
Ubuntu's popularity can largely be attributed to its ease of use. Ubuntu has made Linux accessible to a wide range of users, regardless of their technical skills. This accessibility is reflected in Ubuntu's clean and intuitive user interface, which uses the GNOME desktop environment. This interface has helped make the transition to Ubuntu easier for users coming from operating systems like Windows and macOS.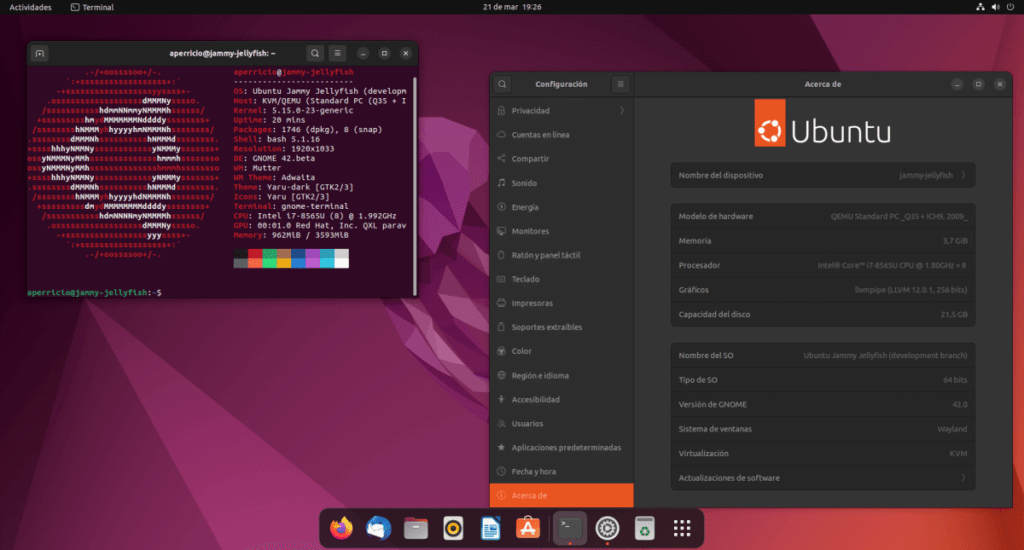 Ubuntu is also known for its software center, an application that makes it easy for users to search for and install new programs. Ubuntu's package management system, based on Debian's, is powerful and flexible, yet easy for newcomers to use.
Community and Commercial Support
Another strength of Ubuntu is its community. With millions of users worldwide, Ubuntu has one of the largest and most active support communities in the Linux world. This community has proven invaluable in providing assistance to new users, with a large number of guides, discussion forums, and online resources available to solve any problem.
At the same time, Canonical offers robust commercial support for Ubuntu. This means that, in addition to the help of the community, Ubuntu users can also count on a team of professionals to solve more complex problems or to provide assistance on specific issues. This level of commercial support has helped make Ubuntu a popular choice in the corporate world as well.
Linux Mint: A friendly and familiar choice
If Ubuntu is the best-known face of Linux, Linux Mint could be considered its younger brother, a little more rebellious but still welcoming. Launched in 2006, Linux Mint gained popularity due to its intuitive nature, its familiarity for Windows users, and its array of custom features. It is, without a doubt, an excellent option for those approaching Linux for the first time.
The history of Linux Mint begins with its founder, Clement Lefebvre, a French computer engineer who had the goal of making Linux more accessible to less experienced users. Basing his new distribution on Ubuntu, Lefebvre set about developing an operating system that moved away from some of the design choices of Ubuntu in favor of a more traditional and familiar approach.
Lefebvre and his team have worked tirelessly to improve the user experience, adding new features and options that make Linux Mint a unique operating system of its kind. Over the years, Linux Mint has gained a loyal user base and continues to be a top contender in the Linux distribution landscape.
Familiar interface
One of the aspects that makes Linux Mint an excellent choice for beginners, especially those coming from the Windows world, is the desktop environment it uses, known as Cinnamon. This graphical user interface has revolutionized the Linux experience, making it more welcoming and familiar for those approaching this operating system for the first time.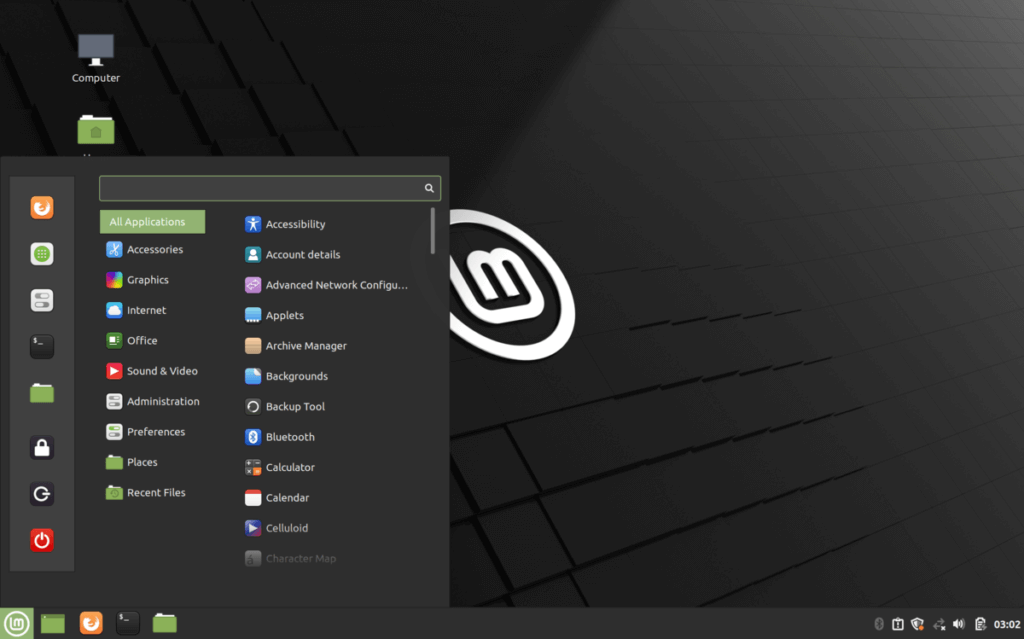 Cinnamon is a desktop environment for Linux, originally developed by the Linux Mint team, that offers a clean, intuitive and customizable user interface. Unlike other desktop environments for Linux, Cinnamon emphasizes ease of use and functionality, rather than being light or minimal.
The Cinnamon desktop environment was born out of a series of experiments conducted by the Linux Mint team in response to the controversial introduction of GNOME 3 and Unity, two new desktop environments that carried a futuristic vision of the user interface, but were considered too radical and less functional by a significant portion of the Linux community.
Cinnamon is distinguished by its familiar layout, which is very reminiscent of that of Windows. In the center of the bottom bar, we find the application menu, very similar to the Windows Start menu. To the right, there are the system icons and the clock, while to the left, we find the icons of the open applications, just like in the Windows taskbar.
This familiarity can greatly ease the transition to Linux Mint for Windows users. Users can easily find and open applications, manage open windows, and customize their desktop in a way that feels instantly familiar.
Pre-installed software
Another great strength of Linux Mint is the wide range of pre-installed software it offers. Unlike many other Linux distributions, Linux Mint doesn't force you to manually install core applications after installing the operating system. Instead, it provides users with a suite of useful tools that cover a wide range of needs, from word processing to web browsing to multimedia.
Linux Mint comes with a complete productivity package pre-installed. This includes LibreOffice, an open source office suite that is a viable alternative to Microsoft Office. LibreOffice includes tools for word processing, spreadsheet creation, presentation, design and database management, allowing Linux Mint users to start working immediately after installation.
For web browsing, Linux Mint includes Firefox, one of the most popular and respected web browsers for its speed, security and respect for privacy. Firefox offers a feature-rich browsing experience, with support for thousands of extensions that can customize and enhance your web surfing.
But perhaps the real highlight of Linux Mint is its support for multimedia. Linux Mint comes with a number of pre-installed multimedia tools that make it easy to play videos, listen to music, and view pictures.
Among them, there is VLC Media Player, a versatile and powerful media player that can play virtually any audio or video file format. Linux Mint also includes Rhythmbox software for managing and playing music, and the Pix image viewer for viewing and organizing your photos.
Additionally, Linux Mint natively supports many media codecs, which means you won't have to manually install codecs to play your media files. This is a big advantage over other Linux distributions, which often require users to install codecs manually.
Familiarity and Custom Features
One of Linux Mint's main strengths is its familiarity. The system uses a desktop environment called Cinnamon, which looks a lot like the Windows interface. This makes Linux Mint particularly attractive to Windows users who want to switch to Linux without losing the user experience they are used to.
But Linux Mint isn't just a copy of Windows. It also has a number of custom features that make it unique. For example, Mint's software management system, called Software Manager, is designed to be extremely easy to use, making installing new applications a breeze.
Linux Mint also includes a set of specific configuration tools, such as the Mint Menu, Mint Update and Mint Welcome. These tools make customizing and upgrading the system a simple and intuitive process, allowing users to tailor the system to their needs.
Linux Mint and Ubuntu: A Deep Bond
The kinship between Linux Mint and Ubuntu is very deep, as Linux Mint is a direct derivation of Ubuntu. This close bond has allowed Linux Mint to inherit many of the qualities that make Ubuntu an excellent choice for beginners, but it has also allowed Linux Mint to develop its own unique character.
Being based on Ubuntu, Linux Mint can benefit from the vast community support of Ubuntu. The Ubuntu community is one of the largest and most active in the Linux world, with users and developers actively contributing to fix problems, develop new features, and improve security. Mint users can then access this vast resource of knowledge and assistance in solving any problems they may encounter.
Additionally, Ubuntu is known for its robust security policies and broad hardware compatibility. This means that Linux Mint boasts a secure and stable operating system that is compatible with a wide range of hardware, from the oldest to the latest.
However, Linux Mint differs from Ubuntu in its approach to system updates. Unlike Ubuntu, which tends to include the latest software releases and features in its operating system, Linux Mint takes a more conservative approach, preferring stability and reliability over the latest.
This approach may make Linux Mint a safer choice for beginners or those who prefer an operating system that "just works," without needing to deal with potential issues from new software releases or features.
Conclusion
Both Ubuntu and Linux Mint are excellent options for beginners who want to get started with Linux. Both distributions offer intuitive user interfaces, robust community support, and a wide range of software.
Choosing between Ubuntu and Linux Mint can come down to small details like your desktop environment preference or need for a particular piece of software. Either way, both distributions offer a great starting point for exploring the world of Linux. Remember, the beauty of Linux is in its diversity and the ability to choose. So, explore, experiment and above all, have fun!