Table of contents of the article:
In today's digital world, SEO (Search Engine Optimization) has become an indispensable practice for companies that want to improve their online presence and reach their target audience. SEO helps to position a website in the first search results on search engines, such as Google, and this is particularly important for editorial projects, as it allows them to attract and maintain the attention of the public and increase their visibility online.
In this article, we will talk about the importance of SEO in writing articles and posts for Google Quality Raters and why it is essential to create high-quality content from an SEO perspective not only in function of Google algorithms and crawlers, but also in function of a possible visit by a Quality Raters.
Why is it so important to write from an SEO perspective for an editorial project?
Writing from an SEO perspective for an editorial project means creating content optimized for search engines, using keywords and phrases relevant to your sector and target audience. This allows you to increase the visibility of your content on Google search results and to reach a wider audience interested in your topics.
Furthermore, a good SEO strategy can help improve positioning on Google search results, thus ensuring greater visibility of your website and content.
However, SEO alone is not enough to be successful in the digital world. It is essential to create high-quality content that offers relevant and valuable information to your target audience.
Why is it important to write quality content from an SEO perspective also for Quality Raters?
Too often improbable editorial approaches are witnessed in which content is attempted to be produced in a confusing way and with a writing of texts not suitable for a human reader, although at an SEO level a content written for Google and therefore a search engine could seem adequately profitable and achieve ranking and indexing objectives that may not qualify to pass an assessment by a Quality Raters.
In cases of traffic peaks, infrastructure changes, particular errors that weren't there before, or simple user reports, a Quality Rater could decide to visit our blog if it appears in searches made by users on certain topics, or if it is reported as a source of high quality and relevant information. If our blog offers valuable, relevant and complete content with respect to the user's search, and if they meet the evaluation criteria of Google's Quality Raters, our website could gain visibility and authority in the reference sector. Also, if our blog is rated positively by Quality Raters, it may receive a higher ranking on Google search results, thus increasing the chances of being found by a wider audience.
Quality Raters rating is very important as it affects the position of Google search results. Content that doesn't meet Google's guidelines and doesn't meet the Quality Raters' quality criteria is less likely to appear in the top search results.
Who are the Quality Raters in Google and how many are there in the world?
Google's Quality Raters are professionals selected and trained by Google itself to evaluate the quality of the content on search results. They use the guidelines provided by Google to evaluate the relevance, authoritativeness and reliability of web pages and the content contained within them. It is not known exactly how many Quality Raters there are in the world, but it is estimated that there are tens of thousands.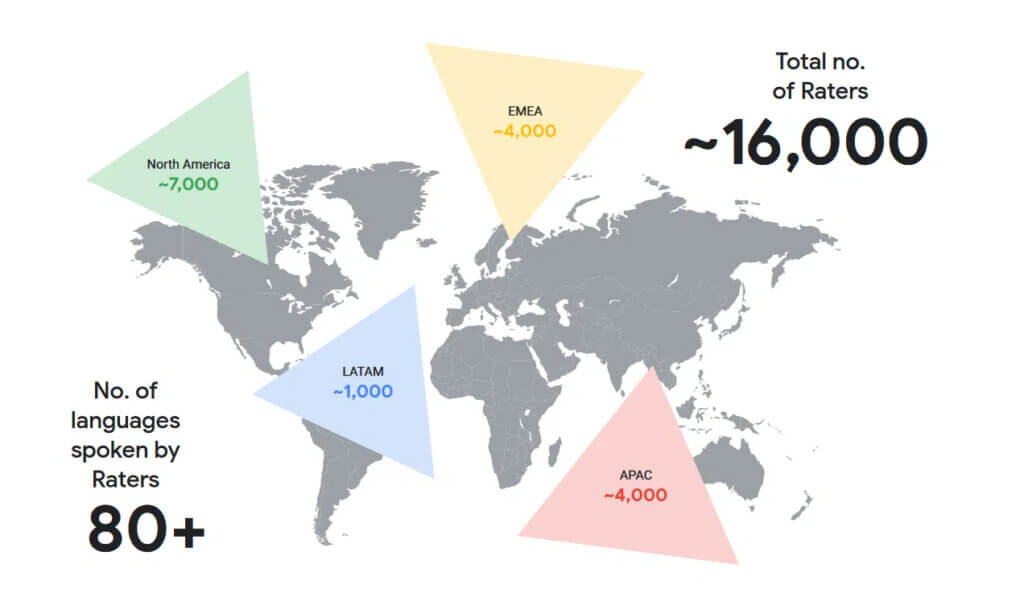 Quality Raters work remotely and are divided into teams that rate different types of content. Typically, they evaluate niche content and web pages that are not automatically analyzed by Google's algorithms or that may require manual and human review.
What are the duties of a Google Quality Rater?
The main task of a Google Quality Rater is to evaluate the quality of the content present on search results, according to the guidelines provided by Google. Their work is very important, despite being a little-known figure among non-experts as they make it possible to improve the quality of online content and ensure a satisfactory user experience relevant to users' expectations. The Quality Raters evaluate a series of factors, such as the relevance of the contents with respect to the search performed by the user, the completeness and quality of the information provided, the authoritativeness of the source and the ease of navigation of the website.
Google's Quality Rater Guidelines contain the official details of Google's approach to measuring website quality and hence, it is found within search results.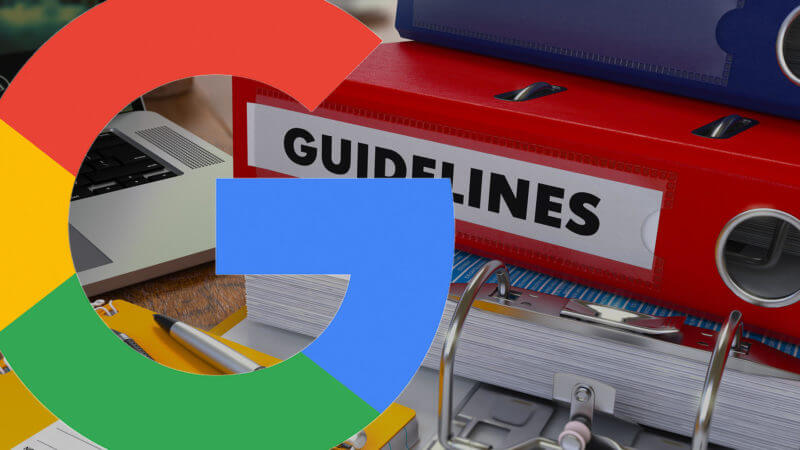 These guidelines essentially outline the fundamental conditions, performance benchmarks, and web page elements that best determine overall quality.
After the visit, they are encouraged to rate each website within multiple categories. It is important to note that both positive and negative ratings provided by quality raters do not affect a website's position within Google search results. Not directly, at least.
In essence, Quality Rater feedback follows a structure based on a sliding scale. The scale contains nine values, from "lowest" to "highest" by category assessed.
Overall ratings are combined, averaged, and then processed by Google's machine learning algorithms.
Through this process, Google can then further refine the algorithms it already uses: better measure the quality of website content, user interface navigation, and overall user-friendliness.
Tips for passing the tests of a Quality Rater
If you want to create high-quality content that meets Google's Quality Raters evaluation criteria, it is important to follow some SEO and writing best practices, remembering first of all that a Quality Rater is a human being and just like us he is gifted as well as of discretionary power, also an excellent aesthetic taste and understanding of the text, as well as to correlate the information much higher (at least to date) than any algorithm or Artificial Intelligence.
It might help you to try to think as if you were a Google Quality Rater and keep in mind that the acronym EAT, or Expertise, Authoritativeness and Trustworthiness, has become one of the fundamental qualitative parameters considered by Google to evaluate the quality of a website and its contents. It represents the sum of the three factors that Google considers essential to guarantee a good user experience: competence, authority and reliability.
Competence, or expertise, refers to the author's specialized knowledge of the topics covered and his ability to provide accurate and up-to-date information on the subject. Competence can be demonstrated through the author's training and professional experience, the quality of his content and the presence of authoritative sources confirming his competence.
Authoritativeness, or authoritativeness, refers to the reputation of the author and his ability to provide reliable and quality information to his readers. Authoritativeness can be demonstrated through the presence of citations, recognitions or awards, but also through the active participation of the author in the community of the sector in which he operates.
Reliability, or trustworthiness, refers to the author's ability to provide truthful and high-quality information, without misleading users or providing false or incorrect information. Reliability can be demonstrated through the correctness of the data presented, transparency in the use of user data and the presence of positive feedback from users who have already used the site's content.
Furthermore, it is important to underline how the concept of "expert" is not exclusively linked to certain professional sectors, but can also be applied to sectors such as gossip, fashion or humor, in which competence can be demonstrated through the ability to provide useful information, correct and relevant to their readers.
Here are some useful tips:
Create high-quality content: Content must be relevant, complete, trustworthy and offer value to your target audience.
Use relevant keywords: Keywords should be selected carefully and used naturally and relevantly within the content.
Use effective titles and meta descriptions: Titles and meta descriptions should be short, relevant, and inviting to grab the user's attention.
Use internal and external links: internal and external links can improve user navigation and increase the authority of the website.
Use relevant images and videos: Images and videos can make content more engaging and comprehensive, as long as it's relevant and of high quality.
Maintain a well organized layout and structure: the layout and structure of the website must be easy to navigate and well organized, in order to facilitate the user's search for information.
SEO and high quality content writing are essential for the visibility and success of online editorial projects. Google's Quality Raters play a key role in evaluating content on search results, and creating high-quality content from an SEO perspective can help you pass their tests and increase your website's online visibility. By following some SEO and writing best practices, you can create content that meets Google's Quality Raters evaluation criteria and offers value to your target audience with the hope of being rewarded or at least not penalized.