It is easy and frequent to come across a lot of reviews that indicate SiteGround like miglior WordPress hosting. This is certainly derived from the excellent reputation that a big player in the sector has managed to create in the environment of WordPress developers and the actual goodness of their hosting solutions. to the sound of commissions to the many marketers who sponsor SiteGround exclusively to pocket the fees of their affiliate program.
We personally know many of their customers with whom we usually carry out consulting and development services, and occasionally we provide them with enhanced optimization services by deciding to bring them to our systems and therefore providing a more performing service.
We want to give the example of one of our new customers who, having subscribed to a GoGeek type hosting plan with Siteground at a cost of about € 25 / month, finds that the site is disabled due to the large influx of visitors that has made the server overloaded.
This is what is communicated by the assistance that has meanwhile provided take the site offline and therefore created damage in terms of lost revenue to the customer: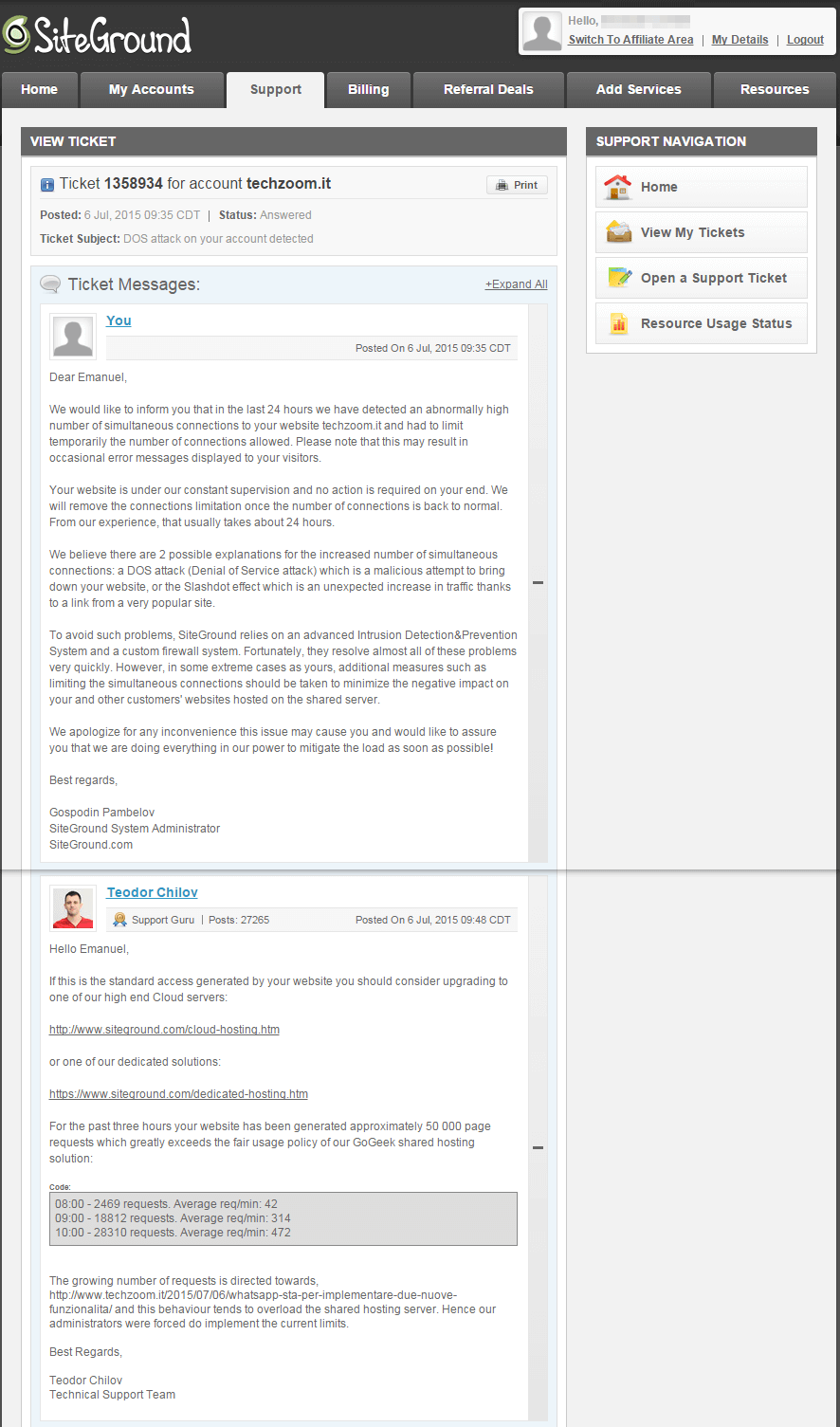 We were therefore contacted by the customer who, having received news from a colleague of the optimizations on WordPress blogging sites based, wanted to test our services and the performance optimization that we were able to give by using the most popular tools in the hosting sector, ranging from PHP-FPM, Zend OpCache, Nginx, Memcached and Varnish with a wise use and tuning of various WP plugins to increase the Pagespeed and YSlow score, as well as a reverse proxy at CDN level via Incapsula which allowed us to save bandwidth and decrease the loading times of static content such as images.
Currently on www.techzoom.it (the site migrated to our systems) we are able to withstand more than four times the requests that have created problems in Siteground, at completely comparable costs if we consider managed assistance and constant supervision that certainly give added value to the customer's business.
We wanted to discuss and document this case to bring to the attention of our alternative hosting reality to Siteground, a reality that is certainly smaller and more moderate but with a know-how that is more than adequate to the expectations of the most demanding customers and the most expensive situations.
The Siteground hosting service is one of the most popular and well-known options on the market, but there are some considerations to be made about its actual quality and the veracity of the reviews that can be found around.
First, it's important to point out that many of the positive reviews that can be found online for Siteground are often biased and do not represent an objective assessment of the quality of the service. This is because many websites and blogs that post hosting reviews are part of paid affiliate programs, which means that they receive a commission every time someone signs up for their hosting service through their affiliate link. In other words, they have a financial interest in promoting Siteground and posting positive reviews.
This does not mean that Siteground is a bad hosting service, just that it is important to do a thorough research and evaluate different options before choosing a hosting. There are many other high-quality and reliable hosting providers that may be suitable for your needs and that are not part of affiliate programs.
Also, it's important to consider that your hosting needs can vary greatly depending on the type of website you're running and its size. This means that what works well for one site may not be the best choice for another. Therefore, it is important to make a thorough assessment of your needs and the features offered by different hosting providers before making a choice.