Hello and welcome to
Managed Server Srl
,
Performance Managed Hosting
,
if you are here it is because you are wondering, perhaps with a little amazement,
what is he looking at
, and how your site is hosted on our server.
First of all, if you haven't already done so, we invite you to browse the site by clicking from one link to another and trying to pay attention to the reaction times of the site and its navigation speed.
Once this is done, we invite you to read this article calmly, so that you can understand the advantages that your business can obtain with our support.
1. What are you looking at?
What you are looking at is a performance and speed optimized demo of your original website that we have selected for the sake of
slowness
and navigation difficulties.
A slow site by academic definition is a site that takes more than two seconds to return a result, however today, it is more correct to say that everything that could be faster is slow.
It is not always possible to imagine how your site would have been if it had been faster, very often we are satisfied with what we consider satisfactory without asking the question of whether we could actually have obtained benefits in terms of speed and positioning, with other technologies and other hosting companies.
What we do is make you aware and aware that there is more you could do for your website and for your business and we want to give you practical and tangible proof.
2. What does it mean?
It means that your website has been evaluated and weighed according to international metrics and found missing. The slowness of your site and the lack of responsiveness entails economic and image damage, especially in terms of lost sales from the site, which you could easily solve through our service
Web Performance Optimization
that we have been offering since 2005 to companies of all types and sizes, from small entrepreneurs to companies that are on RAI and Mediaset networks.
The time is now ripe and for years it has been clear how much navigation speed can affect both your users and search engines which today more than ever have reserved the right to reward fast and snappy sites at their sole discretion.
We could talk about web performance, speed and PageSpeed ​​for days, but we wanted to replace everything that has been said by searches such as those of Brand Perfect, Amazon or Google in this short infographic, which, although spanning metrics, very clearly suggests the importance of a fast website.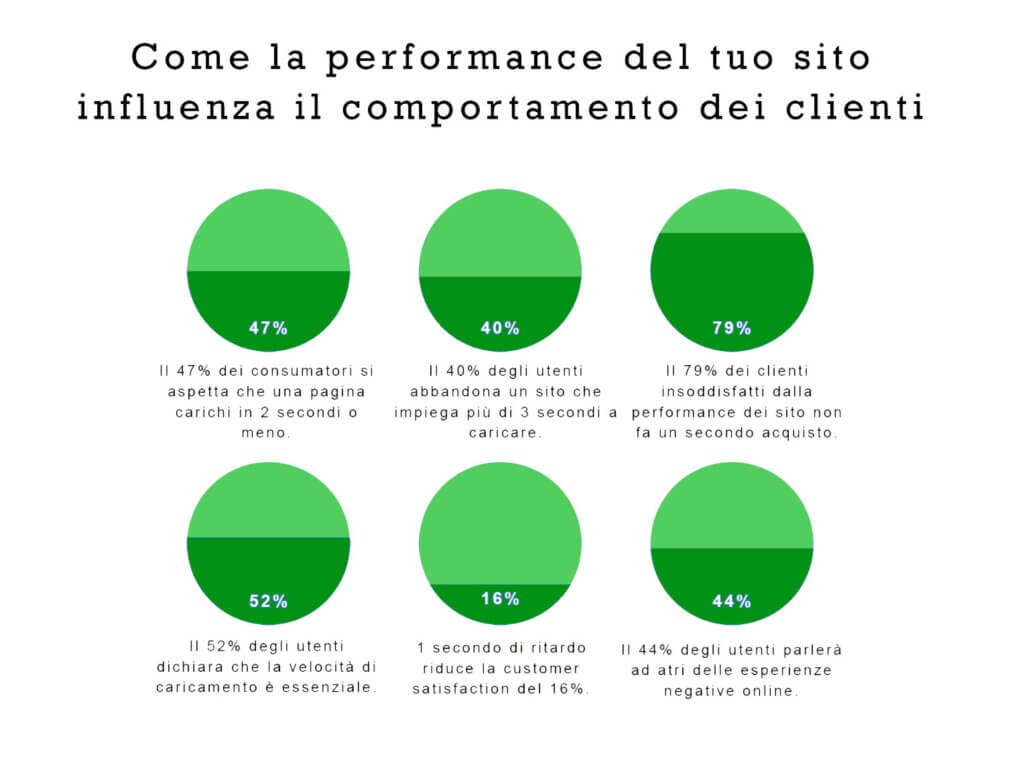 Maybe your site will sell, you'll run advertising campaigns on Facebook and Google and you'll be thinking that basically it works because you're receiving visits, people browse, someone buys, but how many of those who land on your site close and abandon your site because of too slow?
For every additional visit that you manage to make to your site, you are losing at least two more that you could be able to make if your site was as fast and snappy as in the demo you just browsed.
3. How do we do it?
We are a Web Performance-oriented Hosting and system consultancy company operating on the market since 2005. Customer portfolio and case studies in hand, we can certainly consider ourselves among the top three leading companies in Italy, and unlike many companies on the market that promise improvements in terms of speed,
we are the only Hosting Performance company to give a hands-on demonstration of what we can do for you
, even before proposing quotes or contracts. This to protect your business and your investment, giving you the opportunity to understand what the final result will be beyond the vain words of the many salesmen on duty (from other companies) who often promise what they fail to keep and bind you into contracts expensive and long lasting.
4. Let's achieve your goals together.
Our goal is to improve the user experience of your visitors and potential customers, as well as the pleasure of browsing your site, making it faster and more responsive to bring real added value to your online presence and make your business more profitable in terms of reputation and turnover.
It is important to have a fast website for several reasons. First, a site that loads quickly can improve sales.
A study by Brand Perfect has shown that
just 1 second delay in opening a page can reduce sales by 7%
.
According to Google, however,
53% of visits are abandoned if a mobile site takes more than 3 seconds to load
.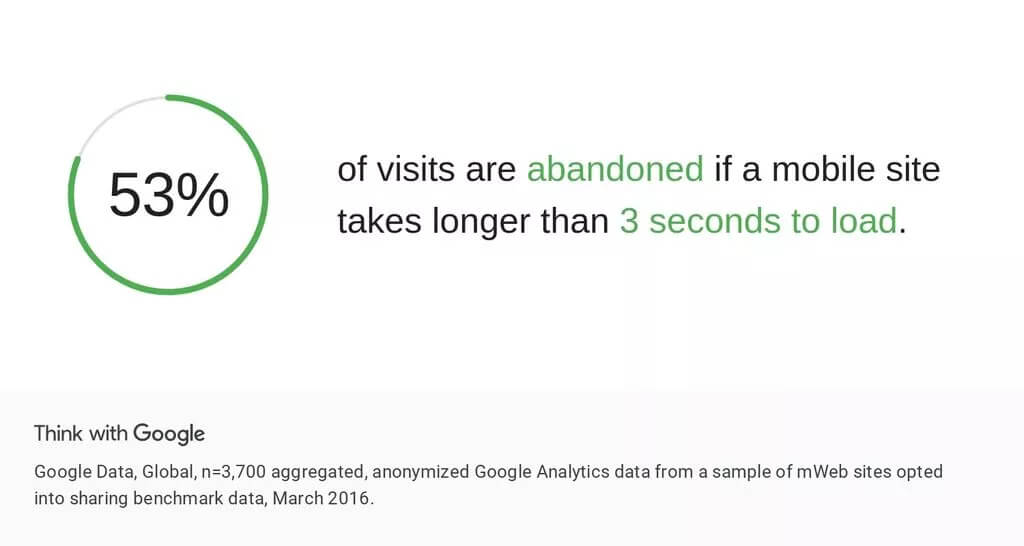 In short, if your website takes longer than two seconds to load, you are losing sales perhaps without even knowing it just because you have entrusted yourself to a normal hosting company and not to
web performance specialists.
Furthermore, a fast site has a positive effect on search engine rankings, since speed is an important ranking factor for Google and other search engines especially with the advent of
Google Core Web Vitals in 2021.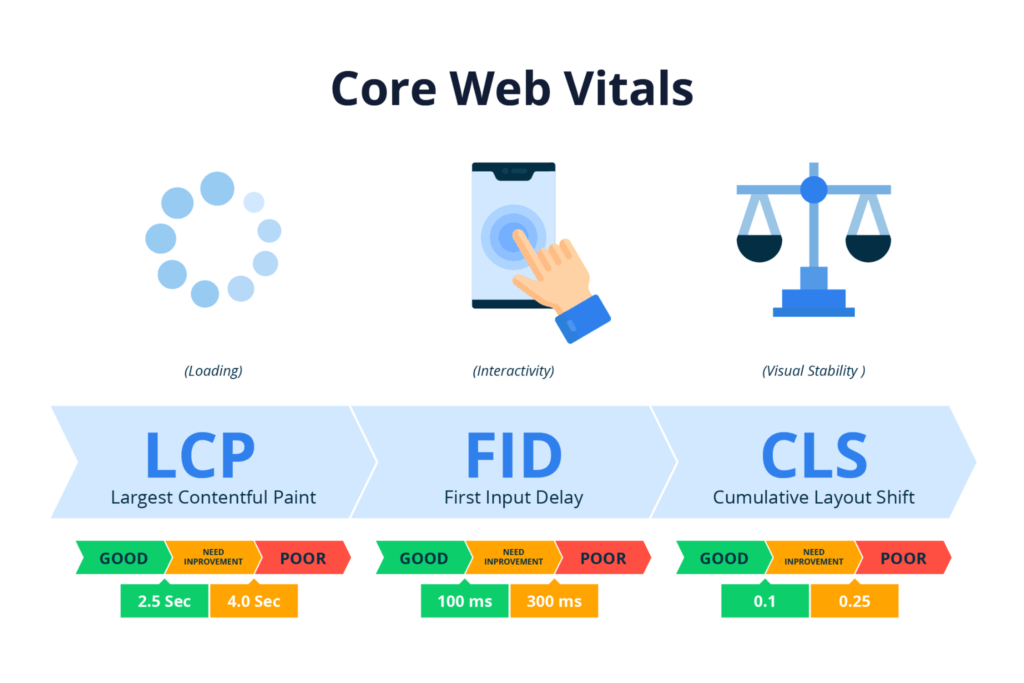 Optimizing the quality of the User Experience is the key to long-term success for any website.
I
Core Web Vitals
for a couple of years, for Google, they have been a series of metrics considered decisive for evaluating the user experience offered by websites and, since 2021, they have been a positioning factor integrated into the ranking algorithm. With this evolution, the Mountain View giant wants to ensure that
websites guarantee an excellent user experience through content that loads quickly, is easy to navigate and visually stable, especially on mobile.
If after this reading and after browsing the demo site you were able to perceive the difference in terms of navigation speed compared to your original site,
you should contact us so that your customers can enjoy your same user experience that you could try yourself
and thus make navigation on your site, in the catalogue, in the display of products easier and faster and therefore facilitate and encourage purchases.
You can contact us by mail at
info@managedserver.it
or through the
contact page
.
If you prefer to make an appointment by phone, please contact us on 3409854556.
If you are not convinced of what we can do for you, go back to the demo of your site and browse it again, realizing for yourself how much more pleasant and easier it is to make a purchase with our performance optimization system rather than on your site.