Table of contents of the article:
It is important to monitor your applications, websites, network, firewall, etc. Tracking can help you find the root cause of a problem and be aware of the problem ahead of your customers.
In this article we will focus on monitoring web applications or websites.
There are multiple solutions such as Uptime Robot or StatusCake which allow you to monitor 50 websites for FREE. You can monitor your URL, check if your SSL certificate will expire, and receive alerts if your website is down via email, slack or even via SMS.
You can have exactly the same features (even more) by installing Uptime Kuma which is open source and can be installed self hosted on a VPS or Cloud instance.
The dashboard design is similar to Uptime Robots and very intuitive as well as absolutely fast and captivating.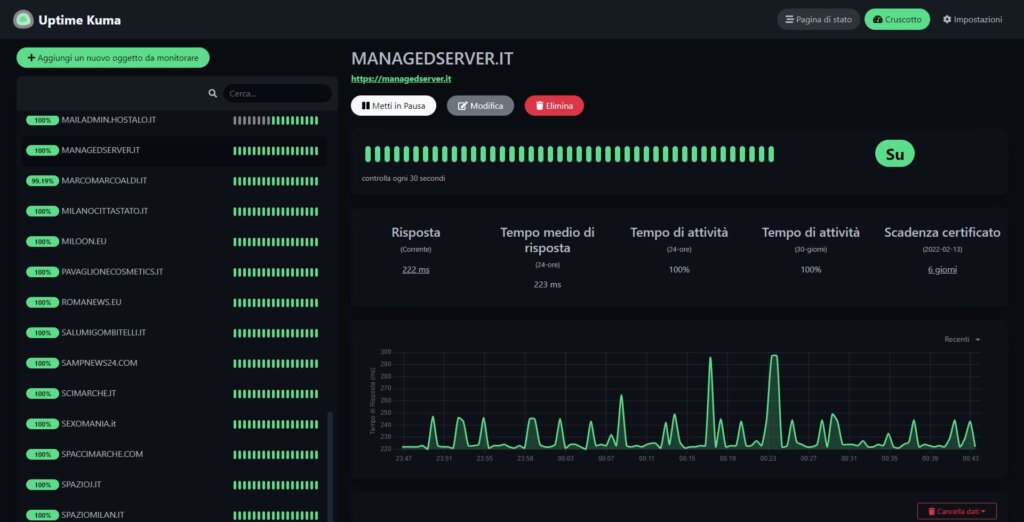 Developed on advanced technologies
It must necessarily be said that the Uptime Kuma is developed on cutting-edge, asynchronous, networking and performance-oriented technologies.
In fact, Uptime Kuma is based on the node.js language, and SQLite as a noSQL database.
The graphical interface is based on Vue.js 3, Bootstrap5 and Vite.js
It makes use of WebSockets and is available both as standalone mode (you will have to install nodejs and npm) and then run Uptime Kuma, or for those who know docker and want to start using it right away, they can opt to download the dockerized image.
Feature and functionality
It must be said that the software, although relatively new, is already very mature and well-equipped with features.
Although it is certainly inspired by Uptime Robot (the graphical interface is very similar) it has nothing to envy to it.
In fact, we find many features including:
Uptime Tracking for HTTP (s) / TCP / HTTP (s) Keyword / Ping / DNS Registration / Push / Steam Game Server.
Sleek, responsive and fast UX / UI.
Notifications via Telegram, Discord, Gotify, Slack, Pushover, Email (SMTP) and beyond 70 Notification Services, click here for the full list .
Minimum intervals of 20 seconds for monitoring.
Possibility to retry the check before sending the alert
Simple status page
Ping chart
Response Time History (TTFB)
Information on the SSL certificate and notifications when there are a few days left to expire.
How much do you save compared to Uptime Robot?
Let's take the example of an average hosting company that wants to monitor 5000 sites per month for a year.
With Uptime Robot we would have a cost of 4944 dollars a year.
With Uptime Kuma, just the cost of a Cloud instance with 4 cores and 8GB of RAM and 1GB / s of connectivity that we currently pay € 13 per month.
So we pass from about $ 5000 a year to about € 150 a year with a saving of 33 times.
What are the limits?
The only limit that can be noted is that the location of the tests is only relative to the geographical area where the machine is installed. It is not possible to test the reachability of sites from different locations and therefore you should be careful to install it on a provider that has excellent uptime and excellent reachability of services.
For sure it is a solution that suits 99% of current Uptime Robot users.