Table of contents of the article:
A 37-year-old from Fabriano (Ancona) is one of the stars of Italian e-commerce, published in the insert "L 'Economia" of the Corriere della Sera on 8 November.
This is Alessandro Stroppa with his "Aleascosmetics.com".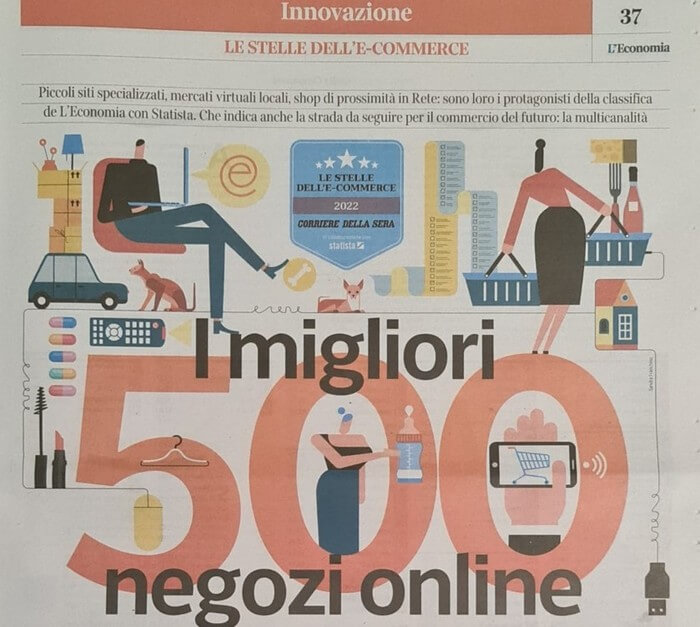 The statistic was produced by L'Economia and the Statistica.com portal, and reports the 500 best online shops in the country divided by commercial categories.
In the category "cosmetics, personal products" it is in 37 / a position "Aleascosmetics.com" company founded in 2009 by Stroppa.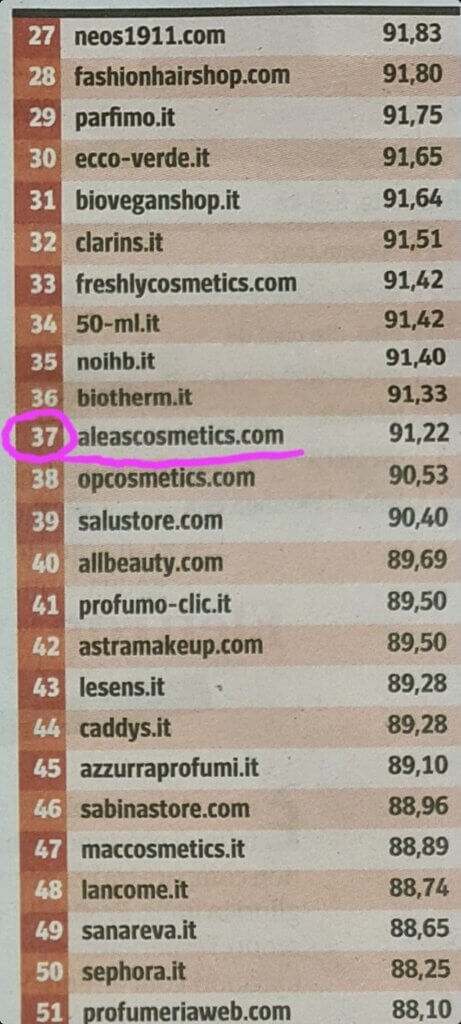 The ranking is important if we consider that the approval rating was such as to surpass populated and well-tested commercial realities such as Sephora and Lancome to name the most famous brands.
WooCommerce in the professional field
What we want instead is to show and demonstrate as we have always said (One, ten, one hundred, one thousand products. How to understand the limit of products manageable by WooCommerce.) That WooCommerce is not a CMS suitable only for the launch of small stores but which can also be used professionally taking care to take care of the performance both at the application level and at the server level.
On other occasions, many developers and agencies would certainly have opted for specific solutions such as Magento or Prestashop, without taking into account that a company that starts often and willingly does not have the same opportunities as proven companies with very important budgets to present itself to the market.
So it is therefore that in 2015 we decided after an initial briefing to start the development of the new online project aleascosmetics.com which involved many figures and personal knowledge.
From SEO to advertising campaigns, graphics, development. We have "limited" ourselves to working in the system field by offering a WooCommerce Hosting on a dedicated server, trying to provide bottleneck analysis, advanced caching systems and high-level monitoring, backup and disaster recovery technologies with 24-hour supervision and availability.
The credit obviously goes to all the professionals involved who, day after day, have contributed to the best of their ability to the creation of an e-commerce that over time has managed to grow an established brand both in the professional and semi-professional fields, therefore loved by both employees in the nails sector who are passionate about.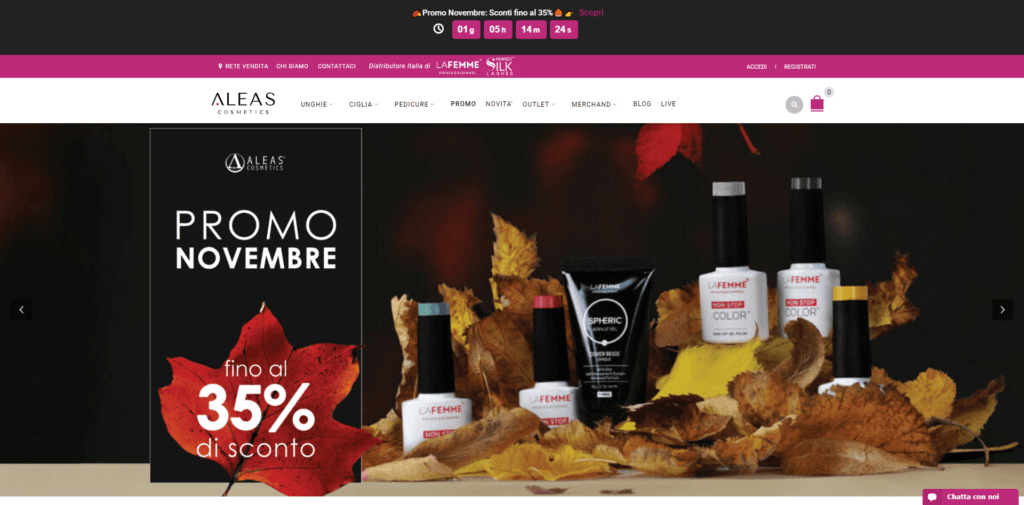 WooCommerce Performance Optimization
At the end of the development phase entrusted to an acquaintance of ours developer and at the time also a fellow citizen, we were in a beta phase, where everything worked as it should work but with considerable slowness.
In short, apart from the aesthetic flair and the well-kept and very captivating graphics today, curated by excellent graphic designers, everything else is almost very similar if not identical, but speed was absolutely the Achilles heel for a site that had to go into production and compare with the reality of traffic, repeated clicks, traffic peaks of the various black friday or online events.
Precisely for this reason, after receiving a slow site we decided to bring the site on our specific infrastructure for WooCommerce, that is a WooCommerce Hosting developed with the intention of offering the best environment for this CMS as we have talked about in this post Performant WooCommerce Hosting
The best WooCommerce hosting software stack
For the first time, ManagedServer.it has introduced a platform through which Varnish compatible WooCommerce stores can be launched. ManagedServer.it is truly remarkable, as it allows non-experts to take advantage of performance and reliability using optimization technology.
The stack itself is made up of numerous software components (some also from third parties) wisely integrated with each other as we can see in the following diagram: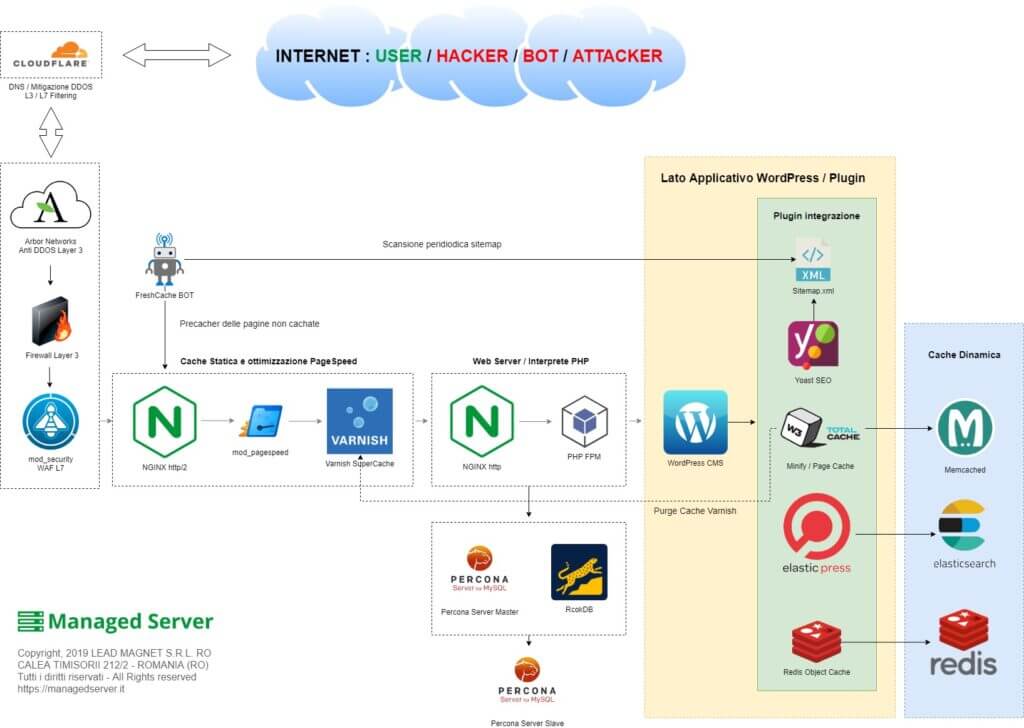 This allowed us to arrive at a speed that is certainly noteworthy and adequate to be online and start producing turnover and important profits, before also investing in application optimization, or delegating the important task of improving and optimizing to a PHP developer. natively the speed on the application side. This task is as important as it is very very onerous, which is why in the early stages of an ecommerce's life we ​​always prefer to work on server-side optimization as it is faster and cheaper and with results that are often very similar in terms of performance and performance.
The development part as already reiterated in many of our posts is not one of our direct services (i.e. that we offer directly and invoice the end customer) but being an element that is sometimes necessary and sometimes required, we rely on a series of three figures ( our customers and collaborators) directing the customer directly to them and allowing, if required, to approach application optimizations or in some cases even the remaking of the site perhaps with different technologies such as Magento.
WooCommerce performance optimization video
We wanted to testify to what has been said above, at least for what concerns our skills and our work, the optimization that was done at the time by implementing the software stack shown in the image above, showing you the video of the pre optimization and post optimization now as far back as August 2017.
This video practically demonstrates the user's navigation in the pre-optimization and post-optimization phase by clearing the cache on the browser side and measuring the reaction time of the site "on sight".
At the time there was still no "problem" of gods Core Web Vitals, although the classic PageSpeed ​​already existed as measurement metrics.
Was WooCommerce the best solution compared to Prestashop or Magento?
WooCommerce at the time (back in 2015) was the fastest and fastest way to manage development workflows and go into production with a complete site ready to take orders. This means that the choice was dictated above all by the need to have a ready product that did not require very expensive Prestashop or Magento implementations.
Considering above all the cost of the Prestashop add-ons (modules), or the cost of developing a professional Magento site which is rarely less than 30 thousand euros for a quality product on Magento Community Edition (The enterprise version only costs 12 thousand euros a year).
So surely WooCommerce was the best solution for context, budget and mindset at the time. WooCommerce has made it possible to create a site that works with performance problems that needed to be solved both on the application side and on the system side.
While the systems side had costs that would be absolutely trivial for any company or any private individual, the costs of the application side optimization were absolutely important and almost prohibitive.
Remaining in line with what was previously said concerning the costs of Magento, it is correct to say that in terms of costs, about half would have been saved by directly developing the site in Magento perhaps with some verticalized agency on Magento development.
However, this approach of starting economically with WooCommerce, making cash, reinvesting in systems optimization, reinvesting in marketing and advertising, making cash and reinvesting in application optimization, making more cash and continuing to invest has allowed an entrepreneurial level to savor the success without risking missteps or holes in the water.
Regardless, WooCommerce allows you to take a very cautious approach to having a productive online presence without sacrificing huge budgets and risking nasty surprises.
What would we have done at this point? Switch to Magento 2.
Personally speaking and only on a purely personal basis, at this point it would make sense to make the leap in quality passing the entire ecommerce on a Magento 2 installation perhaps in the Enterprise version which has a management of asynchronous indexes and a significant improvement in the set of functions, as well as in performance.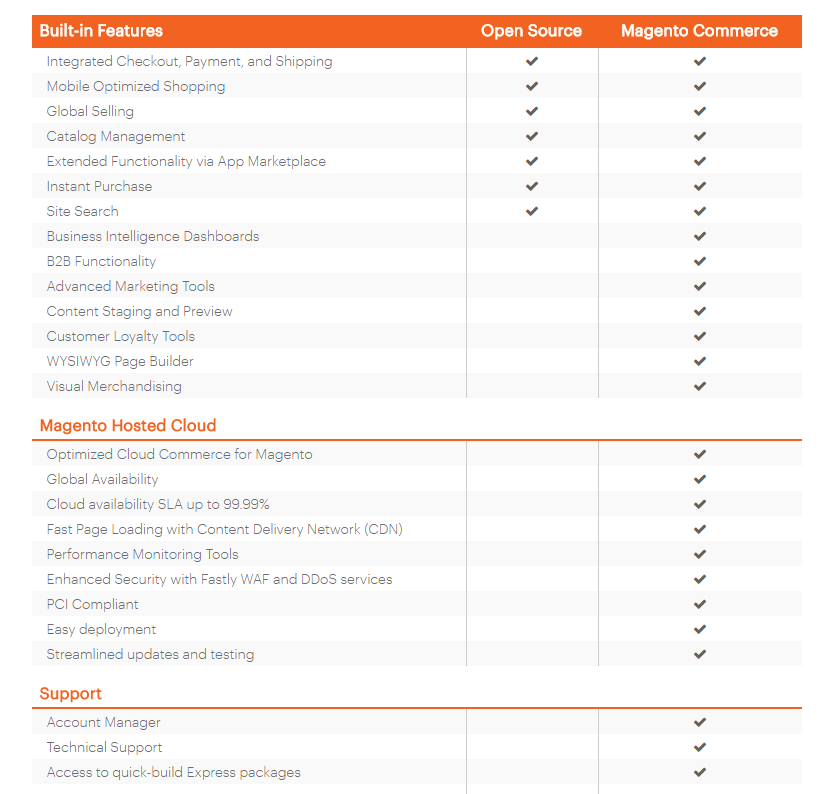 In fact, switching to Magento 2 would have meant aligning with the best practices for functioning ecommerce and flagships on the international scene as well as giving an intrinsic added value to the project in case of resale.
One thing is to sell to a buyer (perhaps a large group of investments) an ecommerce made with Magento which is a market standard, rather than WooCommerce.
Magento 2 is the latest evolution of the leading E-commerce platform, used by more than 200.000 online retailers, capable of offering countless opportunities for innovation and flexibility.
Magento 2 allows you to have an E-commerce site that is easier to use and more scalable than the previous Magento 1 version and is equipped with very efficient tools for Web Marketing and SEO activities.
Magento 2 introduces important evolutions that benefit your online business.
With Magento 2 the pages are 50% faster than with Magento 1. The architecture and internal technology are enormously improved. The administration interface is much easier to use. 38% faster checkout than Magento 1.
For example, it would be a very serious mistake to replicate a version 2 of the project always on WooCommerce, ignoring the advantages of Magento 2 for a commercial project that is working and could work better with a specific platform like Magento.