Table of contents of the article:
When you plan to start an eCommerce store, WooCommerce, Shopify, Magento, etc. These are some of the major platforms you will encounter. However, WooCommerce remains the leading eCommerce platform with its outstanding features and great cost-effectiveness. However, it is said that WooCommerce is a slower platform than other eCommerce platforms. This is not entirely true, it just needs further fine-tuning efforts. You can try some tips for speeding up a WooCommerce store. Are you the owner of a WooCommerce store? Is your shop slow too? So, this tutorial is exactly about ways to speed up your WooCommerce store. Online shoppers have a short attention span and if your store loads slower, they will leave your store and never come back. Therefore, this requires your immediate attention.
WooCommerce is a free platform and you don't have to pay a percentage of your revenue, unlike other popular shopping platforms. Therefore, you are responsible for maintaining your WooCommerce store yourself. This is why there is a problem! Since WooCommerce is free with limited support, you can easily maintain your WooCommerce store with a little more effort. Read this guide to speed up your WooCommerce for reliable speed.
Why is your WooCommerce so slow?
You must have heard that BigCommerce or Shopify are faster than WordPress or WooCommerce. However, this is not the exact case. Undoubtedly, hosted eCommerce platforms employ large teams of experts to optimize their platforms in terms of speed and performance. Therefore, they naturally offer better services than other platforms. You can't compare Shopify to WooCommerce, even in terms of speed, performance, and budget. you can check Prestashop vs WooCommerce, Opencart vs Wooocommerce and Magento vs WooCommerce.
You need to work hard to optimize the speed and performance of your WooCommerce store. Without a doubt, you may end up delegating the work to your hosting provider and a developer. However, it still needs to be worked on and made to work properly. Most of the time, below are the reasons behind the poorly optimized performance of a WooCommerce store:
No implementation of any WooCommerce speed booster
You shouldn't be naive enough to wonder why your WooCommerce is slow when you haven't implemented any WooCommerce speed improvement actions, such as cache management, code optimization, image optimization, etc. You can't judge the platform if you haven't done everything to optimize your store. In the next section, I will discuss various methods for increasing the speed of a WooCommerce store. We hope this tutorial solves this problem for you.
Incompetent web hosting provider
This is probably the most common problem I've encountered. People usually choose the cheapest hosting provider without considering other factors like features, add-ons, customer service, performance, uptime, processor etc. Their neglect ultimately results in poor performance of their WooCommerce store. Always choose the best web hosting provider in your budget. I'll talk more about it later.
Overloaded plugins
Plugins make your life easier, or that's what you think. Adding plugins to your store can make your store heavy and ultimately slower. It's not just about the number of plugins you have in your store, it also depends on the code quality of those plugins. If a plug-in can perform more than 4 actions, you don't need to add 4 different plug-ins for each action. Therefore, always consider the quality of a plugin before adding it to your site.
WooCommerce theme not optimized and of poor quality
You will find an unlimited number of free and paid WooCommerce themes. Have you ever wondered why some beautiful themes are available for free and some ugly themes are paid. Well, the themes are mostly judged by their appearance, which is not entirely correct. Sure, looks should be a factor, but it shouldn't be the only factor when selecting a theme. I would recommend that you choose a theme that is affordable, good-looking, and optimized for performance.
How can you speed up your WooCommerce store?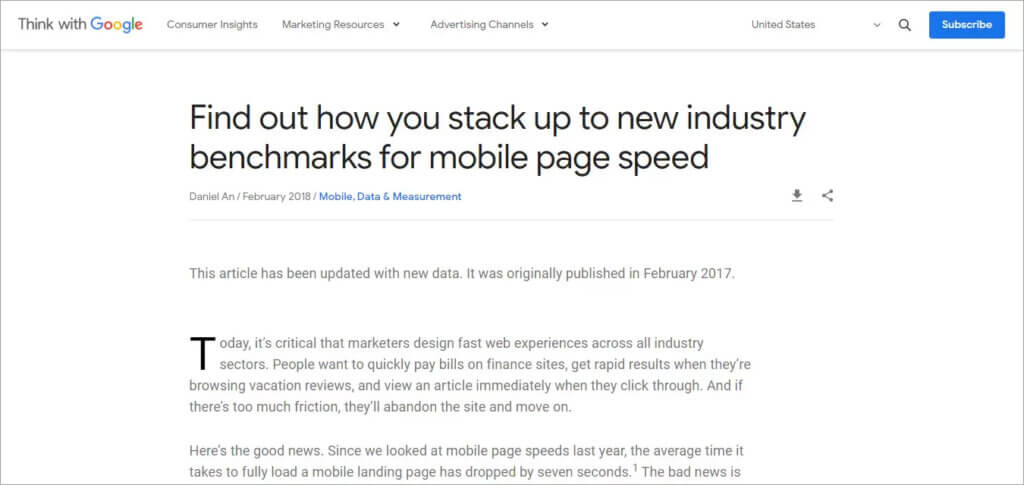 According to Google, online shoppers have a 3 second attention interval and if your store loads within 3 seconds, they will leave your site and never come back. If your WooCommerce store also takes more than 3 seconds, you need to speed up your store. Here are some tips to make your store faster. We optimize your WooCommerce store for faster speed.
20 ways to speed up your WooCommerce store (2022)
1. Restrict extensions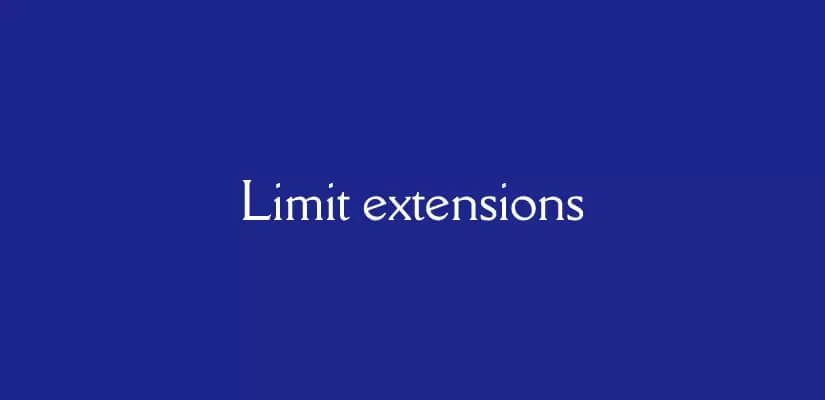 The main reason your WooCommerce store is slow can be clutter that builds up on the backend at a frequent rate. Extensions can help you with many things and also automate most of your tasks. However, having a lot of extensions can make your site heavy and its response will be slower in the end. As I said before, it's not about the extension number but also about the quality of the extension you added to your site. Therefore, look for good quality extensions that can deliver quality results rather than increasing the load on your site.
Also, the more extensions enabled on your site, the harder it becomes to check their quality. Therefore, practice inventorying your extension on a regular basis and check if active extensions are most relevant to you. There is no point in having extensions enabled on your site when you're not even using them anymore. If possible, try replacing some extensions with equivalent code blocks. Do it the classic way whenever possible.
2. Restrict or disable revisions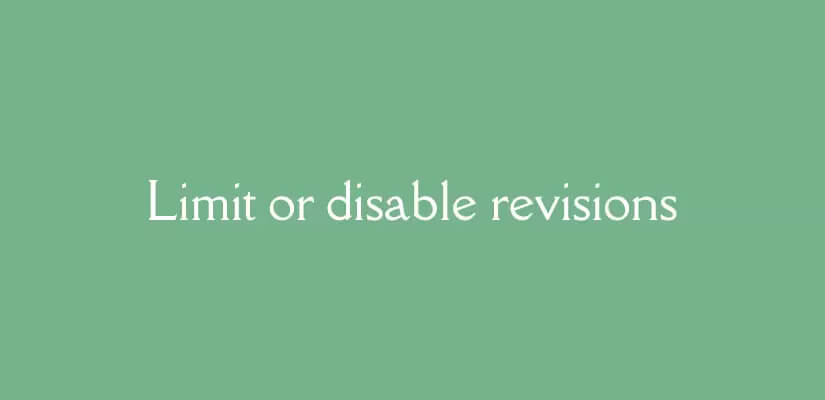 WooCommerce offers a feature that allows for a default revision control on product pages. It allows you to go back and view changes to product pages. Without a doubt, this seems like a good feature, but even default revisions can cause performance issues. To understand how this works and how it can affect overall performance, let's consider this instance. Let's say you create a product page and work on it 7 times. Make some changes like change the price or add a word or two.
These are some minor changes, but you now have 8 copies of the original product page. Not only will it consume storage space unnecessarily, it will also degenerate and slow down the overall performance of your WooCommerce store. To prevent this from happening, you can limit or disable reviews.
limit revisions, insert the following line of code in the file wp-config.php located in the root of your website. It will limit the reviews to 3, you can enter the number of limits according to your needs-
define ('WP_POST_REVISIONI', 3); // Limit to 3 revisions
disable revisions, insert the following line of code in the file wp-config.php located in the root of your website-
define ('WP_POST_REVISIONS', false);
3. Clean up your database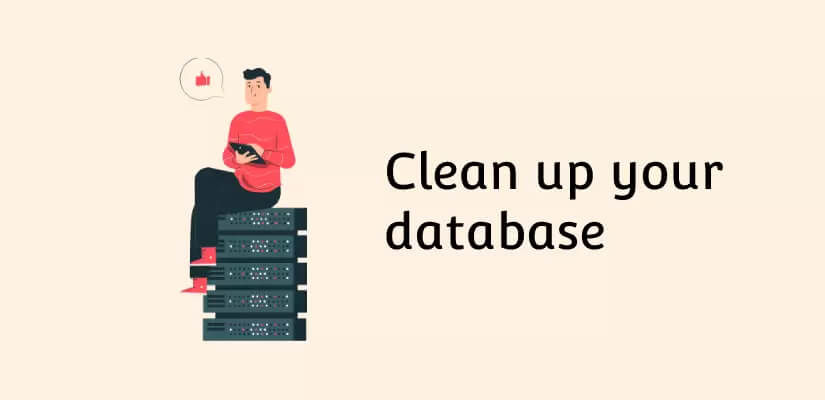 You may have disabled or turned on the number of revisions on your WooCommerce store. However, you still need to remove existing copies that you no longer need in your store. To remove unnecessary revisions available in your database, you can use plugins. I recommend the WP-Optimize plugin as it can remove problematic revisions and can also clean up the entire WooCommerce store database. Also, you can automate the cleanup process with this plugin so you don't have to worry about mounting clutter in the database.
Furthermore, you also need to have a functional database for your WooCommerce store to function well. I will advise you to use well-functioning and advanced table types for data storage, such as InnoDB. This database is fully compatible with WooCommerce and makes precise use of indexes. Also, it can be moved to ours WooCommerce Hosting, which can offer 150-300% faster speed than an average WooCommerce store.
4. Limited external resources, widgets and sharing tools
Anything not on your WooCommerce server is an external resource. It could simply be a script, a character style, a style sheet, etc. If you use Google Analytics, it is also an external resource. It is important to add a limited number of external resources. The more external resources you add, the harder it becomes to optimize them. Dependence on external servers slows down your website. You need to limit the number of external resources you use and make sure they come from a credible source.
Likewise, widgets and sharing tools can also slow down your WooCommerce site. For example, if you have social sharing widgets like Facebook and Twitter, it can also slow down your WooCommerce stores significantly. The following are the reasons why these widgets may slow down your site:
Increase the page size
Dependence on DNS queries
Time to download external resources
Adding more HTTP requests
You can try removing these widgets with equivalent code blocks for social sharing features. It will remove the dependency and also optimize the performance of your WooCommerce store.
5. Remove unnecessary plugins
The number of plugins installed and enabled on your WordPress also slows down your site. As mentioned above, it's not just about the number of installed plug-ins, but the quality of the installed plug-ins. For example, if a plug-in can perform more than 4 actions, you don't need to add 4 different plug-ins for each action. Therefore, always consider the quality of a plugin before adding it to your site. Also, always make sure plugins are installed by a credible resource with active developer support. Sometimes, plugins are abandoned by developers, which means they are no longer working on them and there will be no updates for that plugin. Having an outdated plugin is always a security risk and also causes performance issues. Furthermore,
6. Don't go wild with affiliate ads
Ads and affiliate programs are the best way to make money online. If you see ads on your WooCommerce store, they may be slowing down your site. I'm not telling you to stop making money, I'm just warning you not to go wild with affiliate ad placement. If you use Google AdSense or any other advertising service, you need to release one of the two. Affiliate ads often show images or some type of animation, which is hosted on external servers. As I have already discussed, the greater the dependency on external servers, the less optimized it will be for performance. Another alternative you have is to host ad images or animation on your server, thereby optimizing the images and reducing DNS queries.
7. A competent web hosting provider
Competent and reliable hosting is something people often overlook. If you run your WooCommerce store on cheap web hosting with insufficient specs, speeds, and features, then it needs your immediate attention. Web hosting is arguably the most important factor affecting the overall performance of a WooCommerce store. Not only does it offer rental space on the server, it also offers the entire underlying architecture needed to support a functioning store and manage traffic while serving the relevant content that users demand.
Factors to consider
Popular web hosting provider with demonstrable WooCommerce case studies
Uptime and performance
Underlying hardware architecture that supports the WooCommerce platform
Managed and systems assistance
Server location
Add-ons like free domain registration, CDN integration, SSL certificates, nVME SSD-based storage, etc.
Customer support and site migrations
If you don't have the time to conduct full-blown research, my quick recommendation is our WooCommerce-specific Managed Hosting. It is a trusted provider recommended by many successful sites that offers great performance, has a strategic server location, and offers cost-effective optimized plans. Make sure the provider you choose offers the closest server location to your audience for reduced server response time and ultimately a better user experience. If you have a reputable web hosting provider but performance is still not great, you may need to upgrade.
Managed WooCommerce hosting
If you don't want to spend too much time and effort setting up your servers for optimal performance, try Managed WooCommerce hosting. As the name suggests, it offers managed hosting solutions designed specifically for WooCommerce platforms. In addition, it offers many solutions including firewalls, SSL certificates, one-click backups, server updates and patches. Furthermore, it is supported by WordPress experts.
8. Increase the memory limit in WordPress
Editing the wp-config.php file
Limited memory can also be a reason behind your WooCommerce store's poor performance. After making your site live, you need to access your wp-config.php file, which is usually located in the main WordPress folder. then, at the end of the file, you will see a line that says "Happy Blogging", you need to add the following there-
define ('WP_MEMORY_LIMIT', '256M');
After adding this line, save your changes.
Editing the PHP.ini file
You can also try this method if you have access to the php.ini file. You need to change the maximum memory limit allowed. Usually, the line shows 64M as the maximum memory. You can change it to 256M, by writing it in the following way-
memory_limit = 256 million;

Editing the .htaccess file
If you don't have access to the php.ini file, you can also increase the memory limit by making changes to the .htaccess file. Just add the following code to the .htaccess file-
value_php memory_limit 256M
WordPress default memory is limited to 32MB, which needs to be increased at some point. If you often get a fatal error message, memory can be an issue. However, the methods mentioned above can fix this problem and make drastic changes to the overall performance of your WooCommerce platform.
9. Compression of files and images
Pay attention to the images you upload to your WooCommerce store. Upload only relevant and necessary images and compress your images to make them light. You can compress images manually, using Photoshop or similar tools. However, it can be boring to say the least. Or you can use the Compress JPEG and PNG Image plug-ins which are quite easy to install and offer great performance.
Another thing you need to do is to compress the static files and elements of your WooCommerce store. Gzip compression is the best compression technique that can reduce the size of static resources. It allows you to compress your website files including scripts and CSS. For example, with Gzip compression, you can optimize your CSS assets which limit the number of styles in your style sheets to a minimum.
10. Optimize the website code
The number of web files on WooCommerce can be huge. Plus, that number continues to grow over time and ultimately results in a slow WooCommerce store. Therefore, it becomes necessary to optimize the website's files and code to keep the loading time as low as possible. We have already discussed Gzip compression. Another thing we can do is keep the CSS files to a minimum. this will help you speed up your WooCommerce store.
11. Optimize images for the web
Images are an irreplaceable element of an online store. Most of your online store is made up of images only. Optimizing your web images can make a significant improvement in the overall performance of your WooCommerce store. Compressing image files is just one way to improve the performance of your WooCommerce store. There are many other ways to optimize images for the web to improve overall performance. Start with deleting and replacing images. Don't go wild when it comes to adding images to your site. Upload only what you need. An ideal design is simple without image overload and keeps the focus on important information. As they say, "a picture is worth a thousand words". Therefore, you need to find a balance and add only the relevant images.
Another thing you can do is keep the images in the right format. The right format can speed up your WooCommerce store and make a significant difference in the overall performance of your WooCommerce store-
GIF: This is an animation extension suitable for small images. An animation of 2-3 seconds can be viewed.
PNG - This extension is mainly used for logos, icons, transparent images, illustrations, etc.
JPG / JPEG: This extension is used for normal display of high resolution images to show a lot of details.
Also, resize the images before uploading them to your site. Don't upload unnecessarily large images as they will take up more space than necessary and slow down your online store. Instead, resize images to their ideal size manually or using the plug-in to optimize capture and space performance. I will suggest you convert all your images to WebP and serve your images to WebP format .
12. Optimize the HTML code
You can also optimize your HTML code for better performance and to speed up your WooCommerce store. Your HTML code works as a roadmap for reading servers. The server can read, compile and deliver the pages requested by visitors using these roadmaps. However, it is your responsibility to keep your HTML as clean as possible. It is wise to examine your code with a fine comb at regular intervals, to greatly speed up your WooCommerce store. Better to use the WordPress Autoptimeze plugin.
13. Optimized JavaScript files
Just like style sheets, having unnecessary JavaScript files can also negatively impact the loading speed of your WooCommerce store. The same minification and compression is used for both CSS and JavaScript files. Keep the JS file to a bare minimum because the more files you have, the harder it is to optimize them. But if you manage them well, this will help speed up your WooCommerce store. The WordPress Autoptimeze plugin will also help here.
14. Use the server cache
Keep WooCommerce dynamic elements as much as possible. Of course, WooCommerce is dynamic. However, making it static will make it easier to keep a cached copy of your site on the server and visitors will be able to load your shop faster. Or, every time a visitor requests your store, your server will have to retrieve all the resources from the database, wasting a couple of precious seconds. You can use W3 Total Cache, or rather our specific Managed configuration with Varnish Cache.
15. Use browser cache
A browser caching solution can improve the user experience for your repetitive visitors. It can store web elements such as style sheets, JS files, images and others. This allows repeated viewing of the same pages much faster and can improve browsing speed for your repetitive users. WP Super Cache Plugin will do this task.
16. Minimize redirects
Each click on your WooCommerce store redirects your visitor to a linked page. It may be a matter of a couple of microseconds, but remember that your visitors have short attention spans. Avoid having unnecessary redirects all over your website. Not only does it irritate your visitors, it also consumes server resources and ultimately results in a high bounce rate. Reducing the number of redirects can help you achieve a significant jump in page load speed.
17. Disable cart fragments
Enabled cart snippets can stagger the number of web files and can ultimately result in a slower site. To disable WooCommerce cart snippets, you can use numerous plugins.
18. Lightweight WooCommerce theme
Most people choose themes with aesthetic backgrounds or lots of white space. However, the problem is that most designers don't even take page loading speed into account when designing those themes. Therefore, we recommend that you choose a good quality, lightweight and performance optimized WooCommerce theme. As you collect themes, make sure it has a clean code base that prioritizes speed over aesthetics. Be smart enough to prioritize performance over front-end aesthetics.
19. Overall improved web design
Start by respecting your users' time and they will most likely keep coming back to you. To respect their time, embrace a good design for your WooCommerce site because ultimately good performance starts with a design. Does your WooCommerce store landing page upload a video or HD background image? Does your store have a lot of unnecessary social sharing widgets? If so, then you are missing good design. Your visitors will have nothing to share when your site doesn't even load in the first place. I am not defending these elements, all I am saying is that performance should be a priority.
20. Use a CDN service
If you have a sufficiently diverse audience base from different regions of the world, you need a Content Delivery Network (CDN) service. A CDN is basically a network of servers strategically placed in different regions of the world to maintain a cached version of your site, so that it can retrieve the requested content from the nearest server location rather than letting the request retrieve the requested content from the server origin, which may be in the opposite corner of the world. Having a functional CDN service can dramatically increase page load speed and can provide a better user experience overall.