Looking for support for your WooCommerce site? Custom plugin development, theme development, speed optimization, plugin update and maintenance, malware removal and much more.
Starting from only 97 € / month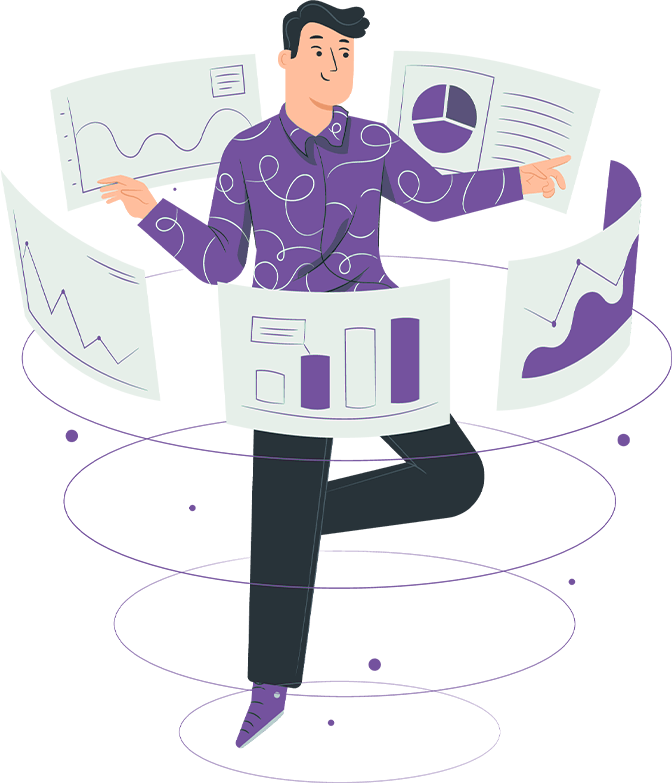 WooCommerce sites under management
Average ticket resolution time
More than 5000 companies have used our services
Due to NDA agreements and confidentiality requirements, we cannot disclose all brands.
These are some of the companies that use or have used our services also through third parties.
Are you looking for WooCommerce Support?
Get one-time or ongoing support for your WooCommerce site
Are you looking for the best 24/24 WooCommerce support services? Support and maintenance services for WooCommerce help you manage your websites, such as monitoring and updating WordPress cores, themes and plugins, backups, performance optimization, etc.

Maintaining a WooCommerce website can be a daunting task, especially if you are not a tech savvy person. Even if you have the right technical skills, you may not want to spend an hour every day managing your WooCommerce site. Instead of keeping WooCommerce, you can focus on producing great content and growing your online business.
Benefits of our WooCommerce Support
Professional support services for WooCommerce by experts. Submit your support ticket, no matter if it is a solution or a development activity, our team will take care of it.
We will update your WooCommerce system for you, securely and completely. Your site will be updated with the latest WordPress theme and plugins, as well as tested for usability.
A faster website means better performance. We will optimize the speed of your website so that you can get the most out of your website and hosting service.
Our backup service automatically archives all your content to the cloud. This means we can restore a blocked or damaged website in minutes.
Downtime is the enemy. We will monitor your site and notify you if it doesn't work. Our 24/24 support team will resolve the issue immediately.
Our Security Scanner monitors changes in WordPress core files and helps prevent hacking by scanning your site for known WordPress vulnerabilities.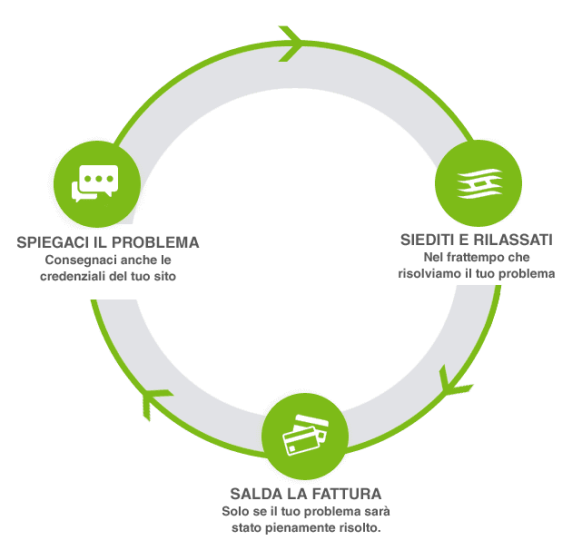 Tell us the problem
Use our ticket system to submit a detailed description of the problem you are experiencing, then we will ask you for your login details so we can fix your site.
Troubleshooting and Repair
We will copy your website to the staging environment to debug the problem without harming the live website in the process. After we fix the problem, we'll apply the fix to the live site.
Pay for the results
After reviewing your website and confirming that the fix was 100% successful, we will send you the payment link followed by a regular invoice.

Ongoing WooCommerce Support
24/24 support and monitoring
A personal WordPress support service from WordPress experts. Submit a customer support ticket at any time to our helpdesk and our team will take care of it.
Better performance
We will improve the security and optimize the performance of your website by making it faster and more responsive. With Managed Server, you can get the most out of your website and hosting service without being a technician and without having to spend crazy bucks.

Save time and money
While we take care of your website, you can use your free time to focus on growing your business.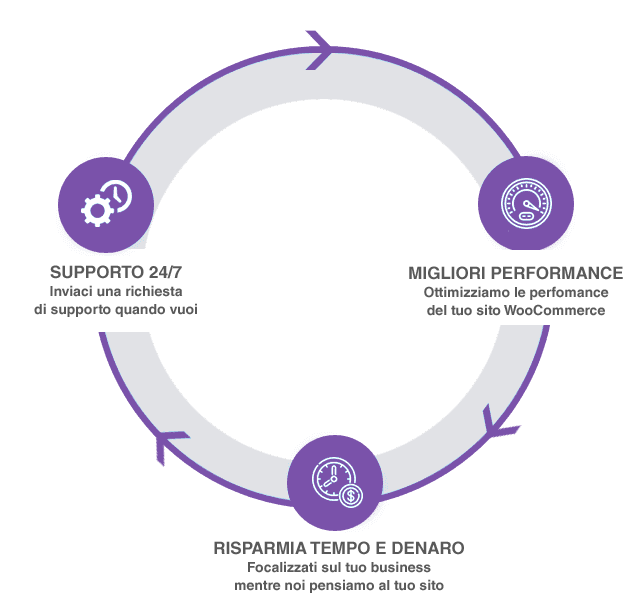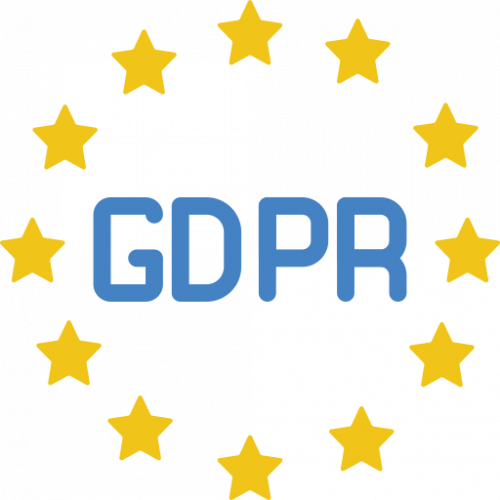 Compliant with GDPR regulations
Do not risk penalties for non-compliance with the GDPR regulation on data protection.
Our company complies with the GDPR regulation as it is a European company, with European Datacenters certified ISO 27001 and managed by personnel of European nationality and residence.
The data remain stored within the European borders as required by the Rules (EU) 2016/679 of the European Parliament and subsequent amendments.
And if you use our optimized WooCommerce hosting you will get
You get excellent load time on every store, backed by the optimized hosting speed of managed WooCommerce.
Get fully automated daily backups with a 7 day retention period for your WooCommerce.
Free Let's Encrypt SSL certificate to build trust and improve the ranking of the WooCommerce site.
European datacenter certified ISO 27001 and compliant with the GDPR regulation. Backup systems, redundant power supply, and over 7Terabit of global connectivity.
We will keep your WooCommerce site safe and secure. DDOS Layer 3 and Layer 7 protection included in all hosting plans.
Varnish Cache, Memcached, REDIS.IO, NGINX, TCP BBR, mod_pagespeed, PHP-FPM 7.1 / 7.2 / 7.3 / 7.4, Percona Server, for the best performance on the market.
The server-side configuration complies with SEO requests and Google AMP technologies, Facebook Instant Article, as well as the best known best practices.
Our team of WooCommerce experts is available 24/24, 7 days a year, by phone, ticket and email.
Migration and optimization are included for free.
Do you deal with solving a single problem and at what cost?
Of course, our staff is concerned with solving even a single one-off problem. Considering that we cannot know in advance the extent of the problem nor the difficulty of solving it, we will evaluate both the specific problem and the feasibility, indicating the best price for the resolution starting from € 27 per intervention.
How much does continuous and complete support cost for my WooCommerce site?
The ongoing monthly support must be evaluated based on the size of the site and the features present with the bonus / malus formula as in the insurance sector. A WordPress blog with 5 plugins is reasonably easier to maintain than a site with WooCommerce and 40 plugins. Therefore, the work to be done is greater, with a greater expenditure of time and energy and with inevitably higher costs.
Precisely for this reason we will evaluate your WooCommerce installation, your Hosting provider, the features you are using in order to reserve you the best price for a highly professional service managed by WordPress developers, Linux systems and SEOs with decades of experience.
Unlike many other solutions on the WooCommerce Support market, we would never allow ourselves to give reference prices without first reviewing your site.
Do you also develop WooCommerce Plugins?
Based on your requests and needs, we also develop tailor-made WordPress plugins, where there are no solutions already available to implement on your WordPress site and therefore solve your need.
The purpose of our WordPress Support service is to find the best solution to your problem, and often some of the needs that are communicated to us can be met using existing WordPress plugins or a combination of them.
It will be the responsibility of our team of developers to evaluate the best solution available and to propose customized and tailored development solutions if necessary.
Do you develop themes for WooCommerce?
Of course, we also develop themes for WooCommerce based on the customer's instructions or by understanding their needs and application scope.
In fact, it is not always necessary or advisable to develop a theme from scratch for obvious reasons of timing and costs, however if essential our team of WordPress developers has the skills to be able to develop any theme from scratch for any need, starting from Wireframe, Mockup Photoshop or other graphics and illustration programs.
My WooCommerce site has been infected, can you remove the malware?
Our WooCommerce Support Service is equipped with a specific service for removing malware and viruses on WordPress. We invite you to visit our service of WordPress Malware Removal if your problem is having an infected site.
Do you plan or offer professional optimization of my WooCommerce site?
Yes of course. One of our Senior technicians will take care of optimizing your WooCommerce site and making it perfectly compatible and compliant with the intended purposes, taking care to configure in detail the cache and cache cleaning, amp pages and instant articles if your site makes use of this. technology.
In some cases, the current Hosting on which the site is hosted may not be adequate due to the lack of specific technologies necessary for adequate optimization. If you fall into this case we will explain the limitations of your current hosting and we will give you some options including the transition to our optimized systems.
If requested, we can certainly work towards the optimization of Core Web Vitals and improve your Google Pagespeed score. Specifically, we deal with the minification of static resources such as JS and CSS, the use of webp images compatibly with browsers not yet supported such as Safari and iOS, the defer or delay of javascript, as well as the lowering of the Time To First Byte. less than 300ms.
You specialize in WordPress and WooCommerce
Since about 2012 we have decided to verticalize our knowledge on the slowest, heaviest but most popular CMS of the moment, namely WordPress and WooCommerce. Since our work and our optimization are problematic by their nature, it is certainly more evident and tangible in the total satisfaction of the customer who finds himself moving from a slow and cumbersome site to a decidedly performing and snappy one.
Will there be backups? Will my data be safe?
In order to avoid any remote danger of hacker attacks, human error or accidental loss, we take care to make at least three daily backups with three different technologies in order to always have at least one usable backup available. In the case of blogs that produce a lot of content, we also provide hourly backups. We have the possibility, if required, to insure your business and your site with additional insurance for a coverage of up to ten thousand euros in the event of data loss. Firewall Hardware and DDOS mitigation systems make our service the flagship even for the most demanding customers who manage important business with revenues in the order of several million euros.
Is the contract binding or can I cancel as much as I want?
All our contracts are valid for 12 months with monthly payment and are not binding except for the single month.
Will I be compliant with the GDPR regulation?
On May 25, 2018, the new General Data Protection Regulation (GDPR) came into force, a regulation with which the European Commission intends to standardize the protection of personal data of citizens of the European Union. The regulation applies to all companies that process data of European citizens, even if they are not based within the Union. Managed Server delivers its services by correctly applying the provisions of the new legislation (EU Regulation 2016/679).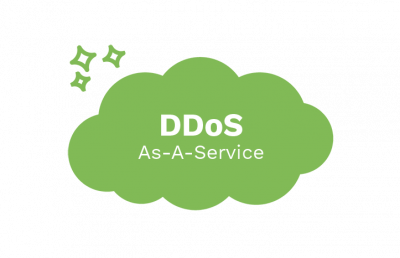 DDOS protection with Arbor Networks
& CloudFlare.