Table of contents of the article:
The Cloud. It's the hot topic about languages ​​from technologists and professionals struggling to keep up with the ever-increasing demands of the digital native user during a period of record-breaking transformation and innovation. TOWe found that in 2020 they implemented projects on average three times faster than in any previous year and show no signs of slowing down.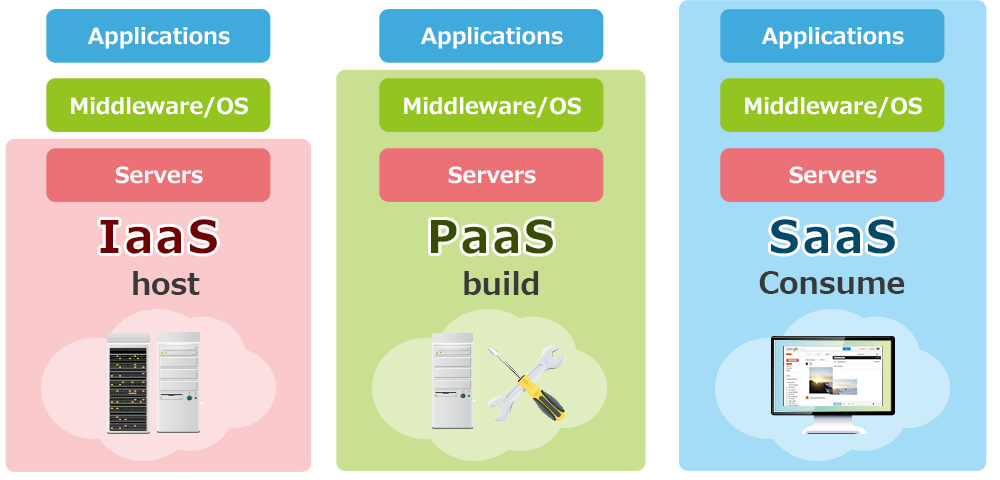 But as companies are considering relocating or expanding their existing environments, it can be difficult to make sense of the alphabet soup of "as a service" offerings and determine which ones will meet their needs most effectively.
A very quick description of IaaS, PaaS and SaaS in cloud computing
There are three main types of "as a service" models: infrastructure as a service (IaaS) , platform as a service (PaaS) e software as a service (SaaS) .
IaaS

allows companies to maintain complete control over every aspect of their environment. The provider simply hosts the infrastructure that traditionally resides in an on-premise data center (for example, application servers, disk arrays, and network hardware).

PaaS

is the middle way. The provider hosts a complete development and deployment environment, including infrastructure, middleware, container orchestrators, and other resources.

SaaS

is a turnkey solution but no. The provider hosts a real application and is responsible for all the underlying infrastructure and systems required to deploy it over the Internet, often via a web browser.
Have we piqued your curiosity? Let's dive a little deeper.
Make infrastructure your way with IaaS, Infrastructure as a Service

In the IaaS model, your provider provides and hosts all the physical and virtual core infrastructure you need to deliver applications and services, including servers, storage and network hardware, and the virtualization layer (hypervisor). They are also responsible for connectivity and initial provisioning of the environment.
Once the components are up and running, take over, install and maintain any middleware, application software, database, etc.
Benefits
Savings.

You can eliminate the capital expenditure associated with setting up a traditional internal data center and significantly reduce the costs associated with ongoing infrastructure maintenance and management and personnel / training.

Reliability and business continuity.

Because IaaS providers typically distribute the workload of a system across multiple servers and facilities, there is no single point of failure - end users enjoy smooth, hassle-free experiences.

Scalability.

Rather than making expensive infrastructure purchases that may not meet your business needs over time, you can increase consumption and start and stop services on demand by paying only for what you use.

DevSecOps

.

Many IaaS providers invest heavily in the latest and most advanced security technology that your SecOps team can leverage, rather than deploying solutions in-house from scratch at significant expense.

Ease of access.

Keeping employees in touch with the mission-critical applications, tools, and files they need to stay productive is a challenge. IaaS makes it easier to give them access anytime, anywhere.

Focus on the core business.

Maintaining an on-site data center is time-consuming. You can ease this burden and allow your IT teams to focus their attention on higher-value, long-term initiatives.
Common use cases
Small businesses and start-ups without an internal data center use IaaS as a quick and cost-effective way to build a highly flexible infrastructure.

Larger companies deploying complex applications that require high performance or running variable workloads leverage the pay-as-you-go model to avoid overprovisioning.

Fast-growing organizations look to IaaS as a way to quickly and efficiently accelerate to meet their customers' demands.
Move further to the cloud with PaaS, Platform as a Service

In the PaaS model, your provider provides and hosts all physical and virtual core infrastructure as they would IaaS. However, they also provide and manage middleware, database management systems, development tools, business intelligence and analysis tools, and more - all you are responsible for is managing the applications and services you develop.
Benefits
PaaS allows you to take advantage of all the benefits of IaaS plus many others.
Increased productivity.

Your developers can code quickly and efficiently using automated tools, code libraries, and integrated software components that would take time to develop and implement internally.

Savings.

The service's pay-as-you-go model allows your business to leverage state-of-the-art development software, business intelligence and analytics tools without purchasing them outright.

Collaboration and flexibility.

Because the environment is accessible via the Internet, all members of the development team can share a single set of resources and collaborate in the same code regardless of their location.

Faster time to market.

Your DevOps team can try out approaches to new features and bug fixes, test them in different environments, and deploy releases much faster than is possible using more traditional on-premise software development methods.

Multi-platform capability.

The ever-growing variety of end-user devices and browsers poses a significant challenge for software developers. PaaS providers typically offer options that allow you to build an application and deploy it across multiple platforms.

Efficient life cycle management.

PaaS gives your business the visibility it needs to control the entire application development process from start to finish. Your DevOps team builds, tests, deploys, manages and updates your application from a single shared environment.
Common use cases
Start-ups and enterprises with limited resources leverage the PaaS ready environment to focus on quickly building, testing and deploying applications without having to worry about managing / maintaining underlying systems and infrastructure.

Businesses use the service's business intelligence and analytics tools to gain insights and forecast results, improve forecasts, and inform business decisions.

Companies with developers spread across multiple locations, or even working remotely, use PaaS environments to facilitate efficient teamwork.
Deliver exceptional, out-of-the-box experiences with SaaS, Software as a Service

In the SaaS model, your provider provides and hosts all physical and virtual core infrastructure, middleware, database management systems, development tools, and so on, as it would with IaaS and PaaS. Since SaaS is a complete software solution, however, they also host your application and related data and deliver it to your end users over the internet.
Benefits
Since SaaS applications are based on IaaS and PaaS, you get the same benefits and many more.
Easily deployable.

There is no need to purchase, install / install, upgrade / upgrade or maintain any software, middleware or hardware to deliver SaaS applications to employees or customers - all they need is an internet connection.

Reliability.

Because SaaS providers are experts in handling application workload demand, your user base can expect consistently reliable performance and data availability.

Cost and resource savings.

SaaS applications are generally subscription-based with no license fees, which saves your customers money. They also eliminate the resource burden associated with physical installation and upgrade / upgrade within the organization.

Scalability and flexibility.

Since SaaS applications are subscription-based, you can offer several plan options and allow your customers to easily upgrade or downgrade as their business needs change.

Accessibility.

SaaS applications and data are delivered over the internet, so end users can access them from anywhere on any supported device 24 hours a day, 365 days a year.

Consistency and compatibility.

With the SaaS model, the provider automatically distributes application updates. This ensures that all your end users have simultaneous access to the latest and most advanced features and speak the same language.
Common use cases
Start-ups and small businesses that need to quickly roll out features like e-commerce and don't have the time or resources to develop and deploy them in-house are turning to SaaS.

Businesses whose user base needs access to applications from multiple platforms leverage SaaS to provide this continuity painlessly.
Real examples of IaaS, PaaS and SaaS
Now that you know a little more about each of the services, let's take a look at some real-world examples. You might be surprised to find that these are platforms, solutions, and tools that you immediately recognize the names of.
IaaS =

Amazon Web Services (AWS)

, Google Cloud and

Microsoft Azure

PaaS = AWS Elastic Beanstalk, Google App Engine and

Red Hat OpenShift

SaaS = Cisco Webex, Google Workspace, and Salesforce
I think I have it. But what do I do now?
As mentioned at the beginning of this post, every business will have different needs when it comes to cloud services. We hope you've found this breakdown useful and are ready to move forward with the decision-making process, but if you still have burning questions, our cloud specialists are ready and waiting to respond .
And if you've already implemented IaaS, Paas, or SaaS, we'd love to show you how AppDynamics can help you keep an eye on your environment and turn performance into profit. Let's get connected and schedule your live demo today.