Table of contents of the article:
If you have ever searched for WordPress hosting with Google or other search engines you have probably noticed that many results come out some of which are quite questionable, in which some providers say, communicate and they proclaim themselves the Best.
It is not a provocation to admit that it is basically a matter of pure logic: if there is more than one supplier claiming to be the best, surely not all of them can be.
Therefore, it is equally logical to state that there are claims that are in no way verified by independent tests, but that everyone, according to their own perception, has decided to proclaim themselves better, perhaps to have a better "appeal" in the eyes of potential customers. .
Let alone if to declare themselves "The Best" are five or more suppliers who proclaim themselves the best in searches without in the least justifying the comparative criterion for which they affirm and measure this as in the following screen. Which one should be the best out of five companies that claim to be the best? Based on what metrics? What features?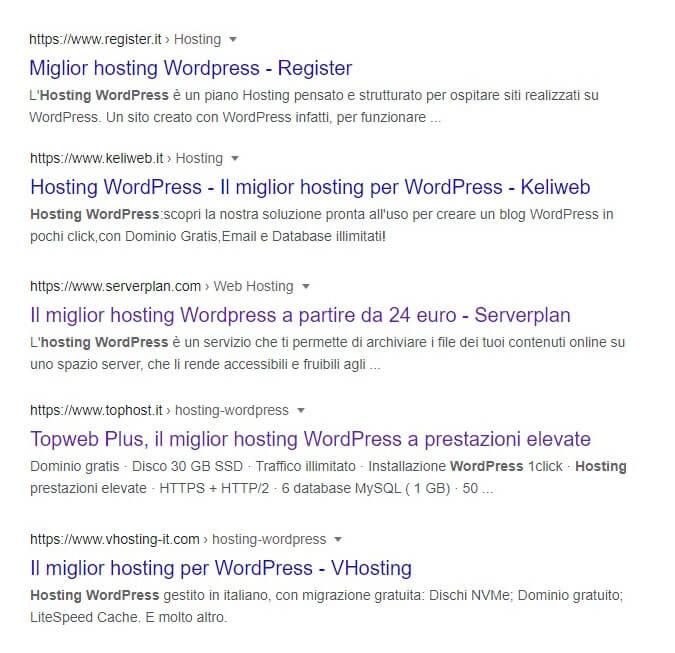 It may also be plausible that some of them are really and truly the best according to very specific metrics, but as anticipated, in the absence of a specific univocal criterion and of an objective and technical evaluation derived from technical advice (perhaps superpartes) it is clear to assume that declaring oneself "THE BEST" is just a claim, a slogan with the clear desired or unwanted effect of influencing the evaluative and decision-making capacity, especially of the less experienced user, and reaping undoubted economic advantages by increasing the number of sales.
This behavior just discussed, however, is ethically and morally questionable.
Although this article was born initially and exclusively as a mere criticism of a custom that is at least questionable, without wanting to lead to initiatives of another kind, the receipt of a warning from a Hosting Provider who felt the object of defamation for the above for the use of the superlative "The Best", (asking us to remove the screenshot of the Google search above) led us to ponder the whole affair and its implications better, thus deciding to notify an official complaint to the Competition and Market Authority (AGCOM), which will diligently assess and assess the lawfulness of the above practices and of which we will publish updates on the matter and / or any clarifications in this article.
We will therefore ask AGCOM if this form of communication is correct using adjectives that according to the common interpretation, syntactically, grammatically and logically speaking, suggest that the Best Hosting for WordPress is being proposed. Therefore, the Best Hosting for a specific CMS.
In our opinion, however, although there may be different interpretations on the matter from the legal point of view (notable the exercise of style submitted by the lawyer who warned us), we believe there are the foundations and already more rulings for similar cases in which advertising has been found to be well-founded misleading as, for example, the case of the famous Quick for Dishwashers of which you can read the sentence here: https://www.agcm.it/dotcmsCustom/tc/1996/3/getDominoAttach?urlStr=192.168.14.10:8080/C12560D000291394/0/A7443ABB19456056C1257F170046A5E6/$File/p1045.pdf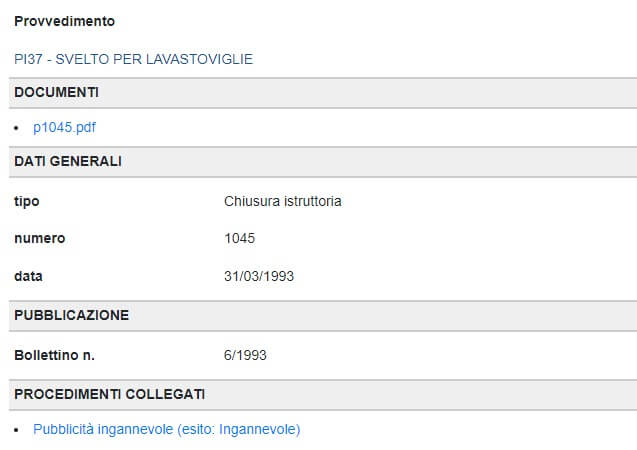 Or that of Rowenta that you can instead read here: https://www.agcm.it/dotcmsCustom/tc/2017/8/getDominoAttach?urlStr=192.168.14.10:8080/C12560D000291394/0/E2DF9D44005796FBC1257D31004F2784/$File/p25023.pdf
In short, in the two cases above, it is clear by reading the documentation as to the use of the "The Best" feature, not being found truthful by the tests performed, Declaration of Misleading Advertising.
What is Misleading Advertising?
In the United States as well as in Europe, misleading advertising is a crime. It is also against the law to use the best word in a misleading way.
It is in fact illegal for a company to use a term that can mislead or confuse consumers as to the source of the goods or services. This includes the use of terms such as "best" and "premier", "best" without proving the accuracy and validity of this claim.
La misleading advertising it is a form of advertising which, with a distorted and distorted message, enhances the quality that the product does not possess, deceiving the consumer.
According to the Italian legal system, misleading advertising is "any advertising which in any way, including its presentation, is likely to mislead the natural or legal persons to whom it is addressed or which it reaches and which, due to its misleading nature, may prejudice their economic behavior or which, for this reason, it is likely to harm a competitor", As defined by article 2 of legislative decree 145/2007.
Indirect Comparative Advertising
Comparative Advertising is Live when the comparison of the advertised brand is aimed at products or services of companies that are not identified or identifiable. The comparison can be made with a plurality of competitors not mentioned (Indirect Comparative Advertising by Omission) or by indicating a fictitious brand, using a fancy name, or by identifying a hypothetical or real competitor who is attracted by harmless phrases: your solita beer, yours normal toothbrush, your old magazines ... (Indirect comparison by induction or US technique brand X).
Superlative Comparative Advertising
That is also considered Comparative Advertising Superb which, through the adoption of the superlative adjective, enhances the qualities of a product or service by expressing, albeit implicitly, a generic comparison with all products similar or replaceable to the one advertised: il top, the unsurpassed, the only one, the most accurate ever, more effective, first, solo, cooler...
The conditions of lawfulness of Comparative Advertising
The legislator intended to legalize Comparative Advertising in order to exploit its economic advantages and liberalize the market but it also imposed a series of constraints, called conditions of lawfulness, to severely limit this particular type of advertising communication. Eight restrictive and mandatory requirements to pursue only the advantages expected from a correct use of Comparative Advertising ed avoid that this form of communication is transformed into an act of unfair competition that could discredit the activity, products and services of a competing company to the detriment of the entire economic system.
Our different communicative approach
The approach that has always been adopted in Managed Server has been to know the characteristics and the various peculiarities of the various international hosting providers. Therefore, when we deal with a customer who asks for guarantees on the advantages that we would be able to give compared to the current solution, we will list certain and guaranteed improvements that he will obtain by passing on our systems.
For example, if we dealt with a specific supplier we would be able to communicate greater performance, rather than comfort or ease of use, in other contexts we would be able to communicate much higher costs and therefore not convenient for those looking for extremely economical solutions. but talking about superlative adjectives such as "the best", "the fastest", "the cheapest", "the most what you want" has never been our intention.
However, even though we are well aware of some facts, and some characteristics that could make us prefer, we prefer to adopt a full and total compliance with the regulations, accepting not to sell like other suppliers, arrogating ourselves the right to say that we are the "Best WordPress hosting ", precisely where there are very precise regulations to be respected.
We are sorry to see companies feel called into question by this article, even going so far as to move their lawyers in a vain attempt to remove this article.
Why don't you get an independent and superpartes evaluation from some entity on very specific metrics that you can use as a Payoff?
A dispassionate advice to those who claim to be the best
There are very important certification bodies such as TÜV Rheinland for example, to which you could propose your technical declarations to be certified, it would be a great source of pride for your business and certainly of a strong emotional and commercial impact towards your customers. Go to them or another accredited body and get certified that you are the best. Until then either you decide to remove that slogan or you will accept criticism such as the one you find above.
For any complaint, please make use of the appropriate judicial offices thanks.