Table of contents of the article:
This is a story made up of promises and premises, the former are often urban legends and clichés that many customers want to believe, the latter (the premises) are what we always do whenever we glimpse an excess of emphasis and trust in a customer in choosing one of our services as if it were the magic wand able to bring even the latest site on the front page on Google and highly positioned on Google News.
There is no worse feeling in deceiving a potential customer even if in good faith and relieving him of what his work and constant commitment should be, conducting an editorial line in keeping with the site itself and the business objectives.
How many hosting providers would refuse to conclude a 2196 euro contract for hosting a newspaper, because the publisher is adopting an incorrect editorial line that has penalized it for months now?
Here is what we wrote today to a potential editorial client interested in our services, after having better analyzed his situation:
Good morning,

we hereby intend to cancel the previously sent dedicated server proposal.

Since no contract has yet been stipulated but only a quote, both the proposal and the attached contract are to be considered canceled, which is null and void and can no longer be signed.

The inevitable decision not to offer you our services is to be considered to protect our brand.

It arose by discussing with our CTO on the considerations arising from a brief telephone conversation today with the Administrator of your company.

We believe (in light of the editorial choices and the current SEO strategy) that we do not have the possibility to bring real added value and satisfy your needs and expectations, or to raise and improve the traffic of your website.

Certain of your understanding, we remain available to solve server-side problems, in preparation for the resolution of the editorial problems already mentioned, or rather the abandonment of a generalist editorial line causing consequent penalization.

We take this opportunity to dispassionately invite you to evaluate the editorial issues described above from multiple SEOs and superpartes sources.

For any technical clarification, I invite you to discuss with our manager by writing to info@managedserver.it

Best regards,
It all started through a common acquaintance who had mentioned the traffic and positioning problems of this site in recent months. Problems of such gravity that they had forced him to an SEO analysis urgently to try to understand what were the causes that had reduced traffic so drastically.
The SEO asks me to take a look at it from a technical and systemic point of view, evaluating the technologies in use and any shortcomings, also asking us for a quote for hosting management. Analyzing the headers and the features implemented I could not help but notice some shortcomings and shortcomings, such as the lack of BROTLI compression, the lack of a Static Cache like Varnish that always worked well, with an acceptable HIT ratio (Varnish was installed but it worked like crap), the lack of webp images, TCP BBR and such trifles.
We could be of help and correct these problems, not very serious, but certainly important above all in a period of very strong traffic reduction, where filling even the smallest gaps could have been the check, the spark for a recovery towards normality.
Therefore, we send our proposal for a managed Server optimized for Editorial Hosting, a quote in short, and we await their response.
However, after a few days we wanted to see this site and read some excerpts of content to understand why it had been so barbarously penalized.
After all, although missing the technological features mentioned above, the site passed the field tests brilliantly Core Web Vitals as demonstrated by Google PageSpeed ​​Insight.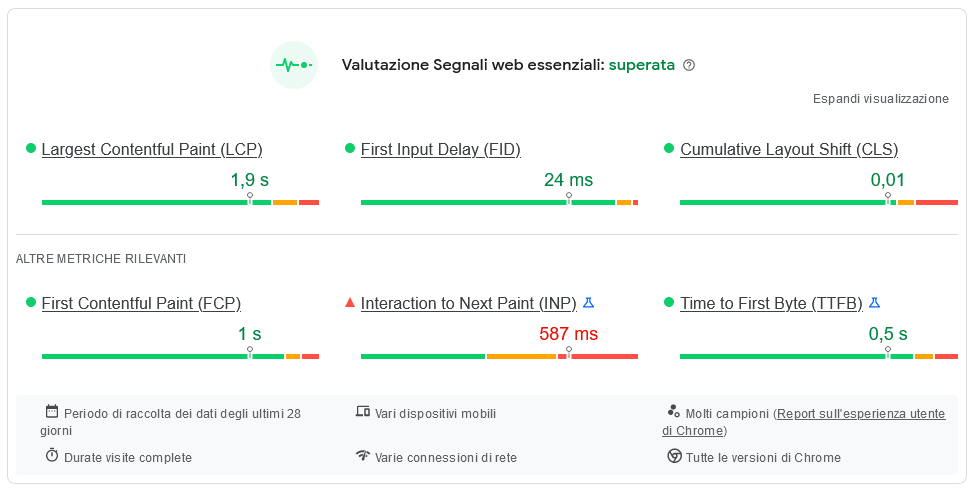 What could have happened so bad to a site that still did million monthly visitors, with a Zoom Authority of about 60 and an annual turnover of over 3 million euros?
We navigate the site as simple users
What better time, then, in the late evening, smartphone in hand, on the sofa and music on headphones to navigate this site that already the name is all a program? We cannot reveal the name of the site unfortunately for privacy reasons, however, it is a site that speaks explicitly about the stock market, and already from the name of the site we understand that we will talk about topics such as stock market, analysis, economy, and so on. . By way of example, we will pretend that the site is called "informazionisullaborsa.it"
Of course, it would be more than legitimate and recommended to talk about direct and indirect topics on the stock exchange and finance, such as crypto for example, or to talk about law applied to the economy, politics applied to the economy, taxation, taxation, in short, everything that revolves. around financial matters.
Everything we would have expected except to find post titles like the following published on the front page:
How to make onions and peppers digestible with grandma's tricks
Summary diagram on the vitamins to take in order not to get sick in the fall
What would pepper or chilli do more harm?
To perfume the house or for a soft skin we use the peel of this fruit
Transforming old flip flops, even broken ones, into sandals and 4 ideas for reusing them
Recycle a broken umbrella with these quick and easy home and garden ideas
Soft and very soft apple pie but without butter or margarine
A soft and delicious brioche to be made at home and without using the mixer
How Much Should Your Cat Sleep?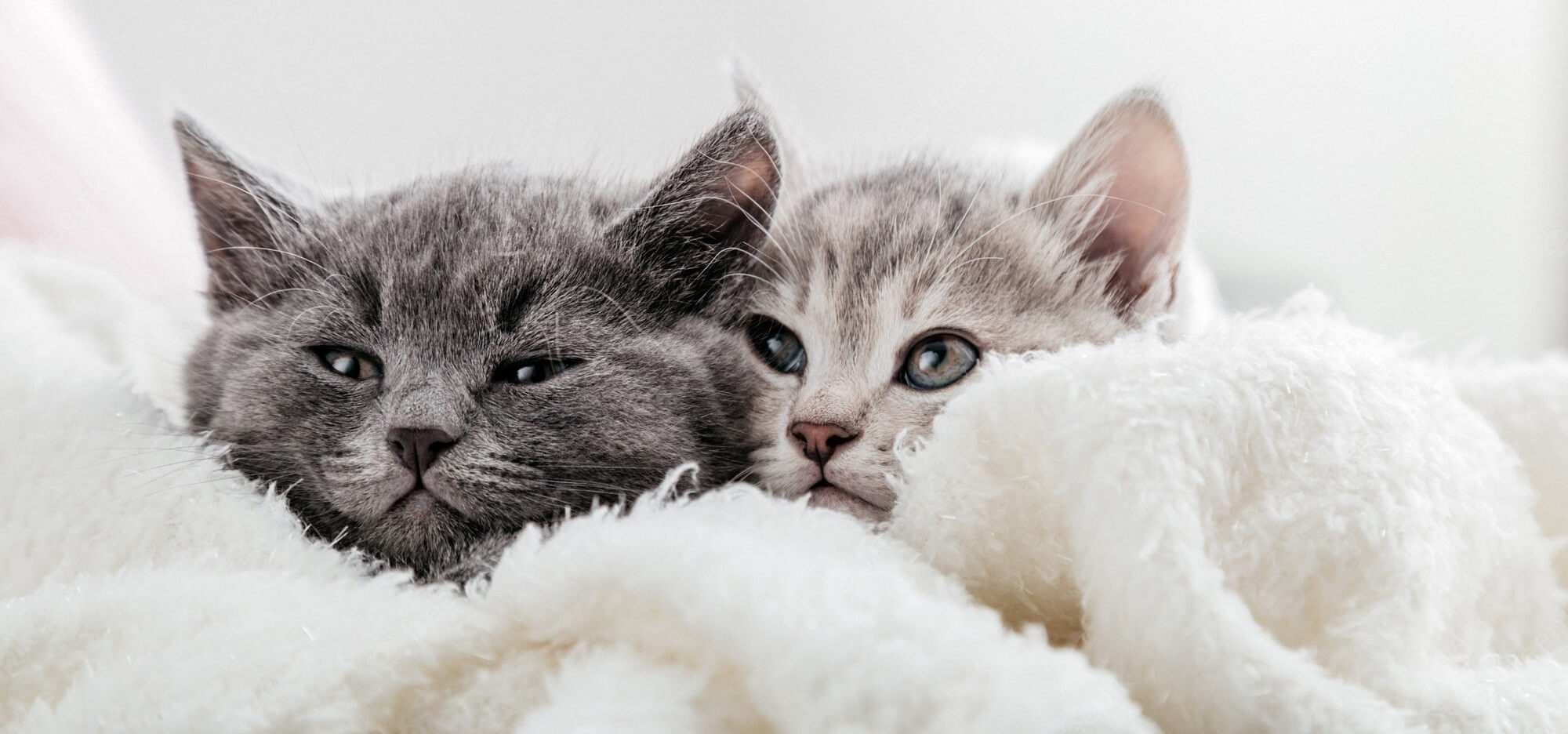 We could go on forever for hours, albeit with "How much should your cat sleep?" we hope we have been quite eloquent on the indifference of this site which suggests that you are talking about the stock market.
It is clear that the site betrays the promises and premises of the title itself, speaking instead of the most disparate and futile topics possible, in addition to those (obviously present) inherent in the world of business, finance, investments, economics and the like.
This has left us rather perplexed and amazed, not so much in the technical capacity, but precisely that of simple surfers and site visitors. What do onions and indigestible peppers have to do with a finance site? Or the benefits of lemon juice, or other posts that talk about grandma's remedies for even important diseases?
From a technical point of view, however, the thing was quite clear, and the dynamics at play had gone beyond common sense for some time now.
From a finance site to a generalist site
The story is not given to us to know it in detail, but from the short chat with the CEO of the company in question it was easy to understand that from a respectable finance site over time it has transformed into a sort of generalist cloaca for purely remunerative reasons. (or rather speculative). Unofficially it has been leaked that thanks to these contents the site has begun to gain strong and therefore at the mere thought of abandoning the generalist editorial line where we talk about finance, medicine, lifestyle, fashion, cuisine, so on and on creates that comprehensive refusal such as to make the interlocutor an unpleasant person.
How can we not understand it though? A site that has certified financial statements in hand and has a turnover of 1,8 million and over 3,5 in the last year, is an editorial project but above all a successful business project.
Economically speaking they did well to do as they did, monetizing important figures from advertising, however, the time has come to go back to the real world and start wondering if the toy has broken and if Google is still okay with a generalist site that talks about the cosmic nothingness by exploiting the trail of the authority of a popular website of economics and finance, it continues to be positioned at the top, or whether it is the case to resize it and make it fall lower and lower month after month, until the visits are not enough to generate advertising revenue which in turn will not be able to pay a small editorial staff that writes articles.
We are sure that Google, the company that pushed for the adoption of HTTPS forcibly, which created increasingly stringent metrics to improve the quality of navigation and user experience, which invented AMP to compensate for the inability of developers and system engineers to give birth to fast and performing sites, is it okay to reward a generalist site like that?
Two questions must be asked, but it is even more necessary to listen to the answers. Not rhetorical answers to rhetorical questions, but answers from SEO consultants who will be able to examine the situation and reach one or more conclusions.
What could be the difficulty for a company that invoices with a site over three million euros a year, commissioning 3 SEO analyzes to three of the figures or the three most quoted and referenced companies on the Italian scene? Could spending 50 euros be a problem where the alternative is to witness the slow agony of a dying site?
SEO experts will unanimously agree that a generalist line is a line that pays off in the short term, but not in the long term, and that at the end of the carousel the site is doomed to die.
These are answers that we have already heard from referenced SEOs and from even more referenced customers, who also mistakenly took the path of "let's talk about everything between, because that's how Google positions us and we make a damn of money", Were it not that after six months the site was literally collapsing in free fall and only the common sense to follow the advice of the SEOs to stop the generalist editorial line allowed to recover the normality that still maintains with a Zoom Authority of 75 and tens and tens of millions of constant visitors per month.
An authoritative site cannot claim authority over everything. The principle of the Google Ranking Cap.
Can you see Benedetta Rossi of the homonymous recipe site Fattoincasadabenedetta.it start publishing articles on criminal law and civil law, code of criminal procedure and tax law just because she is an excellent cook with a very popular recipe site?
Can you see Angelo Greco of "Laleggepertutti.it", starting to publish recipes for donuts and donuts, soufflés, and delicacies and delicacies of Italian cuisine just because he is an authority in the field of law "for all"?
The two questions are rhetorical and obviously we all know the answers. The Google Ranking CAP has in principle precisely the example mentioned above, that is to avoid that an authoritative site can use its specific authority to speak with authority about topics in which it is not authoritative.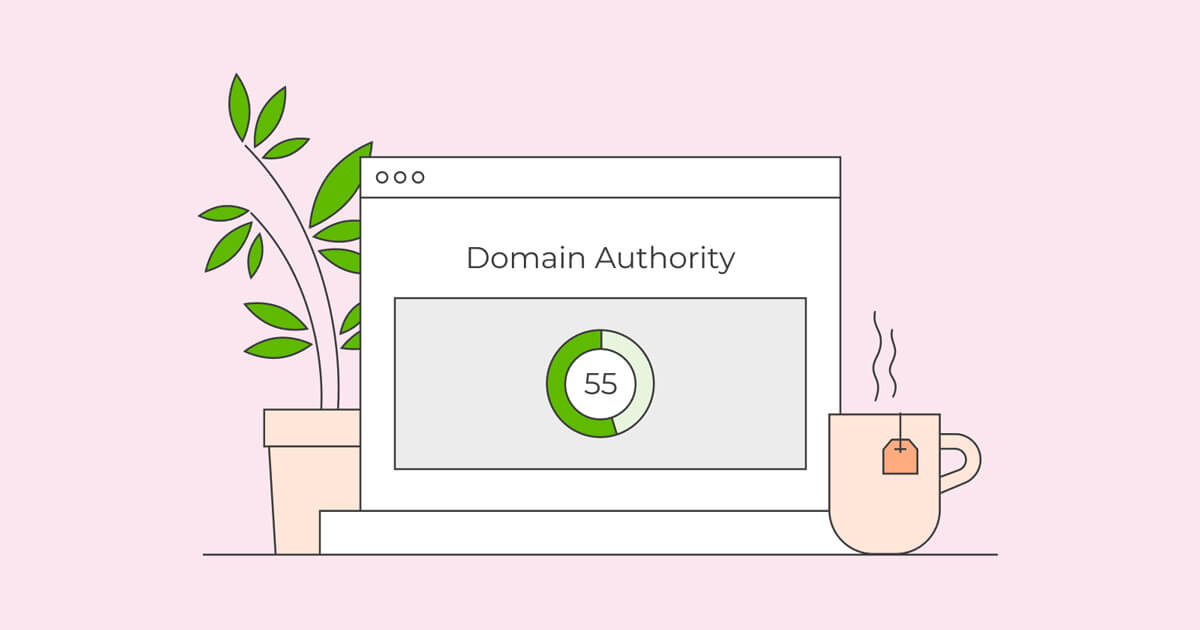 The Google ranking cap is just an SEO guess. The search engine has always denied the existence of a ranking cap factor. However, many believe its existence is probable. In this page of notes I only collect the main beliefs and rumors on the subject.
In the absence of official feedback on the Ranking Cap, someone may doubt the validity and truthfulness of the above statement; however, it is undisputed by reasoning about it anecdotally speaking and surrendering to the evidence that it is necessarily so given that with the exception of newspapers of national caliber and circulation (Ilfattoquotidiano, Repubblica, L'Espresso and sites of this caliber) the sites that are authoritative in a particular branch tend not to be successful if they insert completely different content.
Or at least they manage to do so up to a certain point, as long as Google's algorithm allows it, or until a Quality Rater decides that the acceptable threshold has been exceeded.
Google algorithms or human beings like quality raters?
There is a big difference between being SEO and doing SEO. What job do you do? I am an artist or I am an artist makes the difference between the impostor and the real for those who are able to grasp the subtle nuance, so we as a performance-oriented hosting and systems company have decided not to sell SEO and not to do it on that of hypothetical clients, but to do it instead on our site, where we are well positioned on the front page on search engines for highly competitive keywords.
We often observe SEOs talking about algorithms, about Google's core updates, about the change of the algorithm that will penalize all the sites that deal with topics on personal health, medicine (the famous medical update ed), I have never yet seen in the Facebook groups where it comes to SEO, mention the quality raters.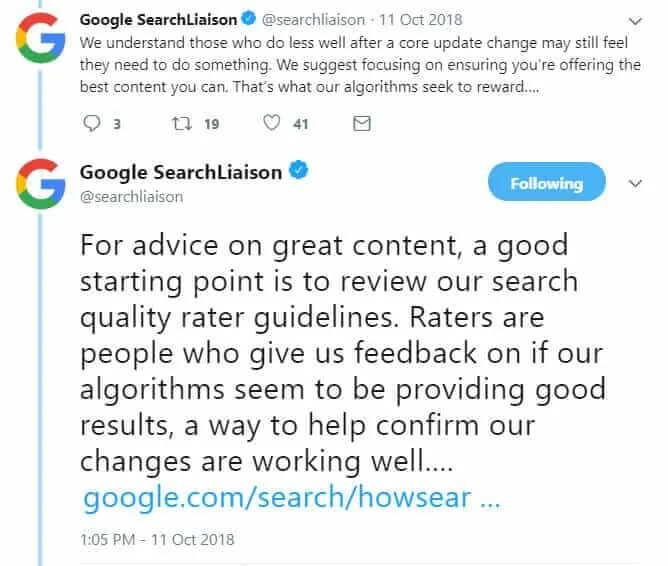 All who do copy, all who teach how to write SEO oriented, all who get by with the best and worst content writing techniques for search engines but no one who cares to relate and relate in a perspective in which the reviewer is Google , but in flesh and blood, through one of those 14 thousand people, active all over the world and engaged in a specific task: evaluate the results provided by Google in the light of guidelines published by the company, to find out if the SERPs actually meet the reported criteria and if, therefore, users receive an effective, useful and positive service.
So what would a quality raters think if he came across such a site in which following the news on the rise in interest rates after the economic crisis, he would find the news on the pie with organic figs, and a post on the quantity of vitamins that a individual should hire?
First of all I would ask myself who the hell you are to talk about health, to talk about medical topics. if you are entitled to do so and eventually apply a nice medical update. If we add all the other useless categories that are only used to make volume, feel lucky for a soft drop of 10% per month rather than a direct ban.
Conclusions on the drop in traffic and problems that occurred.
When there is a drop in traffic, the common practice is to try to understand what the trigger for this drop is. Will it be our fault or Google's? Will any competitors have taken my place? Because if until yesterday it was fine and I didn't do anything and Google didn't release Core Update, my site has less traffic? Will it be the plugins? Will it be updating the theme? Will it be the hosting fault? We change Hosting for security that surely Managed Server that makes many newspapers fly brings us back to normality and even more.
Unfortunately, this is not the case, we would like them to be, for us to have this power in determining the life and death of a site, but we are much more realistic and less determined than we think.
We can be the tip of the balance certainly, but only if there is a balance. The icing on the cake as we like to call ourselves, but without the cake there is no icing that holds. And the cake, you editors, you columnists, must put it, taking care before knowing how to write in an SEO perspective, to know what to write.
We can raise a site with technical problems if the limit and the causes of the block are technical problems, for sure we cannot push and place a site that talks about nothing and is penalized by virtue of this.
Understand that if until today with a site of trivial and useless topics, thrown away only to be indexed and monetized, you have monetized and invoiced fortunes in the order of millions of euros, you must be grateful for this and that you have only had the luck of one Google's oversight that delayed cutting you off right away.
You won the lottery, you had no particular merit other than continuing to strike while the iron was hot. Write about nothing and monetize nothing. But the iron has cooled down, the game has broken and you want it as before.

Be calm, breathe, put your heart in peace, once a site slows down suddenly it means that in the near future it is destined to stop altogether. Have the conscience and the courage to make informed decisions, in harmony with Google's guidelines, write on topics you know, quality articles, useful to the reader and not only in order to be positioned and monetized. Google is awake and as technologies such as artificial intelligence increase and improve it will be increasingly difficult to exploit these moments of "slumber" to try to monetize nothing.
Remove all those useless and dangerous contents such as those related to personal health, nutrition and medicine, make a nice redirect 410 is gone of entire categories and go back to the origins. We talked about finance, stock exchange and investments, go back to talking about that. Within 4 months you will see for yourself that this was the right choice to make. On the other hand, wait another 4 months and you will still see with your own eyes that that was the right choice to make.