Table of contents of the article:
In recent months we have had a rather high demand (about 4 customers per week) of users with Entry level servers in the range of Dedicated Servers economic that contact us with the only need to maintain and / or reduce the rental costs of their server currently rented at some Italian infrastructures.
This may seem trivial as a whole, three or four customers a week may seem like a trifle, but when you look at these numbers in context it is actually something completely new that has never happened before with such consistency.
From the apparent exceptionality of the phenomenon, we have instead seen a regularity to which we have tried to give a reading and understanding of the phenomenon that inextricably links the increase in the cost of energy and the increase in Italian hosting prices and Italian datacenters.
These new customers (or potential customers) contact us saying and reiterating that they have had contractual changes (or at least the communication of the same) and that the cost of the energy component also impacts 20/30 euros per month, which on a 90 € service. per month means having an impact of over 30% overnight.
As we have always specified, abundant 90% of our structure is in colocation at a German enterprise-class datacenter, this indirectly allows us to have the best economic offer thanks to the policies and economies of scale that the datacenter hosting us is able to propose. to its customers.
One thing is to have a server room with 1000 servers in via Caldera in Milan, one thing is to have a company with three certified datacenters that can host over 200 THOUSAND servers per single datacenter.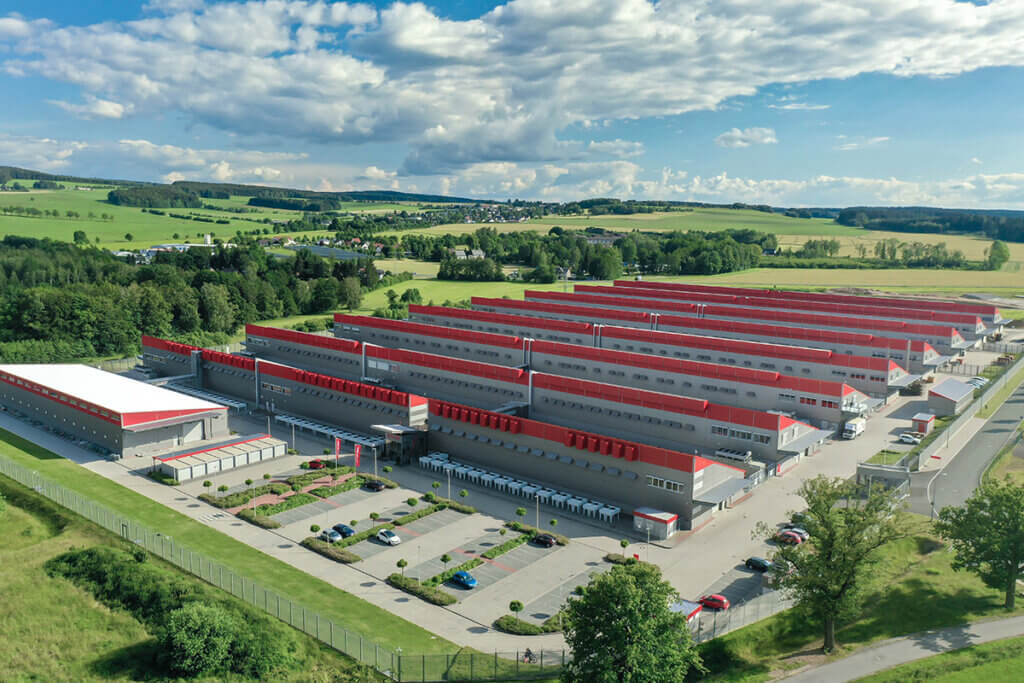 This detail necessarily leads us to think about economies of scale where even just 10 cents saved on a single server would lead to a saving of 50 thousand euros on half a million servers.
In short, imagine the server room with 1000 servers talking to the European CPU supplier, who is looking for the price for 500 new CPUs, and the big company that decides to place an order for 100 new high-end CPUs.
Could they have the same price and the same offer? Obviously not. And it is the reason why today to cite a real example, a server with AMD EPYC 7502P 32core / 64thrread "Rome" processor that costs only the CPU about 2700 dollars in the list, and an additional 1000 euros of Hardware for a total of about 3500 euros, we can rent it with managed assistance for only 250 € / month.
It is obvious that regardless of the contractual relationships that a large company, thanks to their influence due to their policies and economy of scale, manages to snatch the best possible conditions from its hardware, connectivity and energy suppliers, however, there are limits where beyond a certain point it is not possible to go to save even if the electricity suppliers decide to DONATE energy to the big company on duty in order to satisfy the customer.
These limits are defined by the cost of producing and importing energy at a national level, which differs significantly from country to country based above all on national energy production policies and any political choices based on taxation and excise duties on the 'electric energy.
This is a rather itchy and new topic for us too, given that apart from this historical period of increases due to the Russian - Ukrainian war conflict, we do not remember from 2005 to today such marked increases at least for what is happening in our country in Italy.
We therefore wanted to get into the heart of the story to understand how the cost of electricity changes between some countries and how it can be cheaper and cheaper to buy a server in Germany than in Italy, above all due to the costs of the significantly cheaper electricity component in Germany.
Electricity price, in Italy + 82%. In Germany + 17%, in France + 6%
In Italy, half (48,4%) of electricity is produced from gas. France and Germany further reduce the use of gas, which is too expensive. On the contrary, Italy increases its use by 5,6%
The analysis of the monthly report of the International Energy Agency (IEA) of the OECD highlights the different reaction of the major European economies to the escalation of gas prices, literally derailed in the second half of 2021. In January 2022, on the total of electricity produced in the twelve months, in Germany 42,6% comes from renewables, 29,2% from coal, 14,9% from gas and 11,1% from nuclear power. In France nuclear power dominates, from which 67,4% of electricity production comes, followed by renewables with 23,3% while the use of gas is limited to 5,8%. Italy's greater exposure to the gas price bubble, the source from which half (48,4%) of electricity is produced, over 41,5% of the share from renewables, while the use of coal is low (5,4 , 3,6%) and oil (XNUMX%)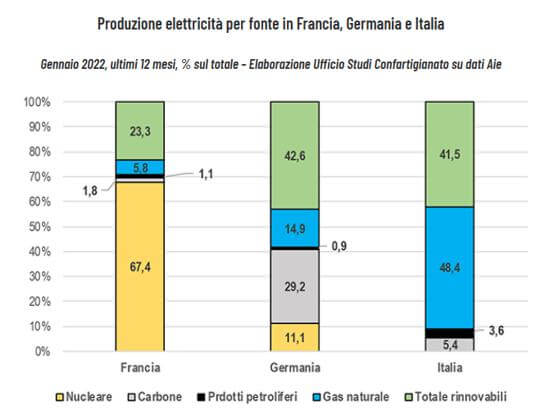 RENEWABLE. The trend analysis over the past year also shows large differences between the major European countries. On the renewables front, wind production is down in France (-8,9%) and Germany (-5,7%), while it is bucking the trend in Italy (+ 5,6%). Solar production rose by 13,1% in France and 4,0% in Germany, while stagnating (+ 0,8%) in Italy. The drought phenomena have led to a widespread reduction in hydroelectric energy production.
CARBON. In the green heart of Europe, in Germany, the production of electricity with coal, in addition to having a higher weight, has risen significantly in the last year, marking an increase of 20,1%. France, while recording a more limited contribution from coal, increased production of this commodity by 61,5%, while for Italy the growth stopped at 5,6%.
GAS. And the gas? It costs too much, and consequently France and Germany, which already use it less, further reduce its use, by 5,1% and 6,0% respectively. On the contrary, Italy, with almost half of the electricity produced by gas plants, is increasing its use, registering a growth of 5,6%; we are talking about a commodity that in December 2021 marks a 255% increase in import prices.
PRICE OF ELECTRICITY. The different matrices of electricity generation and their evolutions in the crisis determine a divergent trend in consumer electricity prices. According to Eurostat data published last April, the price of electricity rises by 82,3% in Italy, twice the rate of the Eurozone average, against a more limited dynamism in Germany, where prices rise by 17,6%, and in France, where the increase stops at 6,0%.
How much does a dedicated server consume?
Taking a very trivial account, the servers remain on 24 hours a day, so if we multiply 0,418kW / hour x 24 hours we get 10kWh of electricity consumption.
Considering the rates inclusive of various expenses, we see that 1 kWh costs about 0,25 euros, so for 10kWh we consume in 24 hours (1 day) we spend 0,25 x 10 = 2,5 euros / day and
in 1 year we spend about 2,5 euros x 365 = 912 euros.
If you are looking for a cheap dedicated server.
Therefore, if you are looking for the best conditions for the purchase or rental of a dedicated server, you should take into consideration not only the scaling policies on the extremely affordable costs of the hardware, but also the savings on the energy component.
In short, thanks to the two components, you could reduce the cost of the hardware and the cost of the energy component about between 25 and 50% of the costs that you would get by renting the same server with the same characteristics in an Italian datacenter.
Of course, this is a very approximate figure and each case is a case in itself that must be evaluated and weighed in a tailor-made way, but we can peacefully estimate a real economic saving.
Feel free to contact us, we will show you the real economic savings and further advantages in terms of performance.